Campus Life
News
Minister of Natural Resources discusses "energy polarization" at student organized event
Minister of Natural Resources Seamus O'Reagan discussed the changing landscape of the energy industry in Canada at a January 27 talk.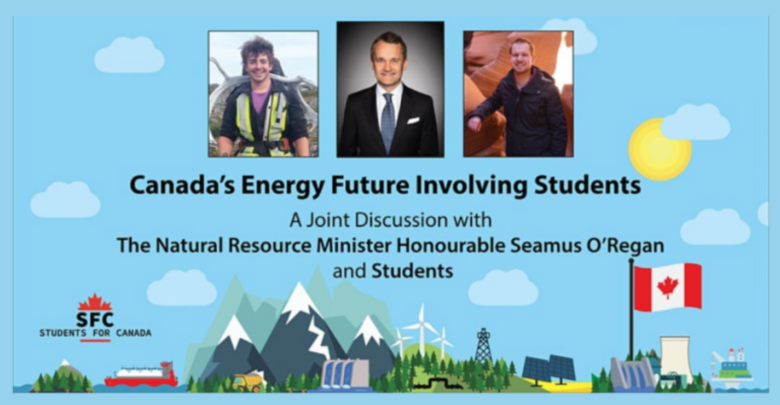 The future of Canada's energy sector is a highly contested issue, and many agree that the solutions we find now will have immeasurable consequences for generations to come.
Seamus O'Regan, the Minister of Natural Resources, gave a talk addressing issues in the energy sector on January 27. The event was moderated by Daniel Baker and Skye Lybbert, two University of Alberta Earth and Atmospheric Sciences masters students, who had preselected questions for the minister. Topics discussed included how the government will ensure jobs in the energy sector increase, "energy polarization," and Joe Biden's new climate directives. 
Future of Canadian energy not black and green but "the muddied middle" minister says
Throughout the talk, O'Regan described conversations surrounding energy as heavily polarized. 
"It's not black or white or black and green but the muddied middle," he said. "Who here doesn't want to combat climate change? We all do. It's a matter of how we do it, and how we make sure we include everybody."
O'Regan emphasized how oil and gas workers should not be left behind. 
"You owe people the respect of saying 'we are going to look after you through this,'" he said. "We've got to lower emissions, and this is not going to be easy … but we don't just say well, we're going to go build something else now."
He mentioned Canada's recent climate goal of net-zero emissions by 2050, a target the minister aims to achieve by incorporating new technologies into energy production to reduce emissions, like carbon capture.
"The important thing to remember about net-zero is the word 'net'," he said. "You'll have emissions, how do you account for them?"
Event spurred by letter from university professors critiquing federal oil and gas bailout
According to the event's hosts, the talk was initiated in response to a letter authored by Laurie Adkin and Debra Davidson on March 25. The letter gathered 265 academics to request that the federal government refrain from bailing out oil and gas companies during the pandemic.
Instead, Davidson and Adkin advocated for more funding for social services and the public sector, which they argued could also lead to job creation.
"Premier Kenney argues that Canada 'cannot afford to lose the single largest subsector of the Canadian economy,'" Adkin and Davidson said in the letter. "We question whether Canada can afford to continue to support it."
Baker and Lybbert penned their own letter in response, advocating for further development of the oil and gas industry.
"I read your letter," O'Regan said. "A lot of it, I could have written myself to be honest."
Students concerned about future jobs in the energy industry
Several of the questions posed by Lybbert and Baker centred around what federal government actions can be taken to bolster the energy industry, and in turn, the jobs it can provide.
"As students over the last five years, we've watched well over $200 billion in investments in the resource sector pull out of Canada," Lybbert said. "What are you doing to ensure growth and jobs within the energy sector now and in the future?"
O'Regan emphasized the importance of workers for the project of net zero emissions. 
"With the wealth that we have generated from these projects [like the oil sands and off-shore oil], [workers] are building our country," he said. "How do we make sure that we keep them and ensure that we are lowering emissions?"
One example he gave is through the ongoing project of looking after abandoned and inactive oil wells.
"We've got to clean them up," he said. "It's a technical job that requires a lot of expertise, and that's putting tens of thousands of Albertans, Saskatchewanians, and British Columbians back at it, and we need them."
Increasing youth literacy and lowering emissions
One question from a student at a Nova Scotia Community College asked how the government plans to increase young people's literacy regarding natural resources.
O'Regan explained increasing literacy is not the same as the government conducting a public education campaign, because the public will always perceive the information as politically biased. 
"You'll see in us what you want to see," he said. "So [the answer] is kind of doing what you're doing, it's asking the questions and getting people together and talking."
Another question from a student at Memorial University asked why the current government is so reluctant to put in place support for oil and gas companies, such as tax incentives and expedited processes, like those in Norway.
"To be honest with you, there's not much reluctance at all," O'Regan said. "The industry here wanted us to be on the same level as Norway, and the fact is, we are a government that does not subsidize fossil fuels … Where we will spend money on is lower emissions. That's what we bring to the table."
O'Regan noted the biggest barrier for companies has not been financial but regulatory, with new projects sometimes requiring a 900-day environmental assessment before they could begin. He explained that in Norway and the United Kingdom, these assessments take 60-90 days. 
"It was taking time, and time is money," O'Regan said. "We spent a year doing a comprehensive regional assessment, and now that wait time is down from 900 days to 90 days. Now we're on par with our biggest competitors." 
Minister weighs in on Joe Biden's climate directives
O'Regan pointed out how his talk coincided with new climate directives made by President Joe Biden only hours before. 
The directives aim to double offshore wind-produced energy by 2030, and freeze new oil and gas leases on public lands and.
"The past few hours today are seminal," O'Regan said. "The president has come out and called this climate day, and is passing executive orders that are very, very serious, affecting billions of dollars and millions of [workers in the United States]."
These directives follow Biden's earlier decision to cancel the Keystone XL pipeline, a choice that was decried by Alberta's Premier, Jason Kenney.
O'Regan said this news further "makes the case" for the Trans Mountain Pipeline and customer diversification.
"Crude oil is our number one product and 98 per cent of it goes to one customer," he said. "That customer has changed its attitude, priorities and values demonstrably. It says a lot that this was one of the first acts of Biden when he was inaugurated."
Minister encourages students to "keep asking questions"
The minister concluded the talk by encouraging students to remain curious about Canada's energy industry.
"Keep asking questions," O'Regan said. "I think that we have to have greater empathy for one another in this country. We're a big country."
He described the current moment as especially tumultuous, emphasizing the effects of the pandemic and ensuing economic downturn.
"We're shaped by who we are and where we feel we belong," he said. "We must continue to have open minds … and that's how we'll get through this together."