Campus Life
News
Minister of Natural resources to talk with U of A students about the future of Canada's energy sector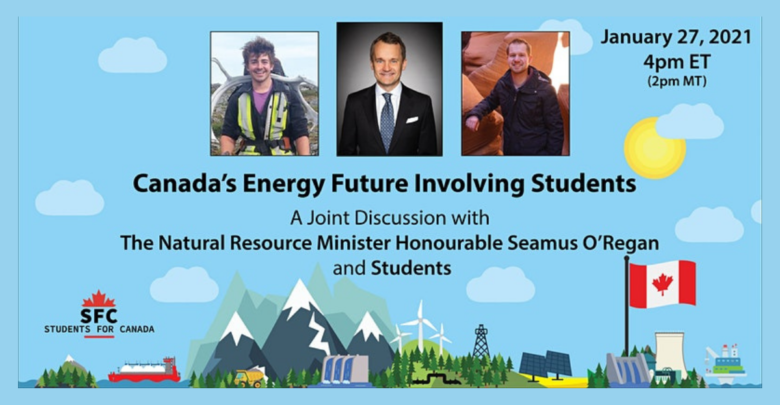 Climate action and the natural resources industry may not be as mutually exclusive as assumed, and many university students across Canada feel the same way.
On January 27 at 2 p.m. MST, a talk featuring Minister of Natural Resources Seamus O'Regan is being hosted to discuss the complex issues Canada faces with resource development, environmental protection but also the polarized rhetoric in between. "Canada's Energy Future Involving Students," is being moderated by Daniel Baker and Skye Lybbert, two University of Alberta Earth and Atmospheric Sciences master students.
The hour-long discussion will centre around questions posed by university students all across Canada on the topic of the country's energy future with O'Regan directly responding to these concerns. The free event, which is open to the public, already has one hundred people signed up.  
Surveys were sent out by Baker and Lybbert to gather information on students' energy concerns in preparation for the event. According to the two, the survey revealed that a majority of Canadian students believe a balance of natural resource development and environmental action is the way to go.
Baker and Lybbert believe it goes beyond balancing the two, as they see the natural resources sector furthering environmental action through innovation.
Referencing the Quest carbon capture and storage facility run by Shell Canada, the two frame it as a prime example of industry contributing to the solution for carbon dioxide emissions. The facility near Edmonton works to capture carbon dioxide waste directly from the oilsands refinery processors and stores it safely underground which significantly offsets the industry's carbon footprint.
The pair say this is proof that the solution to climate change requires a balance between investing in renewable energy but also supporting the oil and gas industry, a recurring theme to be discussed with O'Regan.
"Even with producing the minerals and all the infrastructure for wind turbines or solar panels, it's going right back to the ground again with mining infrastructure," Baker said. "There's not quite a way you can do that without oil and gas right now."
Baker and Lybbert see dialogue such as their upcoming discussion with O'Regan as crucial for any real progress in combating climate change and bringing light to what they see as the misunderstood oil industry.
The students said their inspiration for the talk started with a letter sent to Prime Minister Justin Trudeau urging the federal government not to give a $15 billion bail-out to the oil and gas industry during the COVID-19 pandemic.
The letter was authored by Laurie Adkin and Debra Davidson, University of Alberta professors in the Department of Political Science and Department of Resource Economics and Environmental Sociology, respectively, and had 265 signatures within 24 hours from Canadian academics in support. When they heard of this letter, Baker and Lybbert felt enough was enough.
"We're seeing all these technological advancements and innovations [within the oil and gas sector]," Lybbert explained. "They're coming up with so many new techniques to lower their carbon emissions."
"Skye and I are really tired of all of this negative energy and negative words — we just want to have good jobs for Canadians, have a good life here in Canada and be proud of our Canadian resources," Baker added. 
In response to the letter opposing the oil and gas industry, the two graduate students decided to write their own letter titled "Supporting further Canadian Oil and Gas Development." Their main message was the energy sector should be supported by the government as it directly invests in technological innovation meant to reduce emissions and improve environmental outcomes from the industry itself, a perspective they feel is not commonly found when it comes to the oil and gas industry.
The letter was signed by 2,800 university academics from different Canadian campuses and different academic backgrounds ranging from engineers to climate change scientists.
Initially addressed to Trudeau but eventually reaching O'Regan's office, he showed interest in the authors of the letter and replied to them, saying he would want to discuss the contents of the letter further. The students then organized the "Canada's Energy Future Involving Students" talk.
In the end, both Baker and Lybbert hope for the discussion to be a place where students can gain energy literacy, learn more about the industry, and open up their minds to the concept of oil and gas as part of the solution. They feel the polarized positions on both ends of the climate debate do more harm than good and instead look towards meaningful discussions and problem solving as the right path towards change.
"Why can't we just move forward with a balanced approach?" Lybbert asked. "We can set the high standard for our environment and be able to combat climate change, as well as develop resources responsibly."