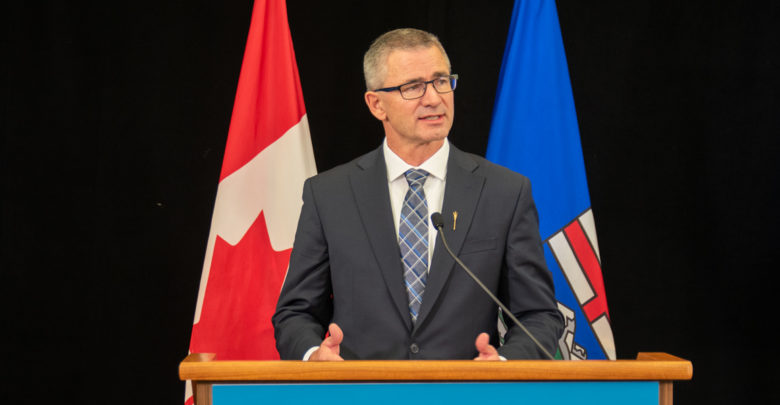 Alberta is forecasting a long path to economic recovery with unemployment numbers not returning to 2019 levels until 2023.
The provincial government released an updated fiscal forecast for 2020 on November 24. The update incorporated impacts from the global COVID-19 pandemic and the collapse in oil prices prior to the pandemic, based on the government's Budget 2020.
On-top of impacts to the province, the budget update presented several impacts to the post-secondary sector as a whole, including accelerated cuts to the advanced education sector and less tuition revenue being generated, despite recent tuition increases.
The budget was originally tabled in the legislature by finance minister Travis Toews on February 27, 2020, prior to COVID-19 being declared a global pandemic by the World Health Organization and "aggressive public health measures" taken by Alberta in March to limit the spread of COVID-19.
The fiscal year documents explain the need for balance between spending restraint to secure Alberta's future while meeting the needs of the province during the COVID-19 pandemic. It described the current economic outlook as the "worst economic dislocation in Alberta since the 1930s."
"The twin priorities of saving lives and livelihoods have required the government to adjust plans for balancing the budget but have not altered the focus on good financial management and fiscal prudence," the fiscal update and economic statement read.
Provincial debt is forecasted by the mid-year budget to reach $97.4 billion by the end of 2020-21 and to climb to $125 billion by 2022-23. That amount translates to $22,000 per Albertan.
Alberta is now forecasting a deficit of $21.3 billion at the end of this fiscal year, an improvement over the $24.2 billion deficit reported at the end of the first quarter in August.
Unemployment adversely affecting 15-24-year old's in Alberta
The mid-year budget update forecasts a challenging labour market for Albertans for at least three years.
The unemployment rate is forecast to "remain elevated" and average 11.6 per cent this year.
As per fiscal update documents, youth aged 15 to 24 alongside people experiencing long-term unemployed are the hardest hit segments of Alberta in terms of labour market outcomes.
Given the level of economic contraction occurring in Alberta, unemployment is not expected to return to 2019 levels as it "declines slowly" until 2023 when it is forecasted to average 6.8 per cent.
Tuition increased, but revenue declining for province
Despite allowing tuition to increase, the fiscal update showed revenue generated from tuition fees to decrease by $130 million from expected 2020 levels.
Budget 2019 allowed universities to increase tuition up to a maximum of seven per cent at the institutional level, per year for the next three years. The University of Alberta increased its tuition levels for domestic students by seven per cent and four per-cent for international students for the 2020-21 academic year.
Operating expenses for Advanced Ed declining
Operating expenses for the Ministry of Advanced Education are forecasted to decrease at an accelerated pace than set out previously in Budget 2020.
These expenses include student aid, support for post-secondary operations, and foundational learning supports. The fiscal update did not mention what components of operating expenses would be impacted by the overall decrease.
Under Budget 2020, operating expenses were set to decrease by $220 million over the next three years.
While operating expenses are now forecasted to receive a $75 million one-year increase for 2020, from 2021-23 the operating expenses for the ministry will be cut by $311 million.
Capital investment in post-secondary still set to decline over time
Budget 2020 introduced a $146 million increase in capital investment for advanced education. This is forecasted to increase by another $98 million for this year.
The $98 million is part of the COVID-19 recovery plan to invest in infrastructure projects.
After the one-year increase, Budget 2020 set reduced funding targets for capital investment over the next three years — representing a $397 million cut to capital investment for post-secondaries and colleges from 2021-23. The cuts are still scheduled to happen, despite calls from student leaders concerning a lack of infrastructure spending.
(millions of dollars)
2018-19 Actual
2019-20
2020-21
Estimate
2021-22
Forecast
2022-23
Forecast
Budget 2020
$694
$572 (budget)
$654
$480
$257
Mid-year fiscal update
$694
$554 (actual)
$752
$480
$257
Capital Investment in Ministry of Advanced Education (Sources: Budget 2020 Fiscal Plan and 2020-21 Mid-year Fiscal Update)
SUCH sector forecasted to undergo less self-financed capital plan investments
Universities — lumped into the school, universities, colleges, and health entities (SUCH) sector — are forecasted to undergo less self-financed capital plan investments.
Under Budget 2020, the government forecasted the SUCH sector would undergo $774 million in capital plan investments. The fiscal mid-year update showed this amount is forecasted to only reach $731 million and that future targets for the next two years would decline as well, with a 2021-22 target of $695 million and 2022-23 target of $432 million for capital investments.
No further breakdown of costs affecting universities specifically or each component of SUCH was given at the time of publication.
Additionally, the mid-year budget outlined that federal funding transfers to the SUCH sector are also down $16 million, from $590 million to $574 million.
Donations to post-secondary institutions and health authority sales and donation revenue are down $411 million.