Campus Life
COVID-19
News
BREAKING: Instagram page advertising U of A "COVID-19 parties" created
Many comments on the account criticized it for promoting parties during a global pandemic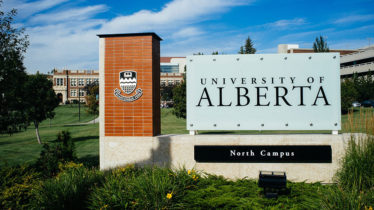 A new Instagram page purporting to be hosting "COVID-19 Parties" has formed amid outcries from the University of Alberta community.
The account, called UAlberta COVID-19 Parties, describes itself as a page to help host "COVID parties because they are during pandemic (sic) * not a contest to get COVID-19. THROWING THE BIGGEST PARTIES. Going private soon!"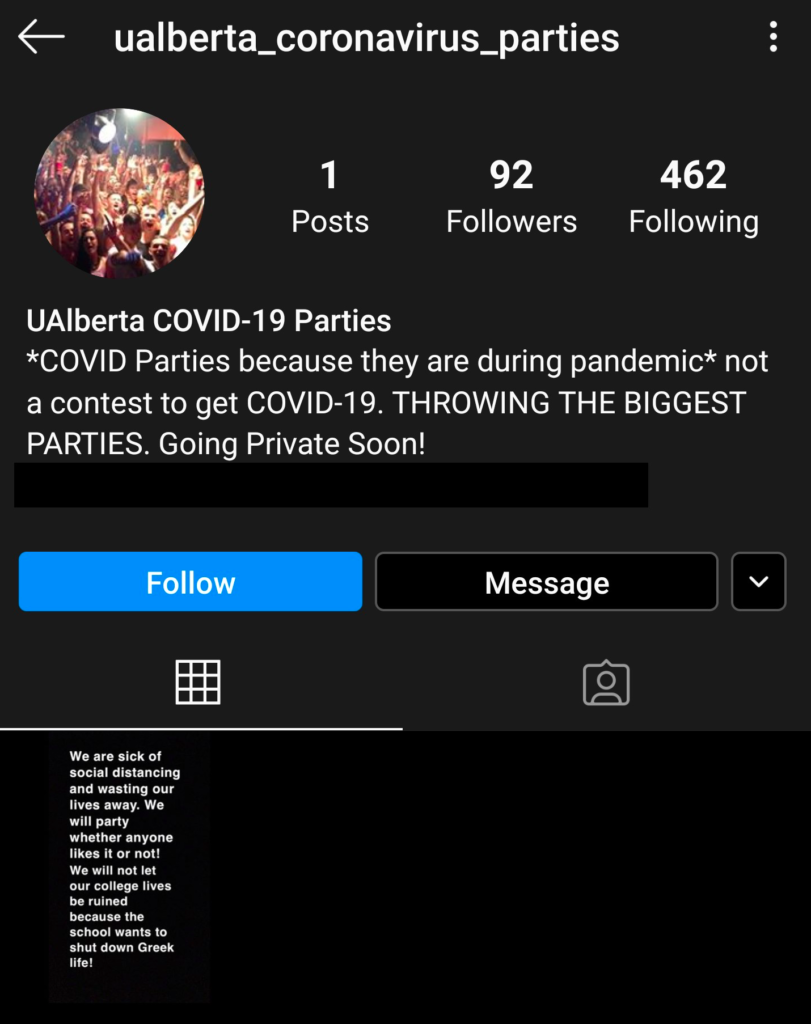 The Instagram page was created at approximately 1 p.m. on July 16, 2020. As of publication, the page is still listed as public. It had approximately 100 followers and follows 467 accounts as of publication time. The only post post on the account said they are "sick" of "social distancing" and want to throw parties.
"We are sick of social distancing and wasting our lives away," their post said. "We will party whether anyone likes it or not! We will not let our college lives be ruined because the school wants to shut down Greek life."
The Gateway messaged the account but did not receive any responses. Additionally, The Gateway was unable to substantiate if the account was connected with any campus community organization, fraternity, or sorority.
As of publication time, the account was not following any official U of A Instagram pages. The account also is not following any fraternity or sorority executives at the U of A.
A student within the Greek community at the U of A who wished to remain anonymous told The Gateway the account seemed to be created using a mail.ru email address which is commonly used by troll or spam accounts.
The Gateway confirmed the U of A Interfraternity Council and Alberta College Panhellenic Association were aware of the account.
The U of A said in a statement to The Gateway the health and safety of students remains "paramount." Additionally, the U of A confirmed it was aware of the account and would look into the matter.
"The health and safety of our community is paramount, and that's why the University of Alberta continues to follow all applicable public health measures," the statement said. "We are aware of the account and are looking into the matter."
In a comment under the account's only post, the official U of A Instagram page said it is "looking into" the page and that it is "not a sanctioned University of Alberta account."
Many comments on the page criticized the account for planning to host parties during the COVID-19 pandemic and for not encouraging social distancing. Some commenters even tagged the Edmonton Police Service official Instagram page. Others said they would be emailing the U of A Dean of Students André Costopoulos with complaints about the account.
— More to come.
UPDATE: The article was updated at 7:48 p.m. on July 16, 2020 after the University of Alberta provided an official statement. Additionally, the Panhellenic Association confirmed it was aware of the post to The Gateway.