Arts & Culture
Campus & City
U of A Black student groups organize Art in the Park fundraiser
The event is an opportunity to celebrate Black art as well as support some worthy causes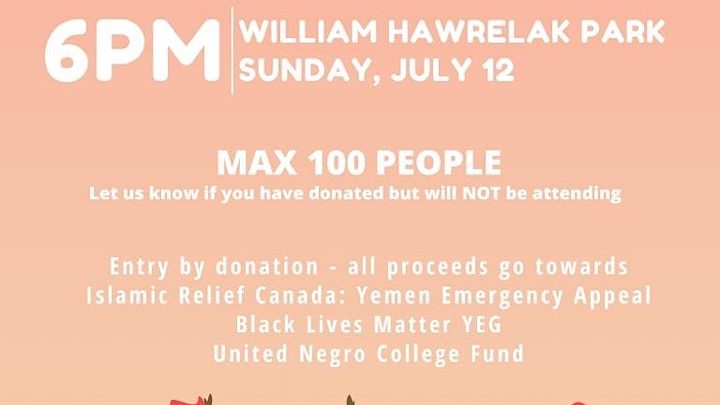 What: Art in the Park Fundraiser
Who: University of Alberta Black Students Association, Eritrean and Ethiopian Students Association, Somali Students Association and University of Alberta Women Empowering Women
When: Sunday, July 12, 2020 at 6:00 P.M.
Where: William Hawrelak Park (9330 Groat Rd, Edmonton, Alberta.)
Admission: by donation; register on Eventbrite here.
The wave of advocacy following the murder of George Floyd has brought new attention to systemic racism and Edmonton's Black-led organizations calling for institutional change.
It's also become abundantly clear this wave of advocacy must be paired with community building and healing. Local organizations like the Africa Centre's YEG The Come Up, La Connexional, and Black Lives Matter – Edmonton and Area have all made moves to address the hurt being felt in many Black communities.
Here at the University of Alberta, a collection of Black student groups have collaborated to create Art in the Park, an upcoming community initiative from the University of Alberta Black Students Association (UABSA), Eritrean and Ethiopian Students Association (EESA), Somali Students Association (SSA), and University of Alberta Women Empowering Women collective (UAWEW).
The Gateway was able to speak with Abêzghi Berhe, vice president of the Eritrean and Ethiopian Students Association, and Yawa Idi, events coordinator for the University of Alberta Black Students Association to preview Art in the Park.
Responses have been edited for length and clarity.
The Gateway: What can attendees look forward to at Art in the Park?
Berhe: Art in the Park is a fundraiser with the goal of contributing to the dismantling of systemic racism while supporting its victims. At the same time, we're striving to celebrate diversity by offering a platform to Edmonton's amazing Black poets and artists. We have some speakers from Black Lives Matter Edmonton, Lisa Nwaribe, Ntwali and Ivan Touko from La Connexional, just to name a few!
Idi: Adding on to that, the event is meant to be a place for people to indulge and enjoy Black art. Bring your friends, a blanket, some food and take some time to just enjoy the space.
How did the idea for Art in the Park come about?
Berhe: After the needless and atrocious murders of innocent Black people such as Ahmaud Arbery, Breonna Taylor, and George Floyd, we were thinking about fundraising opportunities that could contribute to the idea of equal justice for all, while also highlighting cultural diversity through music, poetry and arts in the Black community.
Art in the Park is collecting donations for The United Negro College Fund, The Islamic Relief: Yemen Emergency Appeal and Black Lives Matter – Edmonton and Area. Can you talk about these causes and why they were chosen?
Berhe: The United Negro College Fund funds scholarships for Black students at 37 different historically black colleges and universities. Being that we are students ourselves, we understand the importance of scholarships and hope to offer some opportunities to other students as well.
We chose the Islamic Relief Canada: Yemen Emergency Appeal because of the devastating humanitarian crisis in Yemen. We feel it's our duty to care for people outside of Canada who are victims of global or regional political tragedies.
Finally, we would like to support Black Lives Matter – Edmonton and Area for being a champion for ethnic minorities that are prone to racial inequality and social disparity.
Art In The Park is a collaboration between EESA, SSA, UAWEW and UABSA. Why is this collaboration meaningful, especially during these times? Can we expect future collaborations down the line?
Yawa: Our collaboration is meaningful because it strengthens the relationships between some of the Black collectives on campus while giving us a larger reach to our Black audiences. The solidarity of Black groups is extremely important because we have the ability to accomplish so much together. There will definitely be collaborations for future events depending on the circumstances!
How can people get involved with supporting the Black Lives Matter movement and other causes beyond Art In The Park?
Yawa: People might have the idea that supporting Black Lives Matter (BLM) just means donating to groups affiliated with BLM, but I think any contribution to the benefit of Black people is a way to support BLM. Attending community events, becoming involved in organizations that cater to Black people and self-educating on the matters that affect Black people specifically are all great ways to support Black people as a whole.
Art in The Park takes place on July 12, at 6 p.m. at William Hawrelak Park. Entry is by donation and you must register on Eventbrite to attend. COVID-19 restrictions will be in place.
See you there!