Campus Life
News
Cultivating co-existence and community: The Eritrean and Ethiopian Students' Association
The Eritrean Ethiopian Students' Association is paving the way for the greater Ethiopian and Eritrean communities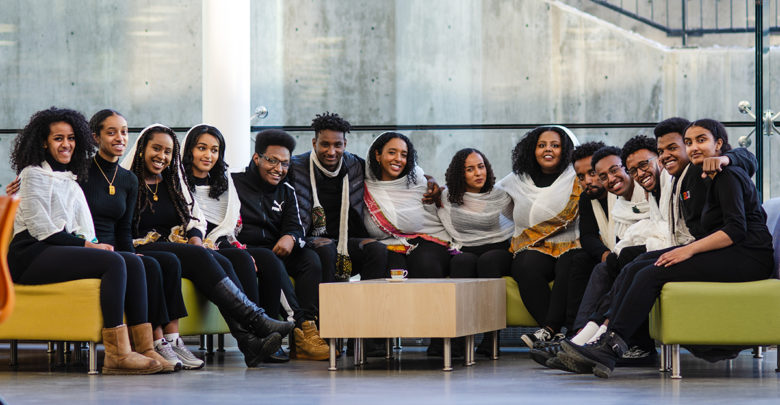 A University of Alberta student group is setting an example for their communities by creating solidarity between Eritrean and Ethiopian students on campus.
The Eritrean and Ethiopian Students' Association (EESA) began in 2017 to address a growing Eritrean and Ethiopian student body. Jostina Johannes, fifth-year criminology student and EESA co-president, said the group was also created as a result of the self-love and celebration of blackness movements happening at the time.
"There was a general consciousness around embracing yourself and it aligned with the natural hair movement too," she said. "There was this general societal celebration of self and in the wake of those times, EESA was born."
In embracing their culture and identity, Johannes said starting the group also served to undermine a negative stigma surrounding Ethiopia and Eritrea resulting from the 1980s Ethiopian famine.
"To the public, some people still view [Ethiopia and Eritrea] through that negative stigma of the hut and the flies," she said. "Yes there was a drought, but we're more than that."
Bethel Seyoum, fifth-year psychology and vice-president (secretary) added the group was created to allow first-generation Ethiopian and Eritrean students space to discuss navigating their culture with their Canadian identity.
"We're kind of in a weird as first-generation kids, so creating a space where we all understand ourselves— in our communities, there's not really a space like that," Seyoum said. "[The EESA] is our way of creating that."
Co-existence reaching beyond campus
Creating a combined Eritrean and Ethiopian association may seem like a small decision, but in the context of the two countries' histories, creating the EESA was a large step forward.
As EESA explained, Ethiopia and Eritrea were once the same country, but split after conflict. This separation, however, has created a lot of friction between the two communities. In spite of this, the EESSA wanted to put their older generation's disputes to bed.
"In our parent's generation there were a lot of animosities between the two countries but for us, I think we're much more open-minded… because we see similarities between each other," Seyoum said.
"I remember going to Heritage [Festival] as a kid and there was an Eritrean Pavillion," she continued. "I was so confused because it was the same clothes and the same food as [Ethiopians]. [The division] wasn't really talked about much, I didn't even know [Eritrea] existed."
Despite the tension in the older generations, Elfas Johannes, third-year civil engineering student and EESA event planner and community outreach coordinator, finds that a major bonding site for the group is discovering how similar their parents actually are.
"It seems like all of our parents are more-or-less the same and you can connect over it, laugh over it," Elfas Johannes said. "It's a nice space to allow people to open up."
As the first group in Edmonton to join members from the two communities, EESA often finds that a majority of their event attendees are not only from the U of A, but also come from NAIT, MacEwan University, and even high schools in the city.
"There are definitely movements [for reconciliation] online, but in Edmonton we are revolutionary," Jostina Johannes said. "There isn't anything like this in the city, so it's a safe space for anyone."
Divisions, however, go beyond just the two countries. According to the ESSA, politics, cultural groups, religion can also be very divisive issues in the greater Eritrean and Ethiopian communities.
For Natnael Abate, third-year cell biology student and the other co-president of EESA, leaving these kinds of labels at the door is a key tenet of the group.
"The main goal is to appreciate both cultures, share knowledge and explore the similarities between [all of us]," he said. "It's about bonding without certain barriers."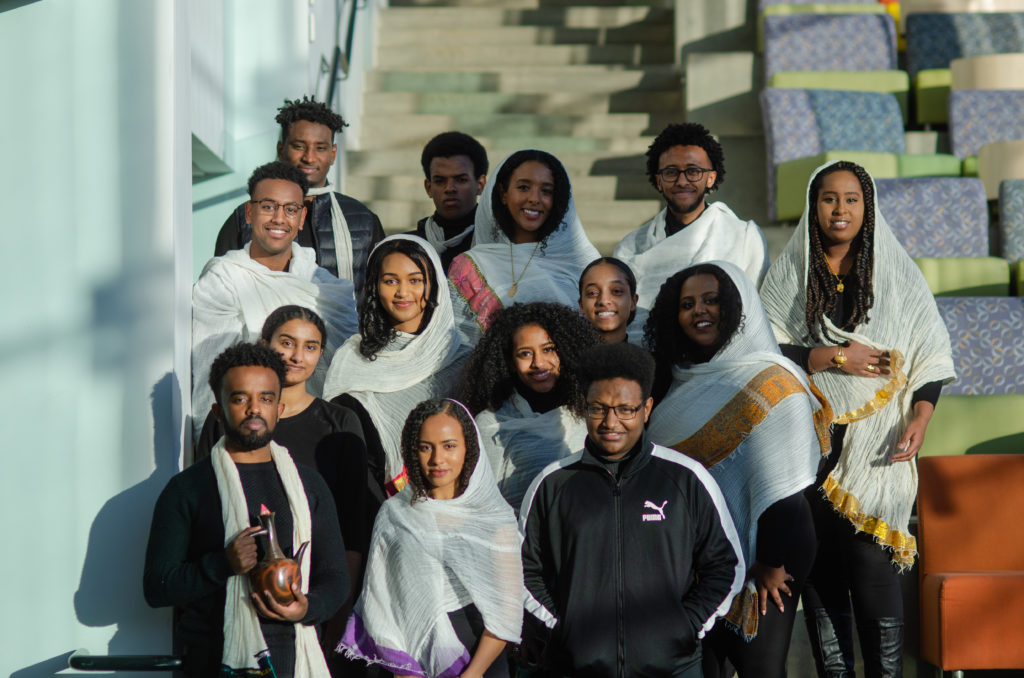 Building community through Injera and matchmaking
In fostering co-existence and unity, the EESA holds various events throughout the year, open to anyone who wants to learn more about Ethiopian and Eritrean culture.
The event "Injera and Chill" is a cornerstone event for the group. This annual event centres around showcasing Eritrea and Ethiopia's traditional dish injera, alongside games, dancing, and performances.
"It's an opportunity to get a literal and metaphorical taste of our Eritrean and Ethiopian culture," Elfas Johannes said.
Beyond that, the EESA also collaborates with the Teddy Outreach Foundation to create a mentorship program for Eritrean and Ethiopian youth in the city. The group is also planning to create an Edmonton version of the popular Eritrean and Ethiopian meme account BunaTime and a Valentine's Day matchmaking event called "Habaesha," a play on the colloquial term Habesha.
For Natnael Abate and Elfas Johannes, participating in the EESA provides them with the opportunity to learn more about their culture and themselves.
"You don't feel alone, there are familiar faces out there that you can interact with," Abate said."In the past few years I haven't been following up on my culture, but [being in EESA] gives your initiative to start learning more about it."
"I've been gaining a better understanding of myself, where I come from and where I want to go," Elfas Johannes said. " I think it's rooting me — I'm embracing my culture, I'm identifying with it, I'm learning more about my culture with every single interaction I have.
"I need to learn about where I came from because ultimately, I need to know where I came from to know where I'm going."