Arts & Culture
Campus & City
Book Review: Vivek Shraya's "The Subtweet"
Vivek Shraya's sophomore novel is a captivating account of female friendship in the digital age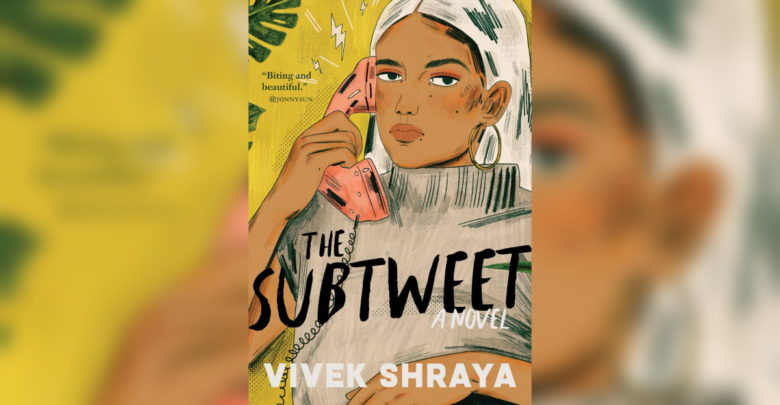 Vivek Shraya's The Subtweet is available at the Glass Bookshop or online wherever books are sold.
Vivek Shraya's novel The Subtweet has something for (almost) everyone.
Everyone from musicians to social media users to anyone navigating the patriarchy might see themselves echoed in this sizzling novel about female friendship. It is almost impossible to place one label on a story bursting with so many voices. In short, The Subtweet is intersectional.
The plot centres on the formation of a relationship that is both fulfilling and intriguing. It seems unlikely that underground singer Neela Devaki and little-known music journalist RUK-MINI should even cross paths, let alone strike a close friendship. Yet when the unreserved RUK-MINI covers one of Neela's most beloved tracks, the two artists find they have more in common than they realized. Neela's aloof manner isn't enough to keep RUK-MINI away, and RUK-MINI's outlandish personality soon proves to be more introspective than Neela had thought. Despite their fast-growing bond, these two friends' relationship is tested as they wade through social media's deceiving veneer.
Though Neela is set in her ways, her friendship with RUK-MINI is utterly transformative. The nature of their rapport definitely passes the Bechdel test, but the absence of men is not as notable as the presence of Neela and RUK-MINI. Their work, tastes, opinions, frustrations, commonalities and disagreements all form the spirited intimacy of their relationship. As their connection grows, RUK-MINI finds her performance tactics influenced by Neela's pointers, while Neela's critical opinions are refocused into a more assured yet explorative view of herself.
The Subtweet has a lot to be praised for, but perhaps most refreshing is the ease with which Shraya portrays her characters' daily realities. Neela faces inordinate systemic obstacles as a woman of colour in music, but this point, though evident, isn't belaboured upon. This is the infuriating normal of Neela's everyday life, so why not just focus on her everyday life? Neela's originality is the focal point, while her lived experience of racial microaggressions are the smothering yet normalized backdrop. A similar contrast is found in RUK-MINI's appreciation for feminist theory and the reality that she must play into her customers' prejudices to get enough tips as a waitress.
Shraya also accurately depicts social media's ability to amplify insecurity and paranoia. As the characters in The Subtweet over-analyze text messages and worry about followers and likes, the insidious nature of online miscommunications becomes apparent.
In The Subtweet, author and musician Vivek Shraya explores race, sexism, and queerness through music in the digital age. She maintains a focused plot while commenting on each of these factors, because real lives are multifaceted. This book satisfies the need for relevant social commentary, while still being a fun read. And if that isn't remarkable enough, Shraya has also created an accompanying soundtrack included with The Subtweet.
So, go ahead. Immerse yourself through word and sound in this delight of a novel.