COVID-19
Institutional
News
ETS resumes fare collection on June 15; mulls U-Pass options
While students have no valid U-Pass currently, both the city and other U-Pass stakeholders are working on alternate arrangements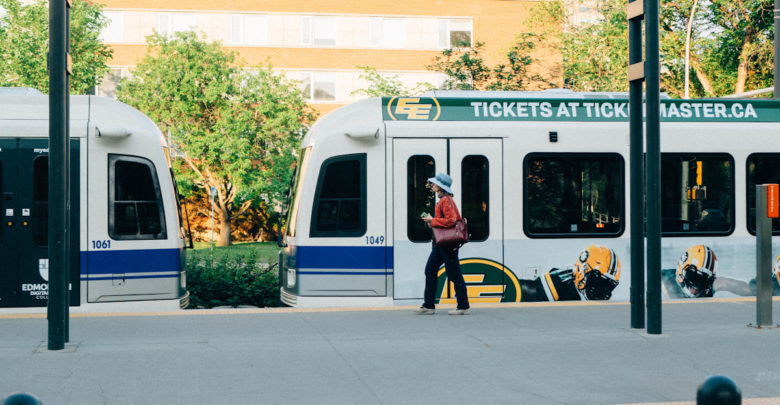 Starting June 15, the Edmonton Transit Service (ETS) will begin collecting fares again from passengers after almost two months of offering free transit due to COVID-19.
Since mid-March, ETS was free to ensure the safety of operators and passengers during the COVID-19 pandemic. June 15 will mark the resumption of fare collection on all buses, DATS service, and LRT. Currently University of Alberta students enrolled in Spring or Summer semesters do not have U-Pass.
Starting June 15, riders will board using the front doors and are encouraged by ETS to follow Alberta Health guidance of frequent hand washing, covering coughs and sneezes, and wearing a non-medical mask or face covering when using public transit or in locations where physical distancing is not possible.
Operators and other public-facing transit employees will wear masks when leaving the shielded area on the bus or LRT cab, and enhanced cleaning and disinfecting procedures will continue.
The City of Edmonton announced in a press conference given by Adam Lauglin, interim city manager, on May 28 that ETS will cease free transit.
From June 15 to 30, riders who have a March, April, or July bus pass will be able to board. Those without a pass can use cash, tickets, family/day passes, and valid transfers.
U-Passless students will have more details about transit fares "next week" says ETS
On March 17, the U of A announced it would not assess students mandatory non-instructional fees for services they could not access due to COVID-19 precautions. This included no Spring and Summer term U-Passes. Normally, the U-Pass is automatically charged to all students attending class at the U of A.
When The Gateway reached out for comment to ETS about if any accommodations will be made for post-secondary students who need to use ETS but do not have a U-Pass, or if they hold a Winter 2020 U-Pass and would be allowed to use transit, ETS responded on May 29 by saying those were "active conversations" between stakeholders.
ETS said it was speaking with all regional post-secondary stakeholders, including the U of A and its Students' Union, regarding how transit will work for post-secondary students. Any adjustments to U-Pass operations must be jointly agreed upon by regional participants in the program.
According to ETS, details will "be confirmed" to students "next week."
Alana Krahn, U of A Students' Union vice-president (operations and finance), said while the SU was not informed in advance of the resumption of fares, discussions are ongoing to see what arrangements will be made for students needing transit.
"We weren't surprised the city started to start charging fees again given the financial toll on them," she said.
Krahn added that the Students' Union recognizes the difficulty the resumption of fare collection can pose to some students.
"These are unprecedented times and we are working hard to ensure the affordability of student needs," Krahn said. "This includes access to transit if students require it."
The Students' Union is looking to have Winter 2020 U-Pass act as valid fare payment for the June 15-30 period where other previous bus passes will be deemed valid by ETS. Krahn said "all other options" are being considered.
"We are immediately starting to work with the city. Basically, we want to find a solution that will bring the greatest level of affordability to students who will need to use transit this summer," Krahn said.