Elections 2020
News
News
SU Elections 2020 International Students' Association Forum Recap
The newly revived International Students' Association held a forum featuring all candidates and the Sustainability and Capital Fund referendum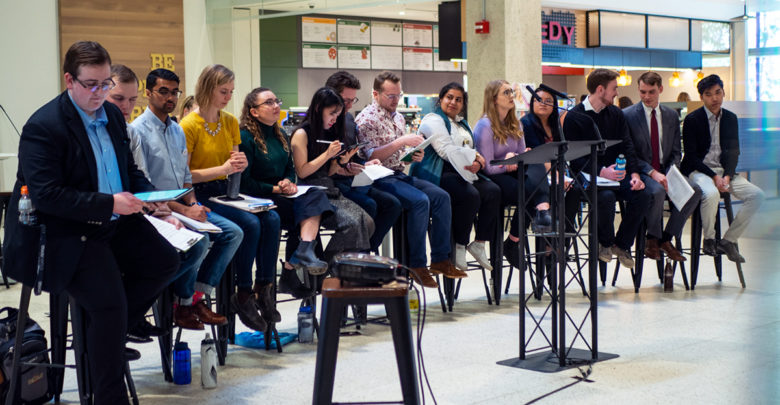 Here are some highlights of the forum:
President: Supporting and improving communication with international students
Vice-president (student life): differing views on reconciliation and ARRC recommendations
Vice-president (academic): candidate accuses opponent of already letting students down
Vice-president (operation and finance): bringing international food to SUBmart
Vice-president external: the possibility of creating free co-ops
Board of Governors representative: voluntary executive positions within the Students' Union
Strengthening international student voices, presidential candidates discuss plans
Joel Agarwal, sixth-year biology student and current vice-president (academic), reiterated points about student loneliness on campus, saying that the Students' Union hasn't done enough for international students in his opening statements.
Agarwal said his international strategic plan — which includes supporting the International Students' Association (ISA) in becoming a fully-fledged student representative association (SRA) — will address these gaps.
"As president, I will not forget international voices that, year after year, get lost in all election promises," Agarwal said.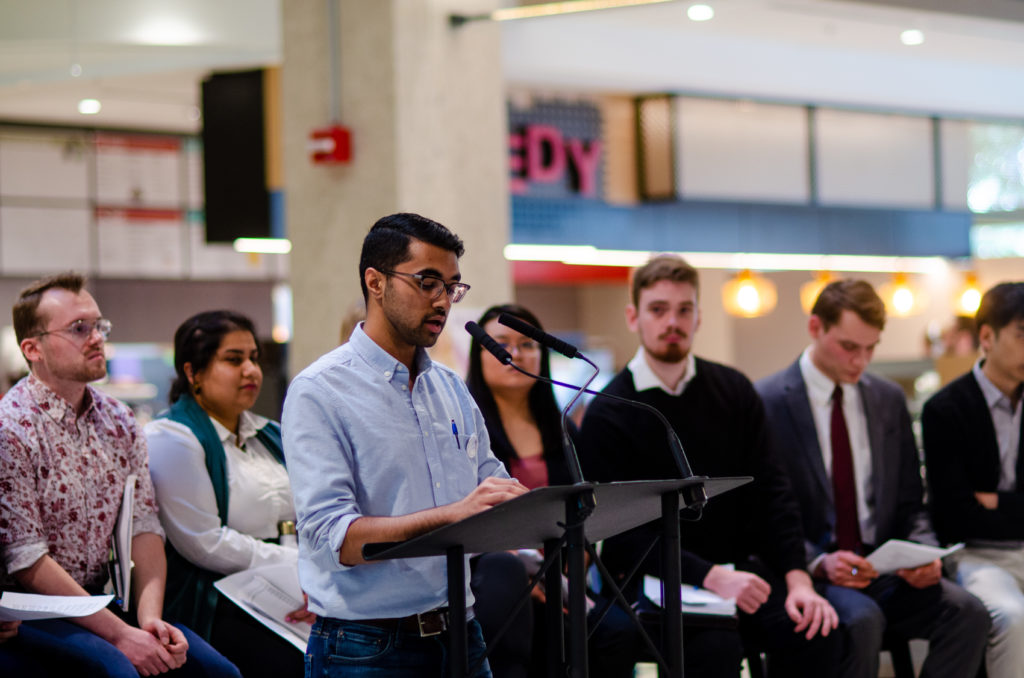 Yiming Chen, third-year international student and current arts councillor on Students' Council, spoke of difficulties international students face coming out of their comfort zone and connecting to big issues and events on campus, like protests or student elections.
"Our international students sometimes don't feel welcome, or even safe to explain our own opinions," Chen said.
She attributed this to culture shock, as well as issues with communication between international students and the local campus. She said that the Students' Union needs to open up platforms for communication in order for international students to share their opinions.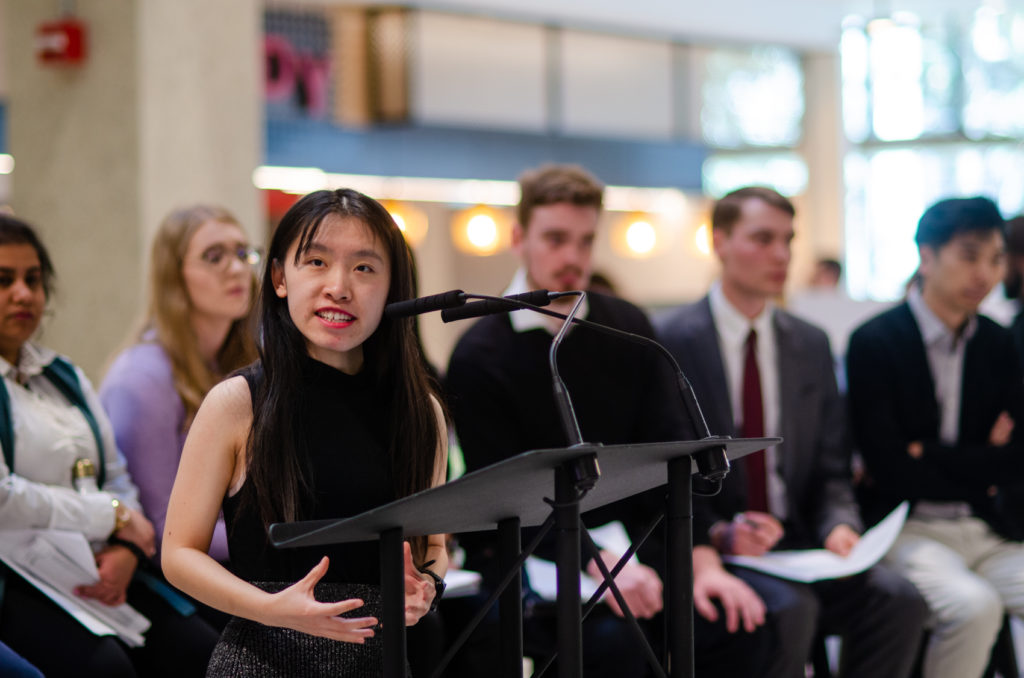 Luke Statt, fifth-year business student and current vice-president (operations and finance), stated that with rising tuition, the cutting of the Summer Temporary Employment Program (STEP), and the cutting of post-secondary funding with the provincial budget 2020, students "are being priced out of their education."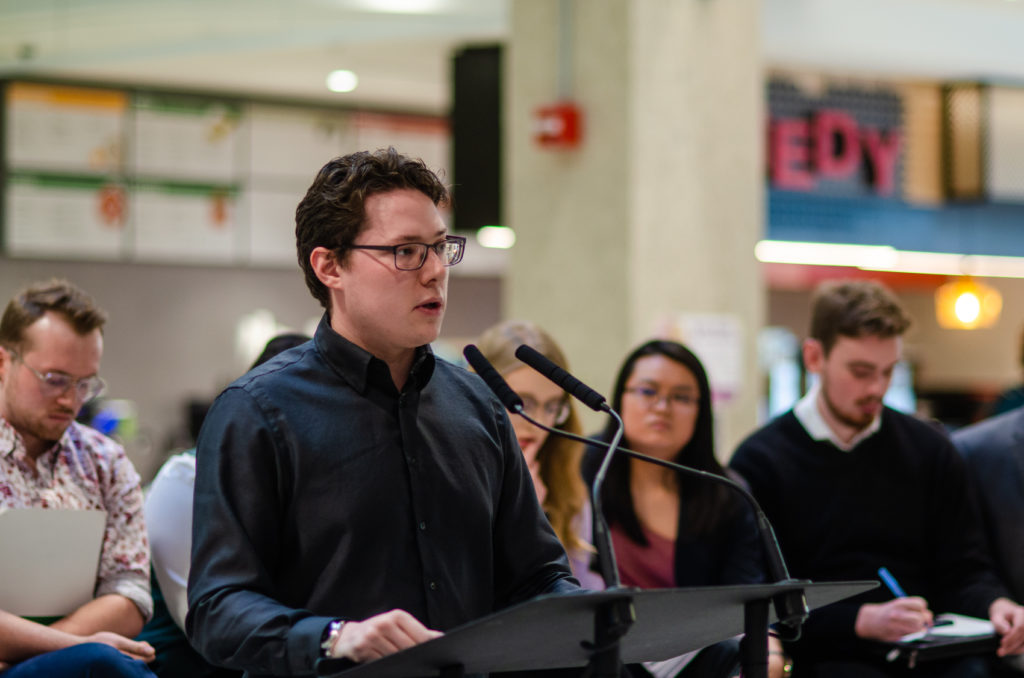 Statt said that with the international student population at the University of Alberta about to reach 15 per cent, Students' Union front-end services will need to increase in order to compensate.
"As our international student membership continues to evolve and grow, so must our services and advocacy," he said.
— Andrew McWhinney
VP student life candidates butt-heads over reconciliation
The vice-president (student life) candidates spoke about their plans to make mental health services on campus more accessible for international students.
Talia Dixon, a third-year student double majoring in women's and gender studies and political science and arts councillor for Students' Council, used her opening remarks to highlight how tuition increases, food insecurity, and loneliness negatively impact international students' mental health.
"So much of what it means to be an international student is drowning in uncertainty," Dixon said.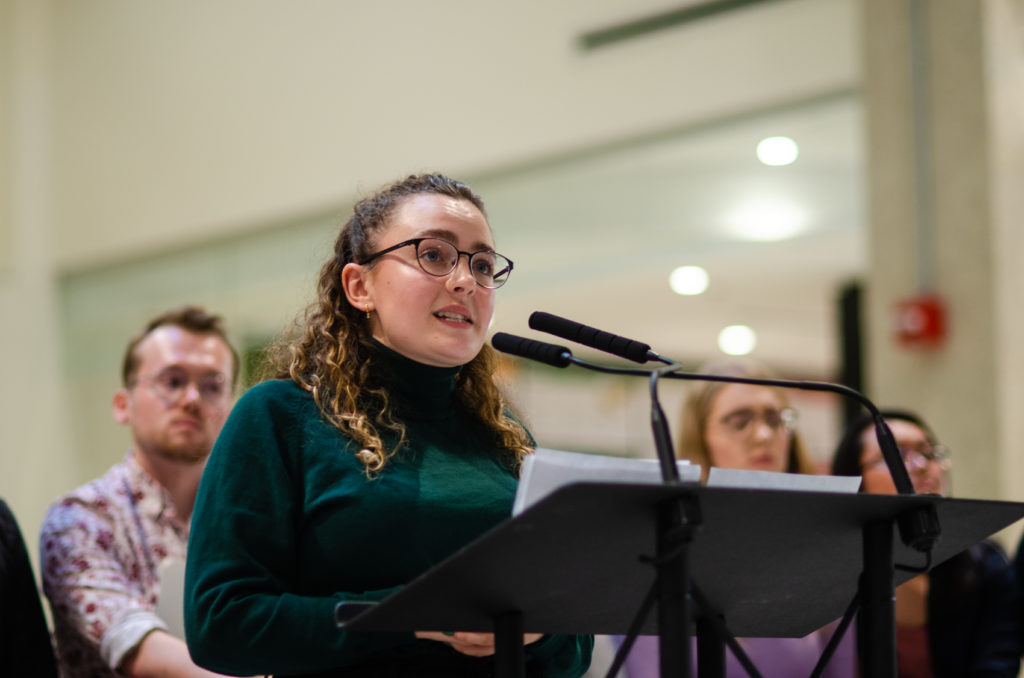 Katie Kidd, a fourth-year student majoring in secondary education and education councillor for Students' Council, also expressed a desire to make the Peer Support Centre more accessible to international students in her opening statement. She pledged to work with the Peer Support Centre and the International Students' Association to recruit more listeners that speak Mandarin.
During the debate portion of the forum, the intersection between Indigenous and international students was discussed. Dixon asked Kidd where she sees an intersection between Indigenous and international students, and the role she plays in that intersection.
Kidd responded that she plans to work with the Peer Support Centre to create two different programs focusing on each group.
"What I have heard from [Indigenous students] is that they need more support in decolonizing our mental health supports," Kidd said. "I've also heard that from international students, that they need people who understand what they are going through specifically."
Dixon and Kidd clashed over their differing approaches to implementing the Students' Council Aboriginal Relations and Reconciliation Committee recommendations.
"When I met and consulted with Indigenous students, they asked me to put the ARRC recommendations in my platform," Dixon said.
Kidd, however, said she had a different understanding regarding the implementation of the recommendations.
"When I talked to Aboriginal Student Council, they applauded me for not putting the ARRC recommendations in my platform and going beyond that," Kidd said.
— Christine McManus
BoG candidates discuss voluntary Students' Union executive positions
The Board of Governors Representative race took an unusual turn when Albert Hu, third-year medical student in the Doctor of Medicine (MD) undergraduate professional program, claimed during his opening statement that international students cannot legally run for SU executive positions.
"Every candidate talks about engaging international students," Hu said. "But as an international student, I would not be allowed to run because my student visa does not permit full-time jobs, and each of these positions is a full-time job."
He then went on to call international students paying Students' Union fees "taxation without representation," and stated that if elected, he would encourage the Students' Union to make all executive positions voluntary.
"We probably have the largest Students' Union in the continent," Hu said, addressing the audience. "Are you getting the best Student Union services in the continent?"
Dave Konrad, second-year bachelor of environmental and conservation sciences student majoring in human dimensions of environmental management and ALES councillor on Students' Council, rebutted his opponent's assertion that UASU executives should not be paid.
"How do we expect students who take one class to work 60 hours a week besides that class for free?" Konrad asked.
During the debate portion of the forum, Hu asked Konrad what specific policies he plans to bring to the Board of Governors next year.
Konrad said that he "struggled to answer [the question]," because as BoG rep, he would not be able to bring policies directly to the board. Konrad said that he plans to advocate for changes to how the Endowment Fund is handled, and for greater representation of Indigenous and International Students.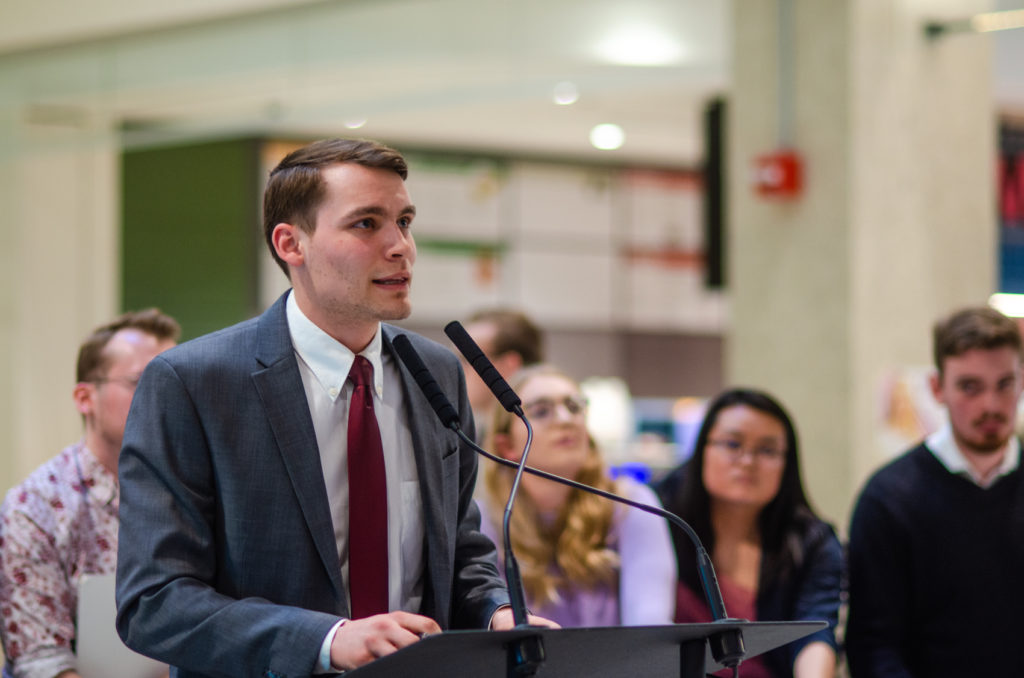 In turn, Konrad asked Hu about his proposed student consultation framework, and how Hu intends to reach out to minorities to prevent demographic bias.
Hu responded by stating that he did not foresee an issue with only reaching certain demographics with an online consultation network.
Hu then said he plans to have students vote on policy ideas that matter the most to them, and then bring the most popular issues to each BoG meeting.
— Christine McManus
VP academic candidate claims opponent is already slipping
During the debate portion, David Draper, third-year honour political science and sociology student and arts councillor for Students' Council, pointed out that his opponent didn't stay past the first hour of the Students Not Silent protest against the provincial budget last Thursday, claiming he only stayed for a photo. He then asked how students can expect his opponent to follow-up on his promises when he's already falling through with his promises.
Eric Einarson, fourth-year chemistry student and president of the Campus Saint-Jean faculty association AUFSJ, said he had to leave because he had a midterm the next morning. He also said he only took a photo because he saw a "dope" sign.
"I felt bad that I had to go, I had a midterm at 9:00 a.m. and it didn't feel right missing it," Einarson said. "[This is why] I didn't post it on Facebook. I didn't think it would be appropriate to make it seem like I had spent more time there and make a big deal [that I] showed up."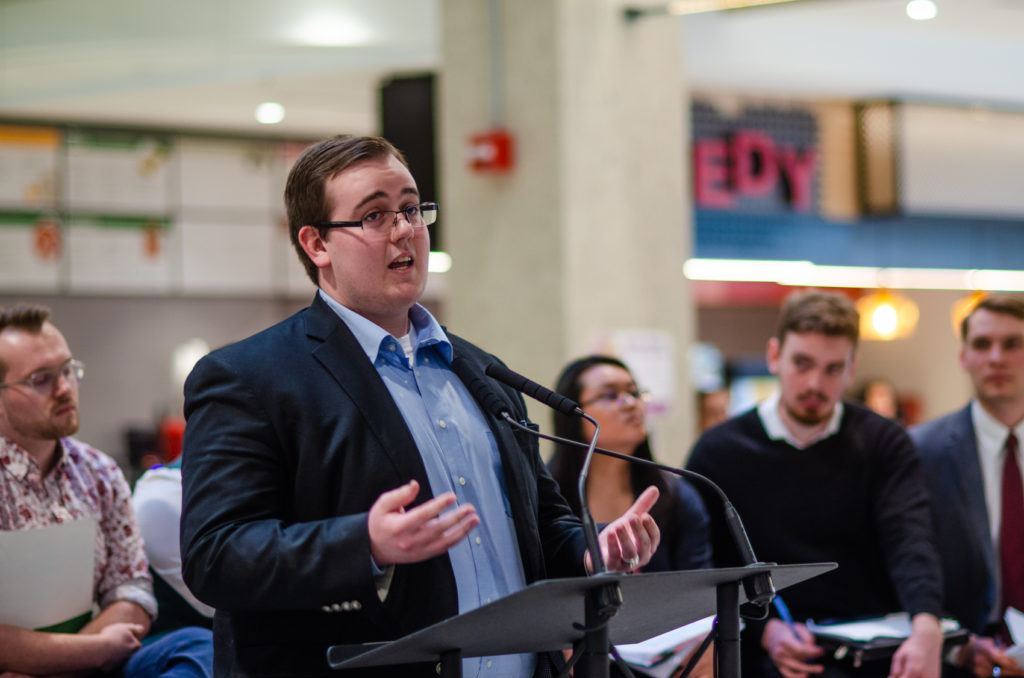 Einarson asked his opponent how he would connect with international students attending Augustana and Campus Saint-Jean.
Draper said he would work with the faculty associations at those campuses, as well as their specific international student associations.
"When there are specific groups in those areas, they won't be left behind if they aren't covered by specific Student Representative Associations," he said. "It's all about having an active, constant communication with these groups so they know their voices are being respected and that they always have a seat at the table when I'm there."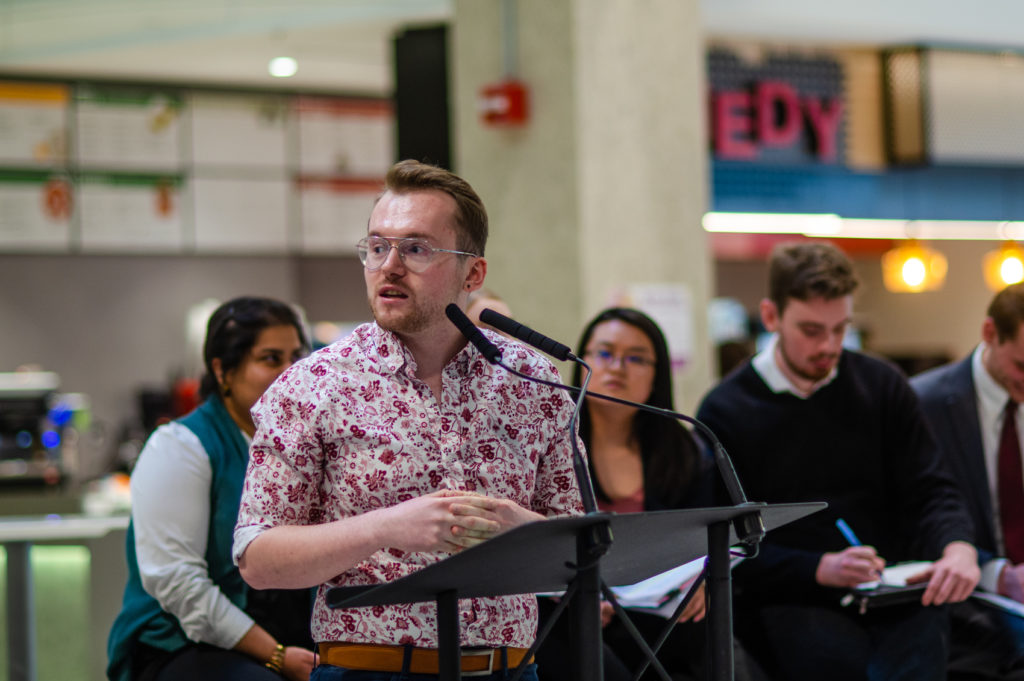 — Khadra Ahmed
VP Ops-Fi race talks opponent feasibility and food inclusivity
Alana Krahn, fourth-year business economics and law student, asked her opponent what exactly qualifies her for the position of vice-president (operations and finance) outside of her involvement in Students' Council and General Faculties Council, the university's highest over-seeing academic body.
Samantha Tse, third-year student in secondary education, Students' Council audit committee chair, and education councillor for Students' Council, said that she has had a lot of experience in the student community, citing trips to China and involvement in U School.
"I've been in the student community as well as student governance, " she said. "Although I do not have a business background, I have been the chair of audit [committee] for the past year in Students' Council."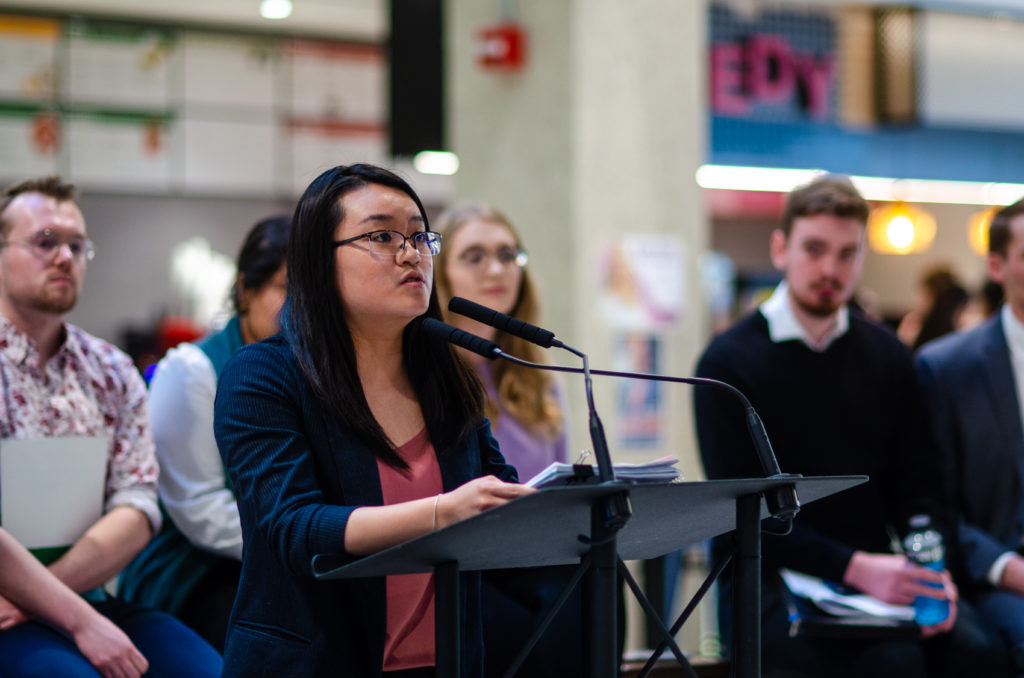 Tse then asked Krahn how exactly she would plan to increase mental health funding without increasing the cost to students.
Krahn said that with next year's upcoming tiered Students' Union Health and Dental plan, she would look into increasing plans in a way that allows benefits to outweigh the costs for students.
"If charging students an extra ten dollars would get them an extra two counselling appointments, you are saving them almost $400 and still allowing them the access they need," she said.
A question posed to all candidates, the ISA asked what candidates thought was the biggest issue facing international students.
Alongside increasing international student representation through the ISA, Krahn said that mental health is an issue that often weighs heavier on international students and said she would try to balance affordability and coverage.
"[I want to make sure] we are striking a balance that is going to meet international students' needs," she said.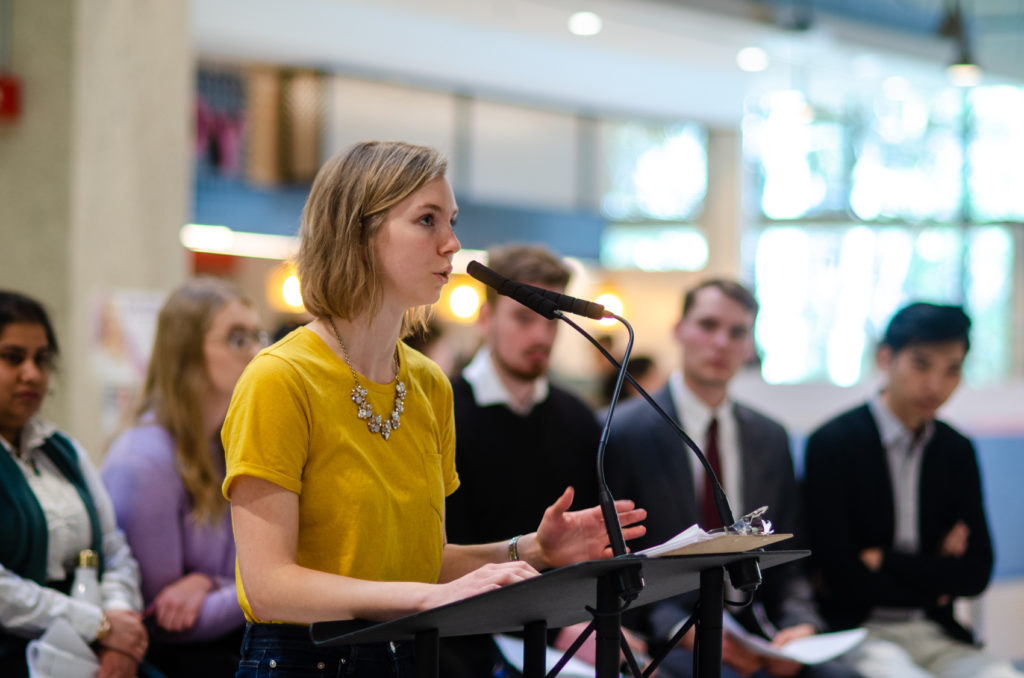 Tse said there was a lack of support for international students and said she would better culturally support international students by providing more international food at SUBmart.
"[I would] write a strategic plan for SubMart so we can get snacks like Maggi noodles and Parle-G biscuits instead of Western Snacks — that's the only thing we see."
— Khadra Ahmed
VP external faces concerns about co-ops
The vice-president (external) race trod through material seen at other forums, with both candidates connecting their core platform points to international student issues. Both candidates mentioned issues regarding international student employment, stating that work visas for international students need to be easier to obtain.
One forum attendee asked the candidates what steps they would take to ensure that co-op programs would be made free for students.
Rowan Ley, fourth-year political science student and current Board of Governors representative, said he would advocate to ensure that co-ops would be taxed differently from normal income, as well as for increased wage subsidies from government for co-op positions. He also said he would examine how to ensure that co-op programs are better managed at the U of A.
"I've heard from a lot of places that the co-op program is actually not managed in the most efficient possible way and a significant amount of co-op fees go towards paying for the management of the co-op program," Ley said. "Perhaps that could be a project for vice-president (student life) and vice-president (academic), to help address the efficiency and the management of the programs."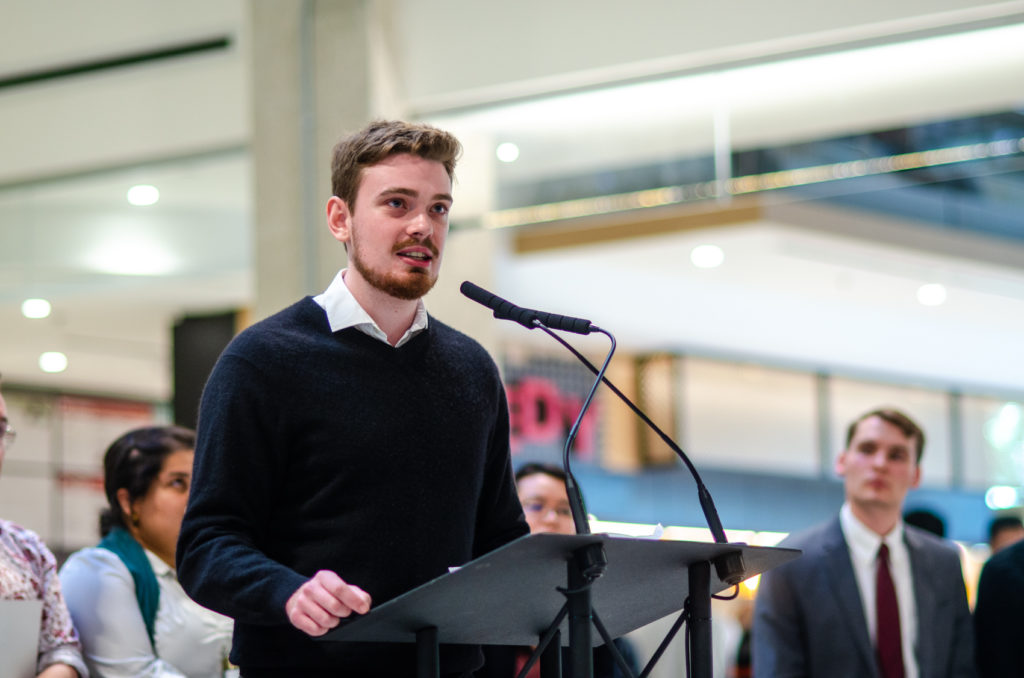 Robert Bilak, fourth-year political science student and current speaker of Students' Council, stated that that one of his more "radical" ideas would be to find a way to get a STEP-like program up and running again.
"We know [the provincial government] cancelled the STEP program, they are not a fan of spending a ton of money on the STEP program," Bilak said. "But at the time they talked a lot about facilitating youth employment but they don't want to be subsidizing wages."
To get around this, he would advocate for grants from the government that would pay for the costs of a Summer Temporary Employment Program (STEP)-like program, but not directly subsidize wages.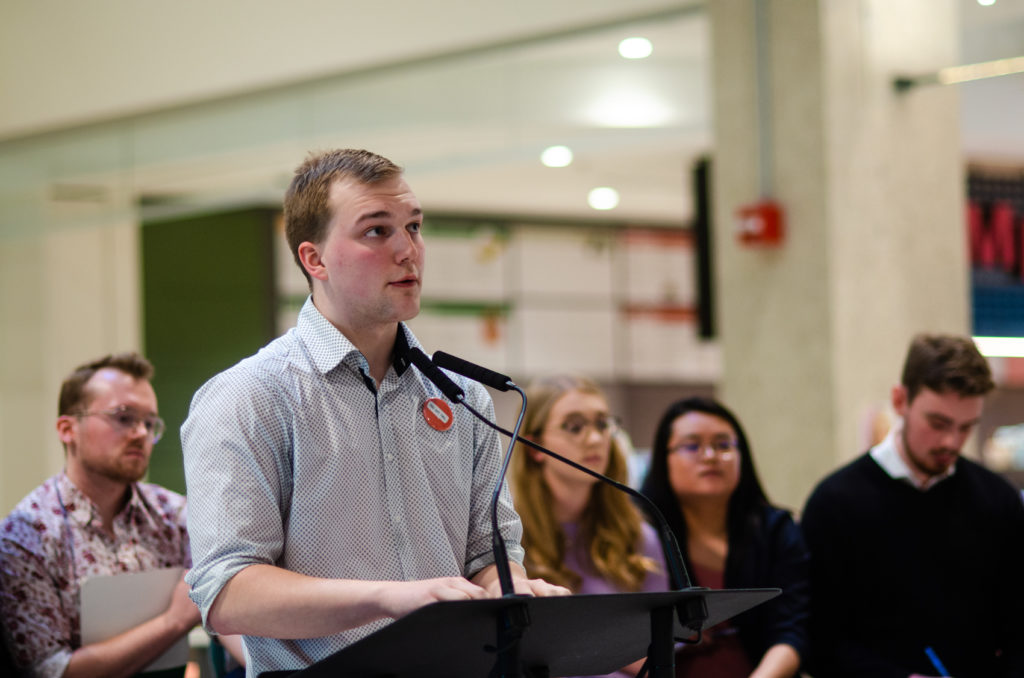 He said he would also work to expand the Student Involvement Endowment Foundation (SIEF)'s — a charitable organization run by the SU to support student-run student services and provide scholarships — to commit more upfront grants to offset these costs via fundraising.
— Andrew McWhinney