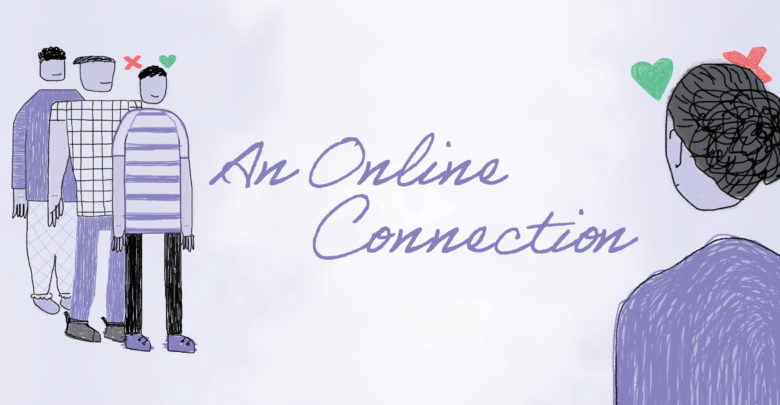 I was always afraid of online dating.
The prospect of meeting someone in-person seemed difficult enough, let alone chatting with a complete stranger, getting to know them, and then (hopefully) meeting in the real world. I decided to jump into the deep end and try it out.
After a hiatus from the dating scene due to a brutal breakup from a long term relationship, a couple of messy flings, and a handful of promising prospects that just never went anywhere, I decided to try something I had never done before: find a meaningful relationship that could go steady from an online dating app.
A couple months ago I began my journey into the digital realm of matchmaking. It took me on quite the adventure, one that continues to this day.
STEP 1: Joining an app
Once I made the decision to try finding a match online, I had to decide which application to use. I conducted my own preliminary research and consulted with friends as to where to start.
It was overwhelming to scroll through the AppStore section of dating apps. There were staples like Tinder to apps I had never heard of, like Coffee Meets Bagel.
I settled on starting with one app. Many of my friends had really positive experiences with Bumble. One of them actually found a long-time partner on the app. They kept pushing me to not feel anxious; I was told I would find plenty of people and have a great time while doing it. I felt like it was a good place to start.
Bumble is unique in that it requires women to make the first move, unless you are looking for a same sex match where anyone can make the primary contact. According to Bumble, this was done deliberately to reinvent the "antiquated rules of dating," whereby men were expected to initiate. Instead, Bumble says it empowers women by giving them control of the entire interaction.
I found Bumble easy to use. It had a significant amount of potential people to swipe through and its filters actually worked.
Yet, a week, then another, and one more passed without a single match.
STEP 2: Doubt and second-guessing
After three weeks of constant checking and nothing happening I began to grow restless. My initial optimism and encouragement from my friends wore off. I began to overthink, doubt, and second-guess everything from my decision to join in the first place to what was on my profile.
I thought I had a decent profile. I had even 'soft-tested' my photos with both friends and strangers on PhotoFeeler, a website allowing members to share photos and receive candid feedback about them. I knew that you only had six slots for photos so I made sure to make them count.
For the next two weeks I would rearrange my profile daily — sometimes hourly. I would switch out photos and constantly change my bio. Soon my line of thought shifted from blaming the app to myself. Was it my glasses that were holding me back? Did I not look genuine or interesting enough? Were people scared off by me putting my job as an editor at The Gateway? Those were some of the things that crossed my mind.
Soon after I deleted Bumble. I thought my experiment in online dating would end there. Then, one late night I decided to bet the last shred of my confidence and join a few other apps. Looking back now, I'm glad that I did.
STEP 3: Hedging bets
I joined and made profiles on OkCupid and Coffee Meets Bagel. I decided to cast a wider net and hedge my bets that by putting myself out there more would result in a potential return.
OkCupid is really one of the, if not the, original online dating mobile app. It was started in the early 2000s by a group of Harvard students who also created SparkNotes. In fact, the group sold SparkNotes to United States national book retailer Barnes and Nobles in 2001 so that they could focus solely on OkCupid. The app uses more survey-based questioning to generate a percentage rate of compatibility with others. This way you aren't just using a swipe left or right based on images, but can also take into account your percent compatibility.
Coffee Meets Bagel is a newer dating app that limits the amount of users a person can interact with each day as a way to make them more meaningful. This way you aren't just swiping past every single person.
Within hours of setting up profiles on both apps I had matches who I started talking to. I found OkCupid to have a lot of older potential suitors, which was not was I quite looking for. From my interactions I found Coffee Meets Bagel had more of a professional audience, where it was people who weren't afraid to share what they did for work or career aspirations.
STEP 4: Strong first Impressions
It was overwhelming to go from receiving no matches to having several conversations going with different people.
There were a lot of conversations that just didn't quite go where I had hoped. There was some ghosting — from both my end and the other person's end.
Ultimately, I found the hardest part was making a solid impression within the first handful of messages. The first message proved critical. It seemed like an impossible task to try making a simple introduction, express interest, and ask a question to initiate a meaningful conversation. I tried flirty, then no flirting. Also, can you use emojis or not?
I ended up focusing on three main things in my first message: proving I have read their profile, starting a conversation about something we shared in common, and asking a question to spark a further exchange.
After a week of juggling multiple conversations I came across a Facebook ad for Hinge. I decided to give it a shot, seeing as how I was already engaged with two other platforms. Hinge boasts itself as the dating app meant to be deleted; on its website it says the average users deletes the app after three weeks of use.
Immediately, I was impressed by how easy Hinge was to use. It had a sleek interface that made it easy to have a stellar profile. What stood out to me is the ability to like specific aspects of a person's profile as opposed to just liking their entire profile, like on all the other apps mentioned. Hinge allowed you to like a specific part of a person's bio, one of their photos, or the whole profile as well. Then the app makes you leave a comment with the like. While it leaves it up to you as to what you want to say, this feature made it super easy to initiate and flow into meaningful conversations as opposed to starting from scratch. For example, if I saw a photo of someone hiking I could like that part of their profile and say I love to hike too.
All the conversations started on apps besides Hinge never lasted beyond 48 hours. Hinge made it easier to make a strong first impression and launch into successful dialogues. It also made meeting in person so much better; I felt like I knew more about the person which led to fruitful real world interactions. I ended up deleting all the other apps and focusing my efforts solely on Hinge where I wasn't just matching with people, I was having discussions, debates, and heartfelt conversations.
In fact, it was on Hinge that I found the special someone — who to this day — I am still seeing and going on adventures with. While I didn't delete Hinge in the average timeframe as they purport, I did end up erasing the app and focusing on the one person I found through it. The person who I still am dating now.
I was always afraid of online dating. While trying at times, the experience ended up being successful; one that I am incredibly glad I undertook. I found that ultimately the best approach was just being myself. Even though I tried portraying myself in a different way or tailoring my response, I got matches that ended up going nowhere. The best result came from sharing what was true and genuine.