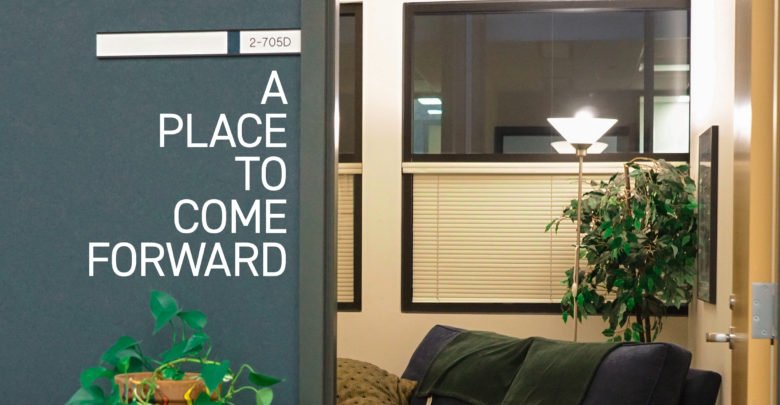 On my first day at the University of Alberta, I was told that all students, at some point in their university degree, will access at least one service found on the second floor of the Students' Union Building. This floor is home to various health and wellness services including Counselling and Clinical Services, the Peer Support Centre, and the University Health Centre. Tucked away in a narrow hallway on the second floor, students can also find the Sexual Assault Centre (SAC).
"We provide support to anybody who has been affected by sexual assault, abuse, sexual harassment, stalking, intimate partner violence, or non-consensual photo-sharing," said Paige Cahill, the Volunteer Program Coordinator at the Sexual Assault Center.
The drop-in hours for the Sexual Assault Centre are from 9 a.m. to 5 p.m. on weekdays with evening hours dependent on volunteer availability. Crisis intervention support can be provided on a one-to-one/in-person basis as well as over-the-phone.
Upon entering the SAC, the person is greeted by a crisis intervention volunteer who offers them tea or water prior to going into one of the SAC's confidential rooms.
"Our crisis intervention volunteers are trained in the areas of anti-oppression, trauma-informed, and person-centred support," Cahill stated.
Delivered by an on-staff psychologist, the SAC also provides long-term counselling and psychotherapy for students who have been impacted by sexual assault or sexual abuse.
"The only parameters around this long-term counselling is that they must have experienced sexual assault and they have to be a student here," Cahill explained.
A 2001 study conducted by the University of Alberta's Sexual Assault Centre found that approximately one in five students on campus had experienced a sexual assault at least once in their life. Taking a step back, a recent Statistics Canada study found that one in three women and one in eight men experienced unwanted sexual behaviour in public.
"I think that the campus community is just a microcosm of society in general," Cahill said. "[Sexual assault] is a problem everywhere. It is not just a post-secondary institution problem."
Following the release of 2016's Review of the University's Reponse to Sexual Assault, the Sexual Assault Centre has also been active in raising awareness and demanding reform for university policies that deal with sexual misconduct.
Early last year, demonstrators took to Lister Centre to protest the way that the University of Alberta Appeals Board (UAB) deals with sexual assault cases. Although not all of these demonstrators came from the Sexual Assault Centre, the SAC's Director Sam Pearson was at the forefront of this particular demonstration. These protests centrered around the Code of Student Behaviour which permits de novo hearings for individuals accused of sexual assault and raises concerns of potentially re-victimizing survivors of sexual assault.
"It could mean a lot to survivors who choose to seek justice through the university process," Cahill explained. These protests also looked at the delivery of anti-sexual violence training for UAB members.
The Sexual Assault Centre also hosts an Awareness Week every semester (around October and February) that encourages students and staff to have discussions around consent and sexual violence. The most recent Awareness Week in October focused on the theme of Consent in Everything.
"We're hopefully going to engage more people in conversation about consent in more of a nuanced and holistic way as opposed to just being about sexual relationships," Cahill described.
Moving forward, Cahill is excited for the pilot run of the SAC's support group, Roots, which began in January 2020. This support group can be accessed by individuals who have previously gone through an initial consultation with the on-staff psychologist.
"Right now, we have two planned for the Winter semester and two planned for the Spring Semester," Cahill said. "The group is once a week for five weeks."
The Sexual Assault Centre also provides educational workshops around the issue of sexual violence and consent for the campus community. These workshops are targeted towards increasing awareness of what sexual assault is and debunking common misconceptions associated with the issue.
There are also workshops tailored around bystander intervention and providing support to survivors of sexual violence. While most of these educational workshops are free for students and staff, the SAC offers a two-day comprehensive First Responder Training that costs $250 per registrant.
Reflecting on what the ways that the campus community can work to address and reduce the prevalence of sexual violence on campus, Cahill acknowledged the importance of accountability and respecting each other's boundaries.
"Above all else, practicing empathy, holding ourselves accountable, and believing survivors when they come forward," Cahill said.