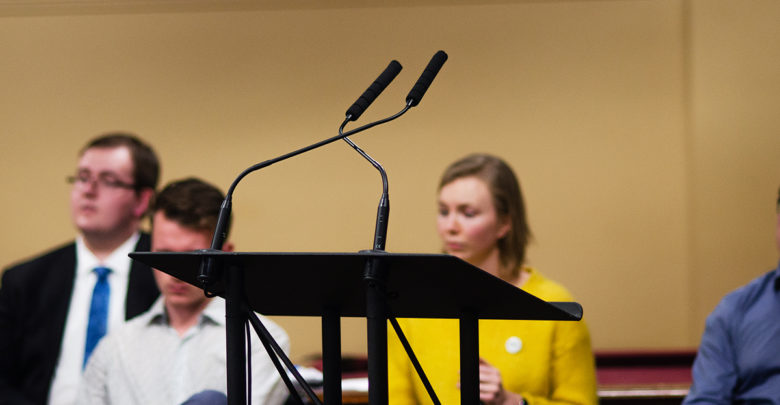 The 2020 Students' Union election campaign opened strongly at Lister Hall, with many candidates mentioning how they would address the issue of mental health and the way it is approached by executives. Questions posed by audience members on this subject were given concise answers. But while many of the candidate's responses addressed deep-seated concerns of students, their promises need to be examined carefully.
Vice-president student life candidate Katie Kidd was emotional about the mental health aspect of her platform, emphasizing the importance of this topic in the race. Some of the concepts pitched by candidates included third-party training for the Peer Support Centre, preventing evictions from residency for mental health problems, creating initiatives to benefit students feeling lonely, promoting tips to identify distress and assist peers, and mental health services for Indigenous students who might be struggling.
On the surface, these manifest as much needed and useful provisions, as long as they are actually acted upon by governance. The next step should be to listen for concrete steps these candidates are prepared to take in order to implement these initiatives. As long as the matter stays in the main discourse throughout the race, it will continue to give attention to unheard voices. The Students' Union operates based on priorities and well-developed plans which depend on the resources at their disposal. Because of this, the candidates with feasible ideas that are able to pass under scrutiny are the ones which will be put in place.
Last year, the same amount of proposals were put forward by candidates at these forums. Once they got in office, elected executives did not go forward with establishing their proposed projects. Rather than staying true to their campaign platforms, they chose to ignore mental health all year long. This issue without question deserves to be taken seriously, and should not act as a placeholder on platforms. The awareness and availability of mental health services for students has gone under the radar for too long.
If the Students' Union aims to continue fulfilling the needs of students, mental health will certainly need to be part of that equation. However, it must be handled responsibly. Any of the proposals put forward about mental health just may land that candidate in office. In that event, the elected executives should be kept in check to ensure that they deliver on their promises.