Institutional
News
Alberta post-secondaries still waiting for information on provincial funding, some taking out lines of credit
The U of A says it is waiting on both information and has had to wait for actual funding from the government as they try to plan future budgets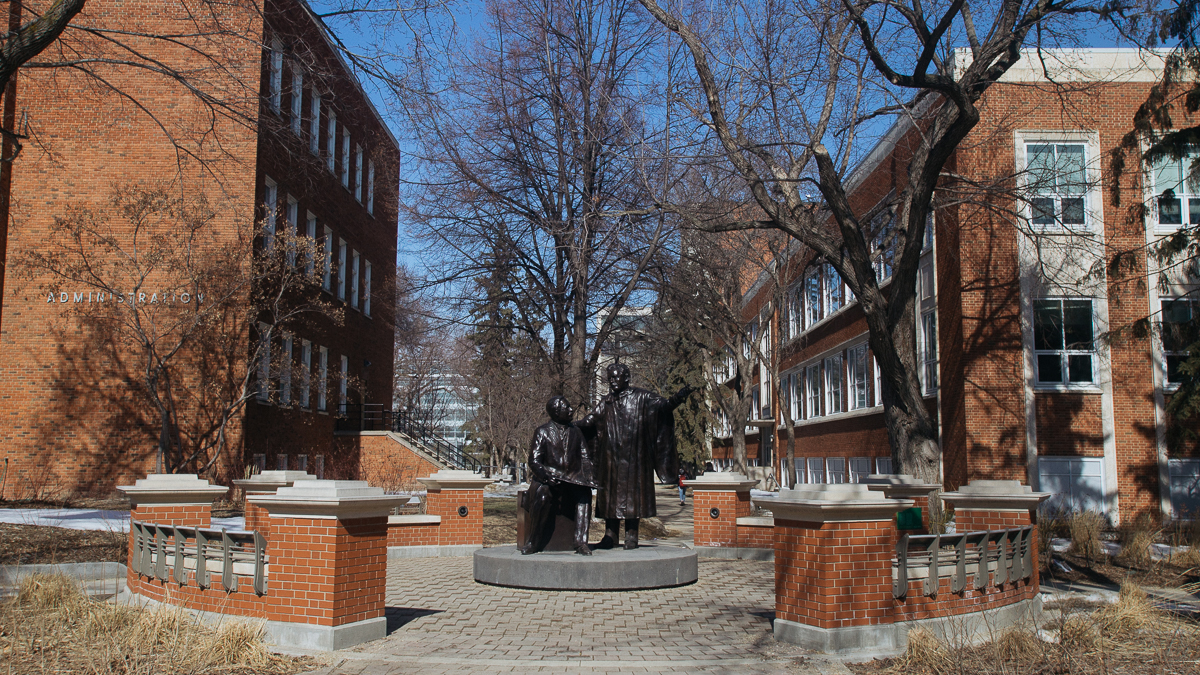 The University of Alberta, along with other post-secondary institutions in the province, are still waiting for clarity on how future funding models will influence their budgets.
The United Conservative Party government unveiled as part of Budget 2019 that institutions could expect a new formula to calculate grant funding in the next provincial budget. At a U of A General Faculties Council (GFC) academic planning committee — GFC's senior academic and financial planning committee — on January 15, discussion about the lack of information on upcoming budget information and its influence on future planning occurred.
Additionally, it was revealed by U of A vice-president (operations and finance) Gitta Kulczycki that the Ministry of Advanced Education has missed two payment dates to the U of A in the past fiscal year. By not making these payments in time, the U of A was forced to scramble to make alternative arrangements to meet day-to-day expenses. Kulczycki said this does not pose a significant problem for the U of A, but if it continues to occur, it could negatively impact the institution. She added that "other institutions" in the province had to get lines of credit to ensure they could continue to operate as a result of missed payments.
"We have had two occasions this year where they [the Ministry of Advanced Education] did not make our payment on time," Kulczycki said. "For some other institutions, they immediately had to run to the bank and get a line of credit."
"We are not in that position, but the ministry knows that there are institutions that are that tight to the wire on their [funding]," she said.
On behalf of the Minister of Advanced Education Demetrios Nicolaides, his press secretary Laurie Chandler said in an interview that she was not aware of any situations where payments were delayed. She said she would investigate the matter fully.
"It's not pretty," U of A deputy provost says
Wendy Rodgers, deputy provost at the U of A, told committee members that the lack of information from the Ministry of Education about future decisions regarding performance metrics are making things difficult for administrators.
"We are waiting for the provincial government to identify a set of performance metrics that they will be assessing us by, which may have budget implications," Rodgers said. "We at this point do not know what the performance metrics are or what the potential budget implications are.
Kulczycki said this presents a difficulty as budget decisions have to occur now. According to her, the budget planning process has already had to be "juggled" to meet the change of government after the provincial election, Budget 2019, and now the forthcoming spring provincial budget.
The U of A already received a 6.9 per cent cut for 2018-19 to its Campus Alberta Grant share — funding used to cover the cost of providing instruction. It is now operating under the assumption it will receive a further five per cent cut to its share of the grant for the next three years, a 22 per cent cut translating to $130 million.
Rodgers said the university is operating under the paradigm that the UCP's funding model will mirror what Ontario's Rob Ford government put in place. She said that the U of A is following the Ontario example closely to get some semblance of what to expect.
Chandler said that at this time she could not confirm if the Alberta model will follow in Ontario's footsteps.
Rodgers said to the committee that it seems as if the ministry has had more conversations with student leaders, like Students' Union president Akanksha Bhatnagar and Graduate Students' Association president Fahed Elian, than with post-secondary administrators.
"I know that Akanksha and Fahed have had a little bit more access to the government than we have," Rodgers said. "Current rumours are they are moving ahead with this plan and aren't much interested in talking to any post-secondary administrators about it all."
Bhatnagar was then invited to speak to the committee and share what information she had about the matter. According to her, "it is very likely" graduation rates for post-secondaries will be one metric and "student experience" will be another. She added that from her discussions, the system is "very much framed" in the same way as Ontario's.
"We have been reassured that the implementation will not be instantaneous," she told the committee. "They want to make it on a rolling implementation, so that every institution is not competing with each other but competing with itself."
"Not a whiff" of feedback given to U of A after submitting their budget impact plan
Kulczycki said that this lack of communication is not new. She revealed that when the U of A submitted its budget impact plan after Budget 2019's unveiling, the institution received no feedback from the government.
The UCP government required all universities to submit a budget impact plan to show how institutions would handle the change to their funding. Kulczycki said no response was given after the document was given to the ministry.
"Not a whiff, not even a whisper, not even a thank you [was given]," Kulczycki said.
Ministry of Advanced Ed says it meets with "all stakeholders" and has "never" turned anyone away
Chandler said that all stakeholders within the post-secondary system receive access to the minister.
"We do meet with all of our stakeholders," Chandler said. "We are setting up meetings with all of our stakeholders currently to talk more about performance-based funding, which we will be announcing shortly."
"I am confused as to why this is an issue with administration when we are most certainly meeting with all our stakeholders," she said. "The minister has been very clear this entire time that he has an open door."
She added that no specific date has been set to unveil the performance-based funding model, but that it will occur "in the near future."