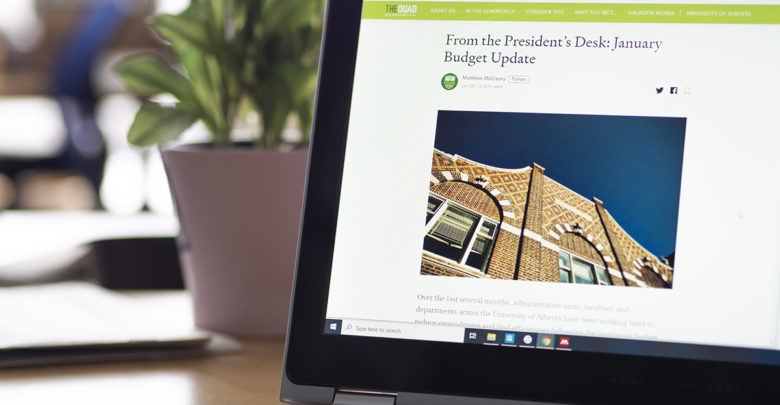 You probably haven't read The Quad, the University of Alberta's official blog. That's probably what the president's desk announcement was counting on January 20, when it revealed that since October, 30 academic programs have been cut or suspended, and 185 staff positions have been eliminated.
The closure and suspension of 30 academic programs is the worst kind of cut that a university is forced to make. It has a direct impact on a young adult's education and makes the U of A a less robust institution. For those who no longer get to graduate with the degree they thought they would, it's devastating.
U of A president David Turpin decided the way to break the news was a single sentence in one blog post on a website that — let's face it — no student reads. This implies that this change should be kept in the shadows, released in a way that is not meant to be seen.
I can't say if this is the right move. I can't say if the choice to cut 30 programs from this university is the best, or only, option left for the administration. But as for how Turpin chose to announce this matter, he chose wrong.
Students are and will continue to be hurt by these cuts, and with a Students' Union executive team that has been, at best, inept in the face of these attacks on post secondary education, Turpin is one of the few individuals left that has the ability to adequately inform students about the fact that our university is bleeding out. We need and deserve to be told how our university administration is choosing to affect our lives. And without a Students' Union that is committed to highlighting the ways that cuts will impact us, a blog does not cut it. One sentence on one post is not a president doing his job to inform the student body of the choices being made and justifications for those choices.
MacEwan University announced it was cutting 10 staff positions, and it made headlines at multiple local papers. The cuts were undesirable, but MacEwan administration determined that the news deserves to be heard by not just Macewan staff and students, but the rest of the province as well. Compared to MacEwan's 10 post eliminations, Turpin's blog post revealed the U of A has already eliminated 185, with more to come; the magnitude of these cuts means the U of A had even more of a responsibility to be transparent. The students of the U of A cannot take collective action against cuts we aren't told about, and the press won't report on something that isn't properly publicized.
Turpin's choice to use a blog to announce that students in 30 programs don't have a program anymore only legitimizes the provincial budget. Students have good reasons to oppose the budget, but this resistance can only happen when students are aware. Picking one of the least visible platforms for this announcement all but ensured that this would go unnoticed. By hiding the direct effects of UCP policy, the U of A aids and abets the inevitable push for further cuts. The university was probably never going to fight these cuts, but they didn't have to do the provincial government a favour.
The U of A is experiencing brutal budget cuts, and compounding the crisis is a president that is unwilling to risk bad publicity for the sake of honesty, transparency, and accessibility of information. We need an administration that, short of resisting these cuts outright, could at least do what is necessary to have the student body be aware of the loss of these programs. What we got were hidden cuts in a virtually reachless blog, and a provincial government that gets away with these attacks on education.