News
Students' Union
Notes from Council: No more photo-ops with ministers, dependents policy in the works, and new DFUs
Read about what SU executives response to online criticism, a new students with dependents policy, and DFUs to be voted on in 2020 in this November 19 Students' Council re-cap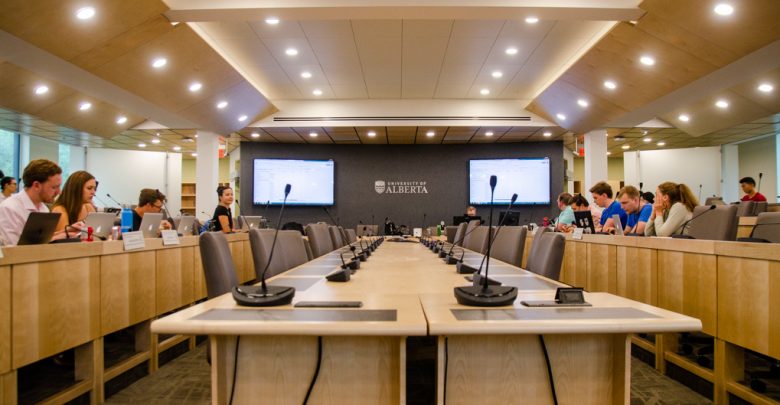 "Notes from Council" is The Gateway's ongoing series of recaps of noteworthy items from Students' Council meetings
---
Students' Union executives to no longer take photos with the Minister of Advanced Education
Hours before attending the Student Association of MacEwan University and University of Alberta Students' Union joint rally against the provincial budget, Students' Union President Akanksha Bhatnagar and vice-president (external) Adam Brown met and took a photo with Advanced Education Minister Demetrious Nicolaides.
The photo, which also featured Graduate Students' Association president Fahed Elian and vice-president (external) Marc Waddingham, was posted on the minister's Twitter page on November 18, just before the protest was set to begin.
The picture received some criticism from U of A students and others online. Brown clarified that these pictures were taken to show students they are meeting with the minister.
"These pictures, for larger context, are often taken for the sake of transparency," Brown said. "We are meeting with these elected officials, you'll find pictures after basically every meeting we do."
The Council of Alberta University Students (CAUS) has decided that they will no longer take photos with any elected officials. Brown, however, said the Students' Union will continue to post about meetings.
"Given this budget and the political climate with students, we will not be taking pictures at advocacy meetings with elected officials going forward," Brown said, "We will continue to post on social media highlighting that we are having these meetings, but we don't want any sort of confusion about the perceptions or intent of what these meetings mean."
Students' Council passes first reading of students with dependents policy
A new Students' Union policy is hoping to support students who bare the load of not only coursework, but also of family.
During the November 15 Students' Council meeting, Student's Union vice-president Jared Larsen introduced the students with dependents policy for its first reading. The policy was created by Larsen, education councillor Katie Kidd, and arts councillors Abigail Isaac and Juan Vargas Alba.
Through consultations with groups like First Peoples House, the Graduate Students' Association, Residence Services, and the University and Community Early Learning Centre, facts about students with dependents were presented. Additionally, the Students' Union conducted a survey to both students and other U of A members with dependents to help inform the policy.
The policy highlighted various ways campus is unfavourable to students with dependents, such as the university lacks policy on children in classrooms or undergraduate parental care leave. It also mentioned that Indigenous students are three times more likely to be parents.
The policy also made sure to define dependency in various ways, a very conscious choice made by Larsen and the councillors.
"We decided to call it Students with Dependents because we realize a lot of students on campus also have dependent siblings or dependent elders," Larsen said. "We wanted to make it as wide-covering as possible."
After garnering lots of support in council, the first reading of the policy passed unanimously, meaning it can further be worked on before being officially approved.
"I'm very excited about this policy, I think this is groundbreaking work," Students' Union vice-president (academic) Joel Agarwal said. "This very much shows the UASU leading the forefront in Alberta as well as the country in policies like this."
The Landing and Golden Bears Legacy Fund plebiscites approved
Both the Landing and Golden Bears Legacy Fund plebiscites were unanimously approved by Students' Council.
Students will vote on the dedicated fee units (DFU) in the 2020 Students' Union executive election. DFUs are additional fees to tuition that are created by various groups on campus but are ultimately managed through the Students' Union. Some examples of current DFUs are the Campus Foodbank, Aboriginal Students Council, and Student Legal Services.
The Landing, a service providing support for gender and sexuality on campus, proposed a plebiscite that collects $1.61 each semester from both full-time and part-time undergraduate students. While the fee is opt-outable, both off-campus and Augustana students will automatically be exempt.
The Landing hopes to use this additional revenue towards administration, such as staff wages and a volunteer program, as well as programming for events and creating grants to support sexual and gender diversity.
The Golden Bears Legacy Fund DFU began in 1991 and is used to support U of A athletic teams through sponsoring the Department of Athletics, funding special events and projects. It was through this DFU that the university was able to purchase the costumes of GUBA and Patches.
This DFU, if passed by students, will continue to collect $4.37 both semesters from undergraduate students, excluding Augustana. The fee applies to both full-time and undergraduate students and is not opt-outable.