Golden Bears
Pandas
Sports
Record number U of A athletes recognized as academic all-Canadian
The U of A shattered multiple records for the 2018-19 awards season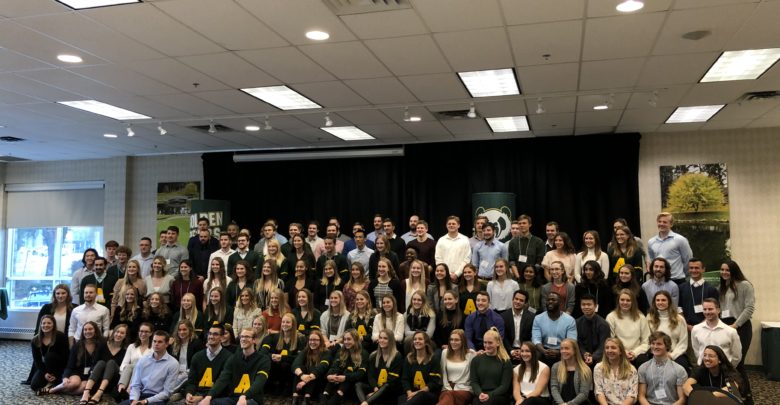 The University of Alberta shattered records as it recognized the most academic all-Canadian award recipients in the school's history.
In a first for the university, 162 student-athletes were recognized for achieving academic all-Canadian awards in 2018-19. The criteria to achieve AAC status are maintaining an 80 per cent or better average over the academic year while competing full-time for a varsity team. The U of A hosted a breakfast on October 16 to formally recognize the athletes and their accomplishment.
Kerry Mummery, dean of the faculty of kinesiology, sport, and recreation (KSR) said in a speech that he was "incredibly proud" of each athletes success, both in their academics and sport performance.
"The most important student athletes are in this room today," he said. "Reaching AAC status is one of the most important and distinguishing accomplishments a student athlete can achieve."
The U of A recognized 162 athletes for achieving AAC status, an increase from the previous record of 158 from 2017-18.
Further records broken in an "historic year" for U of A athletics
Additionally, further records were broken by U of A athletics for the 2018-19 season, including the total number of AAC recipients since 1990 and record-bests for three Pandas teams.
The U of A became the first university in Canada to achieve 3,000 all time AAC recipients by having 3,069 recognized students since 1990.
Three Pandas teams also set program records for most AAC's. These included Pandas Hockey with 16, Pandas Soccer with 17, and Pandas Basketball with eight wins.
In addition to the 162 AAC recipients, 8 other student athletes competing from non-U SPORTS affiliated teams were recognized for achieving AAC status.
Athletes "honoured" and "excited" to be part of history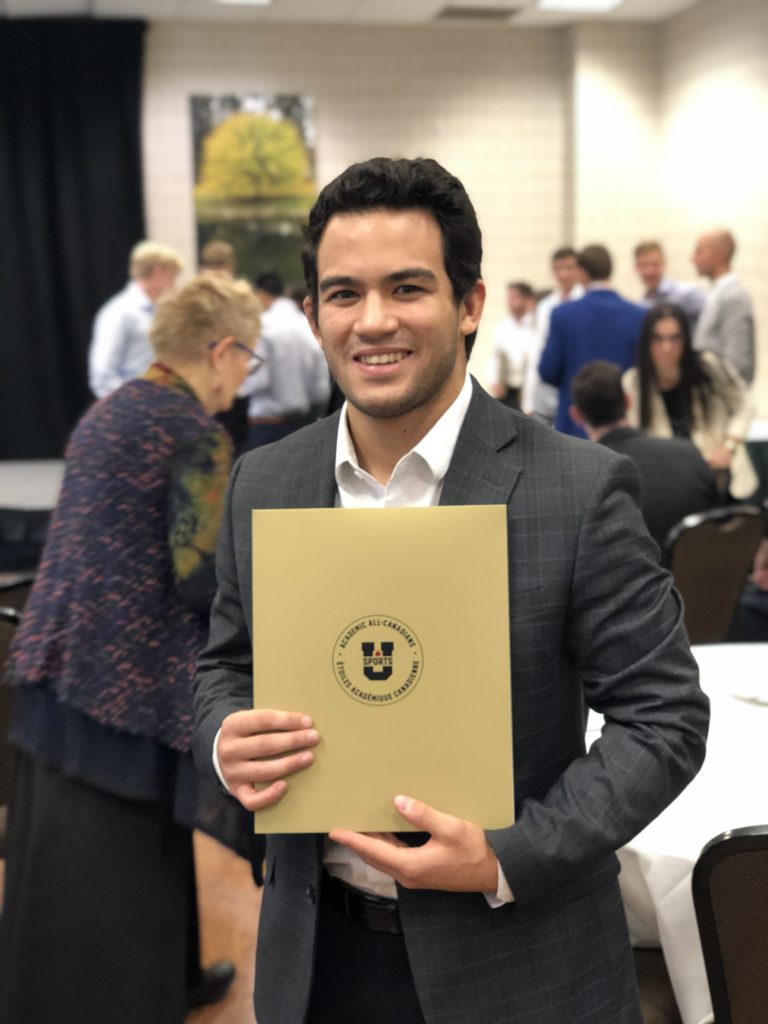 Harris Valdes, a Golden Bear Wrestling athlete, said playing a sport makes academics more difficult due to the time commitment required to practice and prepare for competitions. He added that the university recognizing athletes for their achievement in balancing both activities is "meaningful" and helps drive him to find the right school/sport balance.
"Being a student athlete means you are busy all the time," Valdes said. "You are always on the move and studying. Your time becomes something you learn to balance quickly."
"[To be] recognized means a lot," he said. "I started out at pretty much the bottom. Now I am here; a U SPORT placer and holding a high GPA."
Cameron Fenske, a Golden Bear track athlete on the cross country team. He participates in the cross country eight kilometres and track 4 X 800 metre, one kilometre, and 1,500 metre events.
"Today shows the U of A has huge depth in its athletic abilities and that there are professors who support and help us," he said. "It is not something every school has. I'm proud of that."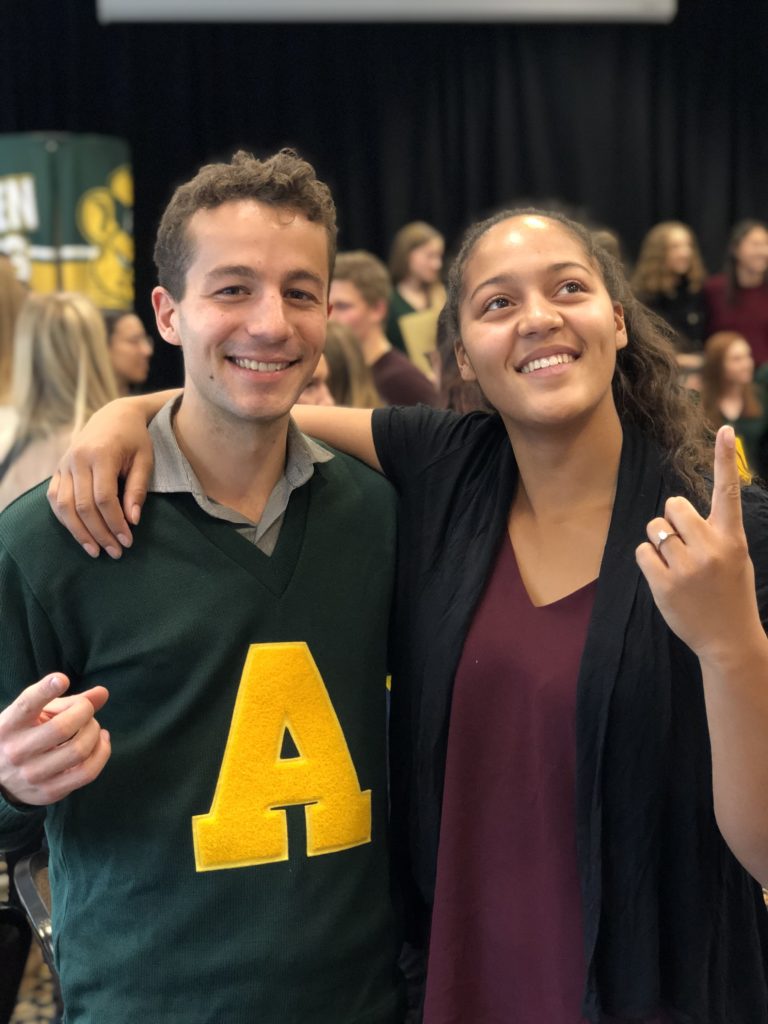 Dacia Gramlick, a Pandas track athlete participates in the throw events, including shot put and weight throw.
"It is awesome to come to an event like this and see the impact we as athletes have," she said. "It is cool to see that our achievements aren't overlooked; that we are both university athletes competing on a high level and performing well academically."
Fenske added that it is an honour to be added to a strong legacy of Golden Bear and Panda athletics.
"This is a record-breaking year," he said. "I, Dacia, and all of us in this room were a part of that. It is a really awesome feeling to be part of that."
By the Numbers: AAC winners broken down by faculty and team
Home Faculty
Academic
All-Canadian Winners
Agriculture, Life & Environmental Sciences
8
Arts
14
Business
23
Education
12
Engineering
23
Faculte Saint-Jean
—
Graduate Studies & Research
2
Kinesiology, Sport, & Recreation
42
Law
—
Medicine & Dentistry
1
Native Studies
6
Nursing
6
Open Studies
2
Pharmacy & Pharmaceutical Science
2
Science
29
Team
Academic
All-Canadian Winners
Men's Basketball
1
Men's Cross County
5
Men's Curling
2
Men's Football
19
Men's Ice Hockey
10
Men's Soccer
9
Men's Swimming
5
Men's Track and Field
15
Men's Volleyball
5
Men's Wrestling
5
Women's Basketball
8
Women's Cross Country
1
Women's Curling
3
Women's Ice Hockey
16
Women's Rugby
10
Women's Soccer
17
Women's Swimming
6
Women's Tennis
1
Women's Track and Field
15
Women's Volleyball
7
Women's Wrestling
3