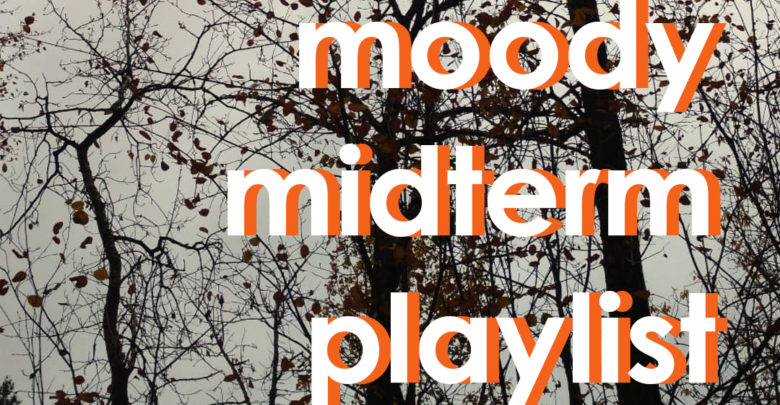 The skies are grey outside as you sit in the library, trying to focus. You idly spin your pencil as your eyes glaze over a reading you should have done three weeks ago — too many numbers, or too many theorists — whatever it is, it's not sticking. It's like you're staring at a menu in a restaurant and the waitress is coming by for the third time to ask if you know what you'd like to order (you don't).
A single, renegade tear streams down your cheek as you shift your not-quite-warm-enough feet in your boots that you shouldn't have to be wearing at this time of year, yet. You're not even sad; in fact, you barely feel anything at all. Hmm. Maybe if you had some emotional catharsis you would be more motivated to absorb what you're reading — to distract yourself from overwhelming nostalgia and emotionality.
This is a playlist you can listen to as you tread through the falling leaves, reflecting on every choice you've ever made instead of thinking about the paper you have due in less than 48 hours. This is the playlist you can play as you read your midterm notes the day of your midterm, sitting on the bus in morning traffic. You could listen to this as you reflect on the fact your long-distance relationship might not be working the way you want and you might be subject to the Turkey Dump.
Take out your headphones and pop them in, reader. This is that catharsis you've been craving.
---
Link (Spotify):
Tracklist:
"Sarah Minor" by Keaton Henson
"Asleep – 2011 Remaster" by The Smiths
"Were You in Love With Me" by Andy Shauf
"Anchor" by Novo Amor
"When the Party's Over" by Kina Grannis (cover of Billie Eilish)
"Beach" by Axel Flovent
"The Only Thing" by Sufjan Stevens
"You There" by Aquilo
"Faufile" by Charlotte Cardin
"The Wisp Sings" by Winter Aid
"Don't Forget About Me" by CLOVES
"All Points (Acoustic)" by James Vincent McMorrow
"Bird" by Billie Marten
"Make Believe" by Astronaut Husband
"Petrichor" by Keaton Henson