Golden Bears
Sports
U of A Golden Bear Football Player makes CFL scout prospect list
O'Donnell was named a 2018 Canada West All-Star for the Bears, and a U SPORTS All-Canadian after starting all eight games at right tackle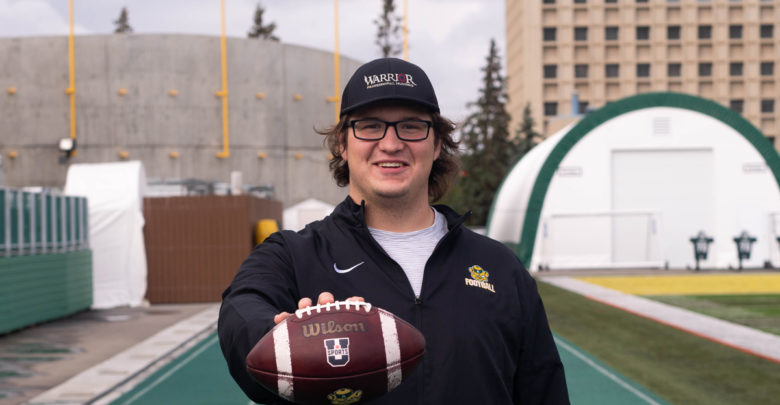 A University of Alberta Golden Bears Football player has been listed on a prospect list for the Canadian Football League.
Carter O'Donnell, an offensive lineman for U of A Golden Bears, made the cut for the Canadian Football League's (CFL) Top 20 Fall prospect list. The list is released three times a year by CFL scouts, player personnel directors, and general managers from the CFL.
O'Donnell, a 20 year-old from Red Deer, is a fourth-year student specializing in the education of science who plans to teach science after university. He is the third-highest ranking U SPORTS athlete, and the third-ranked offensive lineman on the list.
Listed as number 11, The Gateway interviewed him about the achievement and his time as a Golden Bear Football player.
---
Responses have been edited for clarity and length.
The Gateway: How are you liking your senior year so far?
Its good! I'm really happy with the team this year, we got a new offensive coordinator and defensive coordinator. I think they're doing a really good job. I think the players really like it and I really see an overall improvement on the job.
And you guys are winning games, so players are happy.
Exactly.
When did you start playing football?
I started playing football in the fall of grade six, didn't in grade ten, but been playing ever since then.
What's your pregame ritual?
I don't listen to music, I sit down to visualize what I'm gonna do, how my opponent is going to react. Pretty much just that.
What does a normal day look like for you?
I wake up, eat something light, go to class. After class, I'll try to do homework, gonna usually watch some film on the opponent, then lift for about an hour, hour and a half. Then maybe get some treatment if I'm hurting, go to a team meeting or positional meeting. Then practice from five to nine thirty, then go home, eat, then go to bed.
Why did you start playing football?
I don't know why I started (chuckles), I just wanted something to do. When I was younger, I played baseball for a small portion of the year, so I wanted something else to do, and it kinda worked out really well.
What are you going to miss most about the U of A?
I think I'm gonna miss the people, to be honest. Just the connections with everybody. That's something that really stays with you, I think any school has classes and dynamics, but the people that you meet, that's what I'm gonna miss.
What's your best football memory you have from playing here?
Winning away in my first year, we beat Manitoba. We hadn't beat them before in like twenty years I believe, and we took a chartered flight there, so on the plane back everybody was signing. It was a great experience.