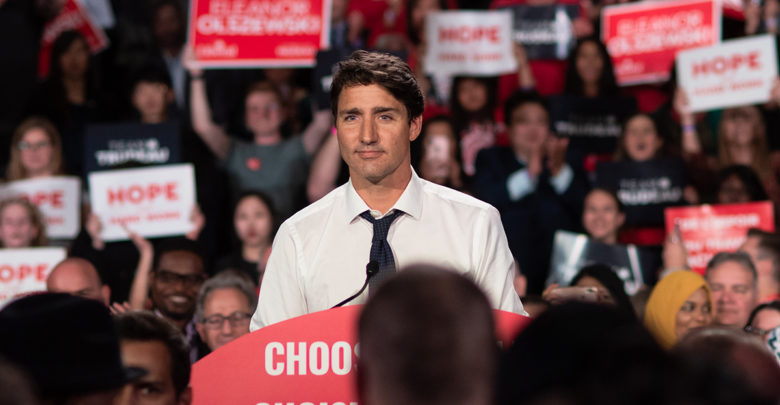 After making his second stop on the campaign trail today in Edmonton at the Arts Barns, Prime Minister Justin Trudeau has left many questions unanswered.
The event was disorganized, to say the least. I don't blame the location for this due to the short notice, but it's still worth noting that it took hours for the host to get organized. After a long, hot wait in the press room, we were ushered into the main event: Trudeau's speech.
When I say this speech was short and sweet, I mean it. It only lasted about 12 minutes, and nothing of substance was said. Trudeau spoke mostly about a "strong middle class," failed Conservative policies, and party solidarity — a little ironic considering the scandal earlier this year involving Jody Wilson-Raybould. However, he didn't mention any specific plans to change or improve his policies for the next term, should he be re-elected.
The most interesting moment was when a protester in the audience began shouting, asking Trudeau about the $42 billion that the Canadian Institute of Steel Construction claims the prime minister sent to China. The protester was escorted out by security, and after some chants from the audience of "Justin! Justin! Justin!," Trudeau began to throw some spice into his speech. He stated that he didn't want Canada to go "back to the Harper years," and commented that the Conservatives had only adjusted the amount they smiled. When his speech ended, he left surprisingly quickly, and took no questions.
Why was this stop so superficial? Many people were expecting Trudeau to speak about his platform, his plans for the future, or even address the scandal from earlier this year, but he did none of those things. Adding to the confusion, Trudeau actually skipped the CityTV/Maclean's debate today in favour of coming to Edmonton and giving this last-minute fluff speech. Some have speculated that this was his way of avoiding addressing these topics, especially the Jody Wilson-Raybould situation.
This was not a proper campaign stop. It felt more like he was bolstering an already supportive audience. Rushing out right after the end of his fluffed-up speech was not the right move, and it would be in his best interest to stop in Edmonton one more time before the election and have a proper event.
Disappointing as this conference was, I still believe he can turn it around. Though void of any important content, Trudeau's speech was strong, and the crowd remains ever in love with the maple-sweet Canadian prince. If he develops the courage to buck up and address the more important issues, he has a chance of winning this city over again.
Correction: A previous version of this article stated that Trudeau missed the Munk debate. This was incorrect. Trudeau actually missed the CityTV/Maclean's debate. The Gateway regrets this error.