Institutional
News
Students react to email sent by Dean of Arts merger of MLCS and EAS
Dean says the email was meant to respond to online conversations and clarify circulating "false" remarks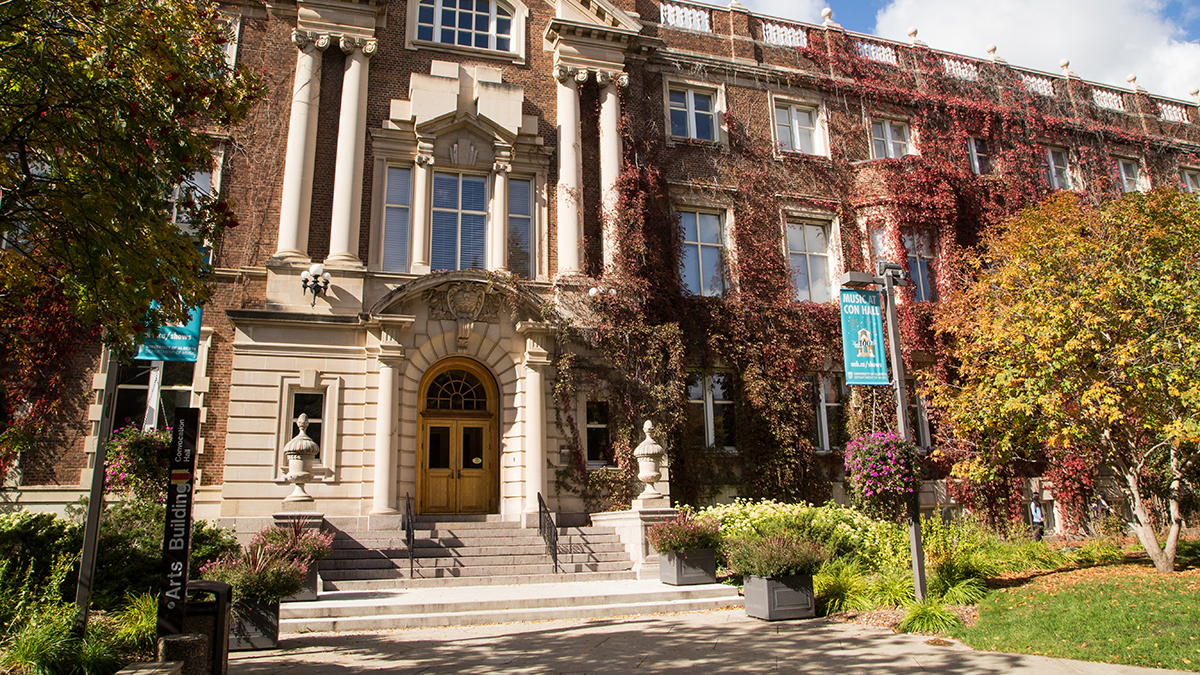 Several students expressed disapproval over an email sent to them by the Dean of the Faculty of Arts which was to clarify "perceptions" surrounding the merger of two departments.
The Faculty of Arts is merging the departments of East Asian Studies (EASIA) and Modern Languages and Cultural Studies (MLCS) into one. On September 19, EASIA held a consultation session where approximately 100 students attended. During the event, several students expressed their disapproval of an email sent to students within MLCS and EASIA by the Dean of the Faculty of Arts Lesley Cormack.
At 8:30 a.m. on September 18, Cormack sent an email to students within the departments or taking courses within them about the merger. In the email she said she hoped to clarify "some unfortunate misperceptions" shared in regards to the merger.
"I want to ensure that the correct and full background information is available to you, so that your contributions to this process can be appropriately focused," Cormack wrote. "I'm very eager to hear from the students involved, and look forward to the exchanges that are to follow."
She mentioned in the email that the faculty is beginning consultations regarding the "terms of a merger."
"In circulating documents and social media comments issued by EASIA faculty and students, MLCS has been portrayed as a struggling department in a manner that is incorrect, disrespectful, and damaging to the individuals who work and learn in that environment," Cormack said.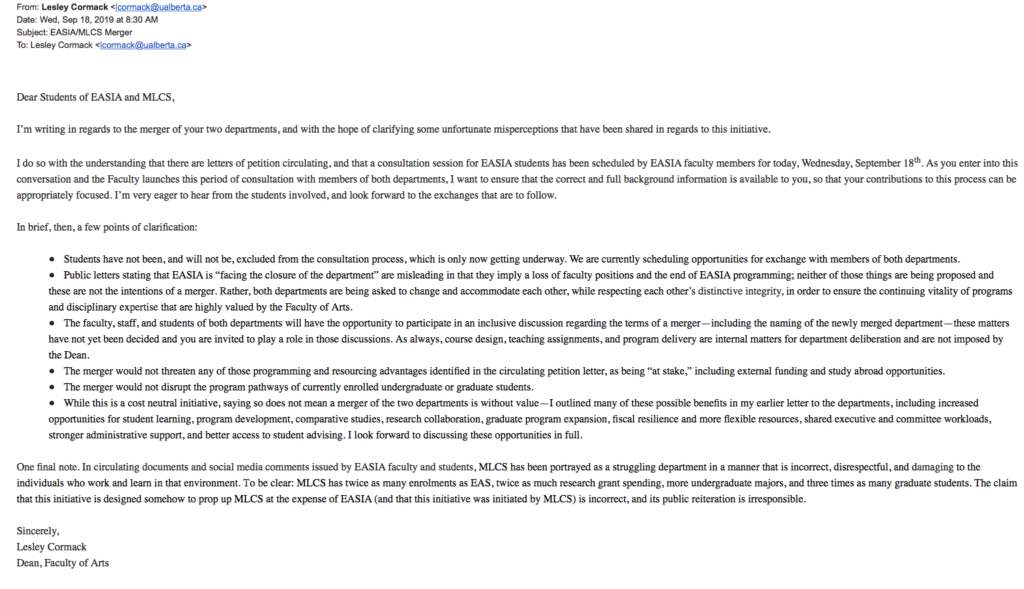 Not all students received the email
Cherry Chen and other students at the consultation session said not all students received the email and that students have begun forwarding it to each other to ensure the message was conveyed.
"The email was clearly addressed to all students at MLCS and EASIA," she said. "I know for a fact… a couple of other people did not get the email."
"I am really disappointed that it is on us, the students, to spread information that should be public," Chen said.
Chen, a third-year student double majoring in French and Spanish, added that the letter made her feel "attacked."
As a student in MLCS, Chen said she did not see the value in going forward with this course of action. Additionally, she said it was "disappointing" that the dean is only beginning consultation with students regarding the merger now.
"It is really unfair that the merger has already been decided when students have not been consulted yet," Chen said.
Dean of Arts clarifies the letter was to help clarify "false" online discussions
In an interview with The Gateway, the dean said the email was to be sent to all students enrolled in MLCS and EASIA courses. She was "unaware" not all students received the email.
"This is new information for me," Cormack said. "It is possible that our list of majors has not been updated for this September… Or it could be that people in course who are not majors, were not added to the list."
"I don't know how we got [the email] out to students," Cormack said.
She added that she would look into the matter.
Cormack said that in online discussions MLCS has been seen as a department in decline. She wanted the letter to clarify this as false.
"Nothing is further from the truth," she said. "Both departments have strengths and weaknesses."
Additionally, Cormack said she hoped students and faculty would remain respectful of each other.
"This [behaviour] is quite hurtful and disrespectful to an important department," Cormack said.