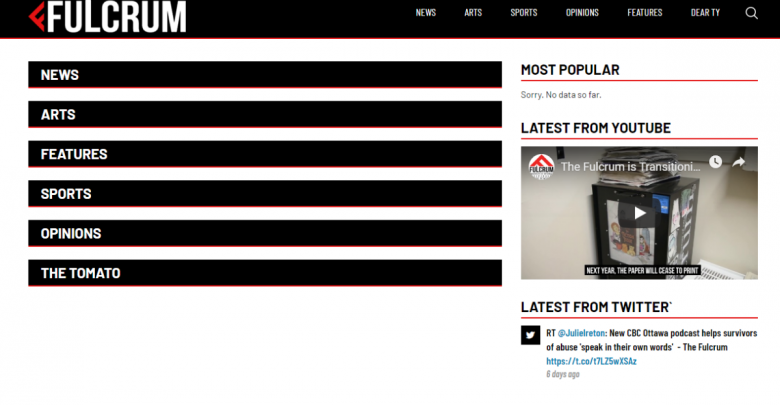 In a blatant attack on student journalism, University of Ottawa student newspaper The Fulcrum's website was hacked on June 30.
The hackers deleted every article published on the site, including online exclusives that never went to print. After the dust settled, all that was left was an article presumably written by the hacker, which called The Fulcrum an "anti-union rag."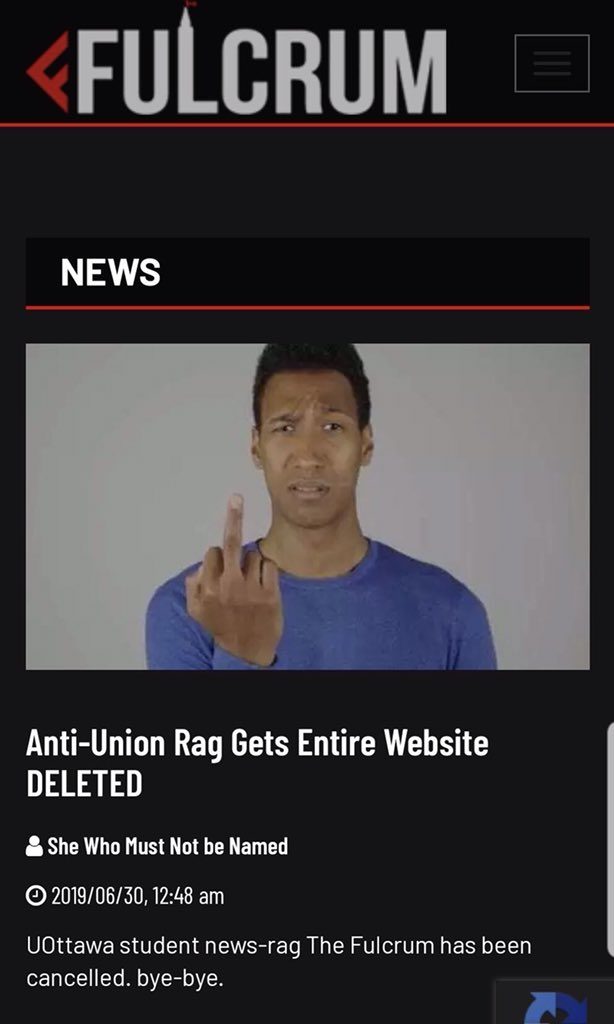 This was seemingly in response to The Fulcrum's coverage of the corruption scandal at the Student Federation of the University of Ottawa (SFUO), where two of the Federation's executives were being investigated last August for allegedly using student fees to make luxury personal purchases. While both executives were later cleared of fraud, U of O administration still decided in September to split ties with the SFUO. They cited other allegations of internal mismanagement and improper governance arising during the fraud investigation. In February, the U of O undergraduate populace voted for a new students' union — the University of Ottawa Students' Union — to represent them.

This would not be the first time that a student publication was attacked for holding an institution accountable. In 2017, SFUO executives allegedly attempted to take over control of the board of directors of La Rotonde, the French-language student newspaper at the U of O, after it reported on allegations of some SFUO executives illegally obtaining U-Passes (spoiler alert: some of them did). Last December, the Scarborough Campus Students' Union moved to begin restricting student media access to their meetings after accusing University of Toronto student publications of circulating fake news.

Luckily, The Fulcrum's website has backups and lost only a week's worth of content. Otherwise, they could have lost nearly a decade of coverage and commentary. Not only would they have lost stories that held institutional structures accountable, they would have lost stories which were essentially the U of O's student voice.
Student publications are multifaceted organs. They hold corrupt student politicians accountable, yes, but they also tell stories that matter to university students. Whether it's covering a student startup developing biodegradable menstrual pads, an international student starting a GoFundMe to pay his final semester of tuition, or a student making a bomb threat, student media is there to make sure that these stories are told and circulated by and for the student populace.
Attacks on the student press are not simply attacks on an accountability measure: they're an attack on the student voice. The student press is an institution where any student can learn to tell stories about the issues they care about the most. In this all-out attack, it's clear that the hacker held no regard for the student voice, or for the valuable campus stories that U of O students have told over the past decade.

As the journalism world continues to shift towards online-first publication, web security and extensive backup servers are an imperative for student newspapers. As this case demonstrates, these attacks can happen to anyone. Given the important institutional storytelling and accountability purposes they serve, student publications cannot run the risk of losing their archives to petty digital "revenge." Small student publications should look for room in their budgets to bolster their web architecture, even if that just means investing in a strong backup system. Bigger publications should review their web security protocols and backup situations and make investments accordingly.

Most of all, those who attack student newspapers for fulfilling their mandates should recognize that shutting down a multifaceted and vibrant publication punishes not only its masthead; it punishes all of campus. It takes away the stories that matter to them most; it takes away chances at celebrating student life and championing the student perspective.

The Gateway stands in solidarity with The Fulcrum. It stands in solidarity with the student voice.