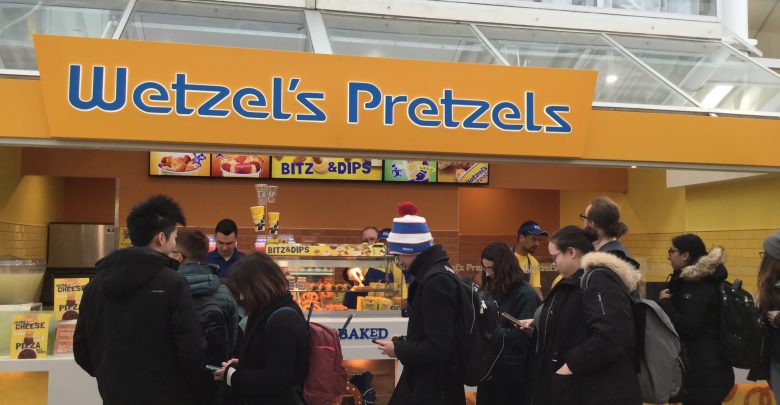 Students who've been waiting since November for Wetzel's Pretzels to open in HUB Mall said they're excited to finally see it open.

The fifth Edmonton Wetzel's Pretzels location opened in HUB Mall on March 4 after delays caused by construction issues. The store is in the space that used to belong to the HUB Mall bookstore, located between Cookies by George and The Stylistics Hair Group.

The location will serve the full Wetzel's Pretzels menu, including multiple types of pretzels, bite-sized pretzels called "Wetzel Bitz," pretzel-dough wrapped cocktail weiners called "Wetzel dogs," and cinnamon and sugar pretzels. They also have frozen drinks and lemonade.

The HUB Mall location was originally slated to open in November, but was delayed by construction issues around the ventilation in the ceiling. Due to the fact the oven gets so hot, they needed a special roof unit to conform to building codes.
Students said they are glad it's now open, despite the delays.

"[We're] really excited," said Nicole Yazon, a first-year science student who was present at the store's opening. "They said they were going to open in October or November last term, and we just kept looking at the stall. But now that it's finally open, we're pretty stoked."

"I've been waiting for this since before November," said third-year economics major Andriy Krugliak. "I remember in October talking to my friend about how we were finally going to go try it at the end of November before finals started. Now that it's finally November today, I'm very excited."

Caleb West, innovations and marketing manager for Wetzel's Pretzels Canada, said opening the new location in HUB Mall gives them the opportunity to grow on campus and to increase their brand exposure.

"We're just excited to be in HUB Mall, and meet some new people and be a part of the community that's here," West said.

The Wetzel's Pretzels franchise started in 1994 in California, and the first Canadian location was opened in West Edmonton Mall. They are also looking to continue their expansion in Western Canada, West said.

For the first two weeks of their opening, Wetzel's Pretzels in HUB Mall is selling lemonade at 50 per cent off, and will give a free small lemonade to people who review them on social media at their location.