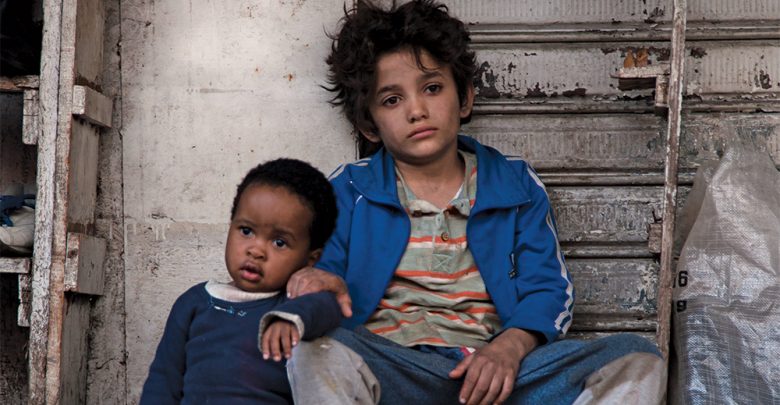 The emotionally affecting film is a courtroom drama, urban Odyssey, and realistic depiction of extreme poverty all wrapped in one
Capernaum is Lebanese director Nadine Labaki's third feature film and arguably her most critically acclaimed work. The 2018 film debuted at Cannes, where it competed for the Palme D'or, won the Jury Prize, received a 15-minute standing ovation. It was also up for Best Foreign Language Film at the 91st Academy Awards, but lost to Alfonso Cuarón's Roma.
The film is told in two temporalities: in the present, 12-year-old Zain (Zain Al Rafeea) sues his parents for giving birth to him. Meanwhile, flashbacks to the past show the impoverished existence of Zain and his family in the slums of Beirut and the events that led to him fleeing from home and eventually getting arrested.
These flashbacks make up the larger part of Capernaum, offering an unrelenting view of the abject poverty in Zain's life. We see the dilapidated home that he shares with his countless siblings and his parents, who struggle to care for all of their children, none of whom have birth certificates.
After a series of injustices, Zain runs away and eventually finds himself in the care of Rahil (Yordanos Shiferaw), an illegal worker from Ethiopia with a paperless infant son, Yonas (Boluwatife Bankole). Living in Rahil's tin shack, Zain becomes a big brother to Yonas. When Rahil doesn't come back from work one night, Zain and Yonas will find themselves travelling the streets of Beirut in search of food, shelter, and answers.
Capernaum is a powerful movie because it explores and showcases the reality of extreme poverty in its country in a complex way. While Zain's parents, Souad and Selim (Kawthar Al Haddad and Fadi Kamel Youssef, respectively), are certainly villainized, their amoral actions are framed as being the results of larger social and cultural issues.
For example, when Selim defends himself in court for one of the most despicable actions that he has committed, he brings up the social pressure that he felt to get married and have kids. While we may either agree or disagree with his justification, this scene and others like it show that there is more at play here than just two evil parents who abused their kids.
Casting herself in the role of the lawyer who defends Zain, Nadine Labaki mirrors her real-life role of a director making a film with a social message. From interviews and articles on Capernaum, it is clear that Labaki wants to give a voice to the children who are victims of the injustices of their environment: who were born into a life of poverty and/or social turmoil.
Labaki's film also addresses multiple issues specific to Lebanon, such as the Syrian Refugee Crisis and the wave of immigrants from Ethiopia, but it doesn't limit itself to a Lebanese audience. In fact, as someone from a North American middle-class background who still lives comfortably with their two parents, I felt strongly shaken by the bleak and desolate social landscape of Capernaum. Its depiction of poverty felt raw and real, urging me to take action against social injustices while also making me admire the humanity that can exist even in the most dire of situations.