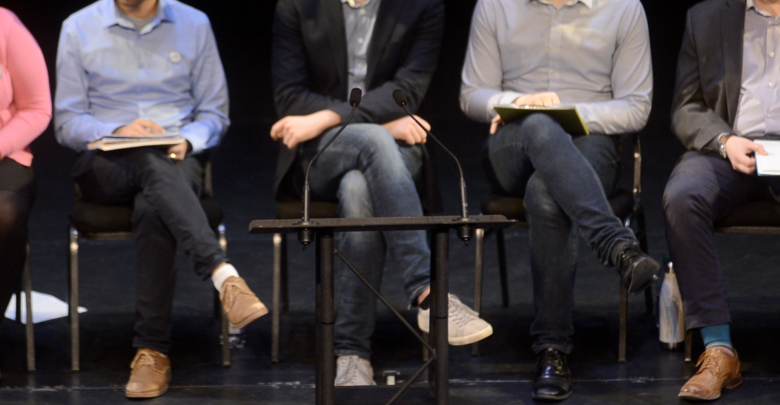 Audience ask VPSL candidates if students can expect tangible results on sexual assault
The main point of discussion for vice-president student life at the Myer Horowitz forum was sexual violence.

One question addressed how students were promised a sexual assault and prevention coordinator last year. However, this has yet to be implemented. Candidates were asked what is one tangible thing they would do to mitigate sexual violence on campus.

Advocacy for more sexual assault education was emphasized by candidate Rory Storm, especially among student groups. Storm, a sixth-year drama student and past president of the U of A Interfraternity Council also spoke about incentivizing student groups to go to sexual violence workshops.

"Personally, I think we should advocate for sexual violence education… because once it happens, we can't take that back," he said. "We need to have that good peer pressure in student groups, so they educate all their members on sexual violence."

Candidate Shuaa Rizvi, a fifth-year science student and a science councillor on Students' Council, said she would encourage collaboration with The Landing, a Students' Union service that provides support for gender and sexual diversity. She also talked about bringing gender-based analysis plus (GBA+) training and anti-bias training to Student's Council.

"When it comes to sexual harassment, it goes beyond unwanted touching," she said. "It goes into little societal things which we don't take into account when we make those decisions."

Candidate Jared Larsen, a fourth-year business student and the current HUB Community Association president, spoke about starting an awareness campaign about sexual violence on campus similar to NAIT's white ribbon campaign.

"But I want to extend that past a white ribbon and bring that onto social media, so that no matter where we are, we are always aware of [sexual violence as a problem]," he said.

When asked how they would mitigate the issue of sexual violence in Greek fraternities, Storm responded that the university needs more community among survivors and should provide sexual assault training to members of the Greek community.

"I have sexual assault first responder training, but that doesn't mean much if only I have it and not everybody else," he said. "All of us can tell you what [sexual assault] is but not all of us think about how we can have things in place to prevent it."
Rizvi focused on the systemic issues that result in sexual assault and harassment. She said more collaboration with the Interfraternity Council and the Office of the Dean of Students was needed, and better penalties for those charged with sexual assault.

"It's not appropriate if a student has to get to class and the person who assaulted them is there in class with them," she said. "That's not fair to any student and that's just straight up evil."

Larsen spoke about passing a similar policy to that of the University of British Columbia's, where all Greek members received sexual assault and prevention training if not would be fined.
— Haley Dang
Vice-president (student life) candidate Rory Storm

Vice-president (student life) candidate Shuaa Rizvi

Vice-president (student life) candidate Jared Larsen
Experiential learning for all emphasized by VPA candidate
The sole candidate for vice-president (academic) was questioned on experiential learning, the Academic Success Centre, and the faculty association collaboration fund he proposed in his platform.

One audience member asked what the candidate would do to make experiential learning more accessible to those who do not meet grade requirements. Candidate Joel Agarwal, a current science councillor and fifth-year biology student, said he believes there should be more grants for research and experiential learning that do not take GPA into account, such as those offered by the Undergraduate Research Initiative.

"That's something we need more of on campus, not only in undergraduate research, but as well with community service learning and work experience, where there are often barriers for students who may not be the cream of the crop," he said. "We want to make it accessible for all students."

Agarwal also said that as vice-president (academic), he would create a centralized database of experiential learning opportunities for more accessibility.

When asked about what the availability of workshops would be like under his term, Agarwal said he would expand the ones offered by the Academic Success Centre during Week of Welcome to throughout the entire semester, having experts teaching students for the workshops, as well as advertising the current workshops more.

Agarwal was asked to elaborate on his platform point of creating a collaboration fund for faculty associations and if this would be his only form of financial support to offer faculty associations. Agarwal explained the importance of faculty associations and collaboration between them.

He added that he did not complete any consultation with faculty associations about how the funds would be distributed specifically. He said this would be determined through more detailed conversations after the election.

"I did a lot of consultation with faculty associations…and I think the collaboration fund hits at an issue that is very dear to a lot of FAs," he said. "There is not very much cooperation between faculty associations."
— Mindy Quang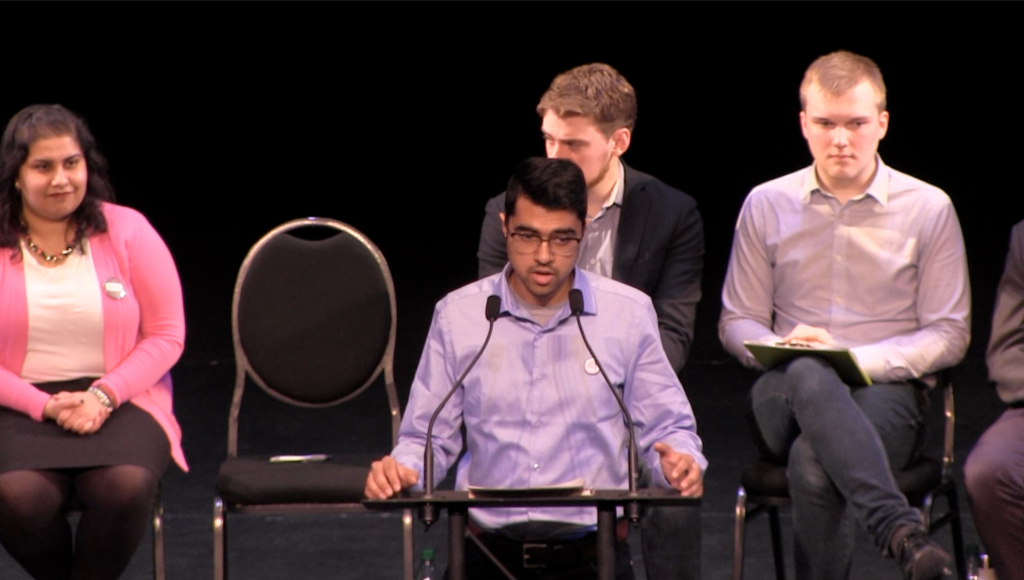 VPX candidates talk voluntary student unionism
Vice-president (external) candidates responded to concerns about voluntary student unionism (VSU) and how they will advocate for faculty associations.

Robert Bilak, a third-year political science student and current arts councillor, addressed VSUs in his opening speech, saying the Students' Union should "fight back" against VSUs.

"We can draft reports detailing the importance of our services and the importance of our existence, and when it comes time to fight to keep the services that make this university feel like home, I will be there leading the march," he said.

Adam Brown, the current vice-president (external) and a fourth-year bilingual business student, said it's important to look at the history of what the Students' Union has done to help "bolster" future efforts.

"We do need to write a political policy, we need to be very strong in that, and we also need to make sure, this is what I would do again if I was re-elected chair of CASA [the Canadian Alliance of Student Associations], make sure we are working with our partners in every single province, so that we don't just focus on Alberta," he said.

Bilak said his three main ideas for combatting VSUs are writing an internal policy for the Students' Union and then for the Council of Alberta University Students (CAUS). He said these policies would demonstrate the benefits of the Students' Union to students. He would also focus on writing reports for the government to understand the arguments about why student services are "essential."

"Most students don't know that they need student services until they're in a situation when they need that service, and also simply reminding everyone that anytime our fees increase or change, it is directly through a democratic process where students vote that they want that fee to exist," he said.

Both candidates also responded to a question from Darren Choi, vice-president (finance) of Organization for Arts Students and Interdisciplinary Studies, asking how they would support faculty associations. Bilak said there are many ways they can support faculty associations, including making sure the associations know the executive is around to support them, training them to advocate for themselves through GovWeek, and encouraging them to get involved.

"That's something where we need to see the vice-president (external) really step up this next year, ensuring that faculty associations are well supported by not just by the VP academic," he said.

Brown brought up how he was president of l'Association des Universitaires de Saint-Jean (AUFSJ) and said faculty associations are the most grassroots part of the Students' Union. He said he wants to bring in presentations to faculty associations at the beginning of the year so they know what vice-president (external) is advocating for to government. He also said it should be outlined by them how they plan to engage faculty associations.

"We need to be able to take [faculty associations] stories, their feedback and use that when we go forward," he said.
— Kate Turner

Vice-president (external) candidate Robert Bilak

Vice-president (external) candidate Adam Brown
VPOF candidate would not have signed lease for Konz Pizza
Luke Statt, the sole candidate for vice-president (operations and finance), was asked about his future plans for renovating the Myer Horowitz Theatre, and if he would've given Konz Pizza a spot in the Students' Union Building if he was in the role.
Kyle Monda, a former arts councillor, asked Statt, a fourth-year business student and current business councillor, if he would've signed off on the lease for Konz Pizza if he was vice-president (operations and finance). Statt said it was an "easy no," and that he doesn't like the establishment.

He also came to current vice-president (operations and finance) Emma Ripka's defence, saying she did not sign the lease for Konz Pizza. He shifted the blame to her predecessor, Robyn Paches, who was sitting in the balcony.

Another question from audience member Alex Cook asked Statt about his platform, as Cook felt that it addresses the bare minimum expected from the role. Cook also asked why students should vote for Statt and not none of the above.
In response, Statt justified his platform saying that he doesn't want to take away from student voices by seeming like he's already made up his mind on future projects.
"I do have specific ideas but choose not to share them in forums because… they take away from the value of student guided decisions," he said. "As soon as I say the platform (point), it almost seems like I've already made the decision."
Statt was also asked by Gateway Arts Editor Jonah Dunch if he plans to renovate the Myer Horowitz Theatre, even after a proposed levy for renovating the space failed to pass Students' Council last February. The levy would've cost students $18 in the 2019-20 academic year, doubling annually until it reaches $54 by 2021-22, and would have been used to renew spaces around campus that are not funded by government sources.

Statt, who voted in favour of putting the levy to a referendum, said he voted for the levy to allow students the ability to vote on the decision. He added that in addition to doing more consultation on a potential levy, another solution the Students' Union could pursue is through their own businesses.
"The long term solution is to make money for our businesses," he said. "I'll be carrying over the work Emma [Ripka] did, but the difference is this time I'll have the entire year to do more consolations… and see what students are willing to pay."
— Khadra Ahmed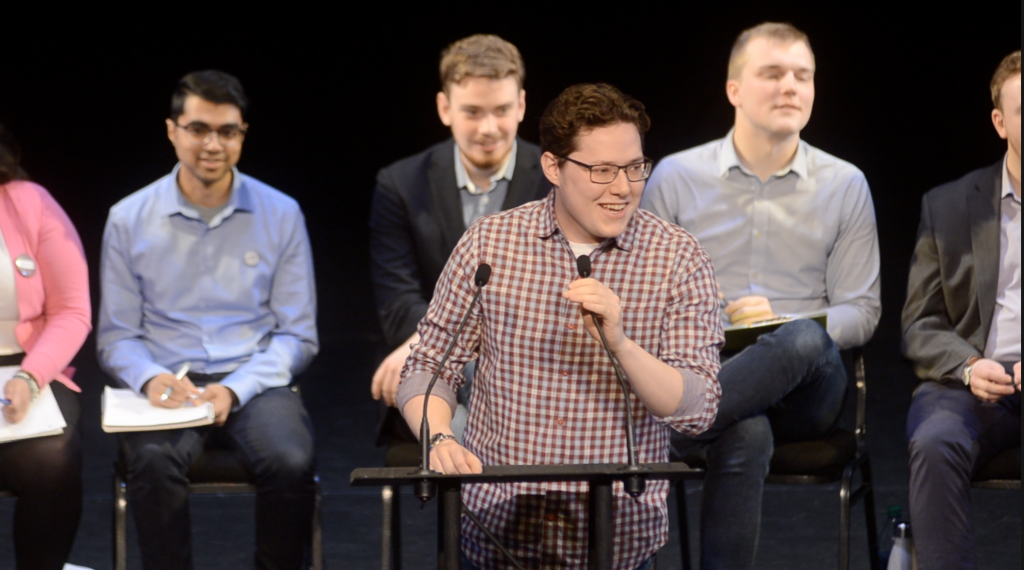 Sole question to Board of Governors Representative candidate focuses on international students
Rowan Ley, who is running uncontested for the position of Board of Governors Representative, only received one question during the forum.
Tahra Haddouche, the Faculté Saint-Jean councillor on Students' Council, asked how Ley will account for the lack of international student voices after the International Students' Association's failed elections in 2018.
In response, Ley, a third-year political science student and current arts councillor, said he would look at creating a venue for international students to have their voices heard, which may mean having office hours dedicated to international students and having a portion of a town hall allocated to taking their questions.
"Due to the lack of an effective representative association, that would mean having to go down to a more grassroots level, and that's how I would intend to do that," he said.
— Samantha Buryn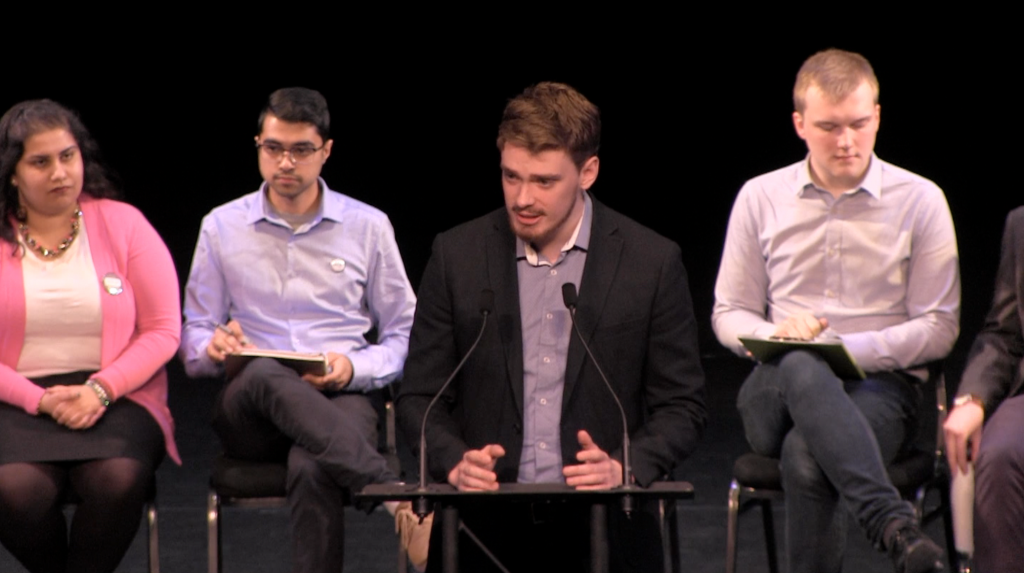 "Understanding is the beginning of reconciliation," says ASC president
At the final forum of the 2019 Students' Union election campaign, Aboriginal Student Council (ASC) president Katherine Belcourt told the audience at the theatre what services the new fee will go towards.
Belcourt reiterated that of the revenue generated by the $1.00 opt-outable fee:
25 per cent of the funding will go towards cultural supports and events.
25 per cent will go towards educational opportunities.
20 per cent will go towards new awards.
17 per cent will go towards the proposed child care supports.
The fee will only charge part-time students $0.50, and will not apply to students at Augustana campus.
"And if you're not down with any of these things, don't forget you can vote yes and still opt out," Belcourt said.
Belcourt also focused her introduction speech on why these services are important.
"This is important for non-Indigenous people because understanding is the beginning of reconciliation," she said. "Understanding is fundamental to the aboriginal and non-aboriginal relationship. For aboriginal people, these ceremonies and practices are essential for healing and health and wellbeing."
While most of the audience's questions were directed to other races, Belcourt was asked by former ASC president Deirdra Cutarm if the Dedicated Fee Unit question should go through, since it appears that a proposal outlining the makeup of a financial oversight board was not submitted.
In response, Belcourt admitted that ASC did not include the makeup of the financial oversight board in their proposal, and that it was the fault of Students' Council's bylaw committee.
Another question came from business councillor John Hussein, who asked what consultation was done for the proposal considering that Belcourt, who is also a science councillor, voted no to the student spaces levy.
Belcourt struggled to answer Hussein's question due to its poor wording, but explained her reasons for voting no to the student spaces levy, as she felt it was "rushed" and that there wasn't enough consultation with students. On other hand, she said ASC had done consultation for the fee. She was cut off by the moderator before she could finish her answer.
Afterwards, the Facebook page for the "Yes" side of the DFU added that while students couldn't opt out of the student spaces levy if it was passed, student would have that ability with this fee.
— Nathan Fung