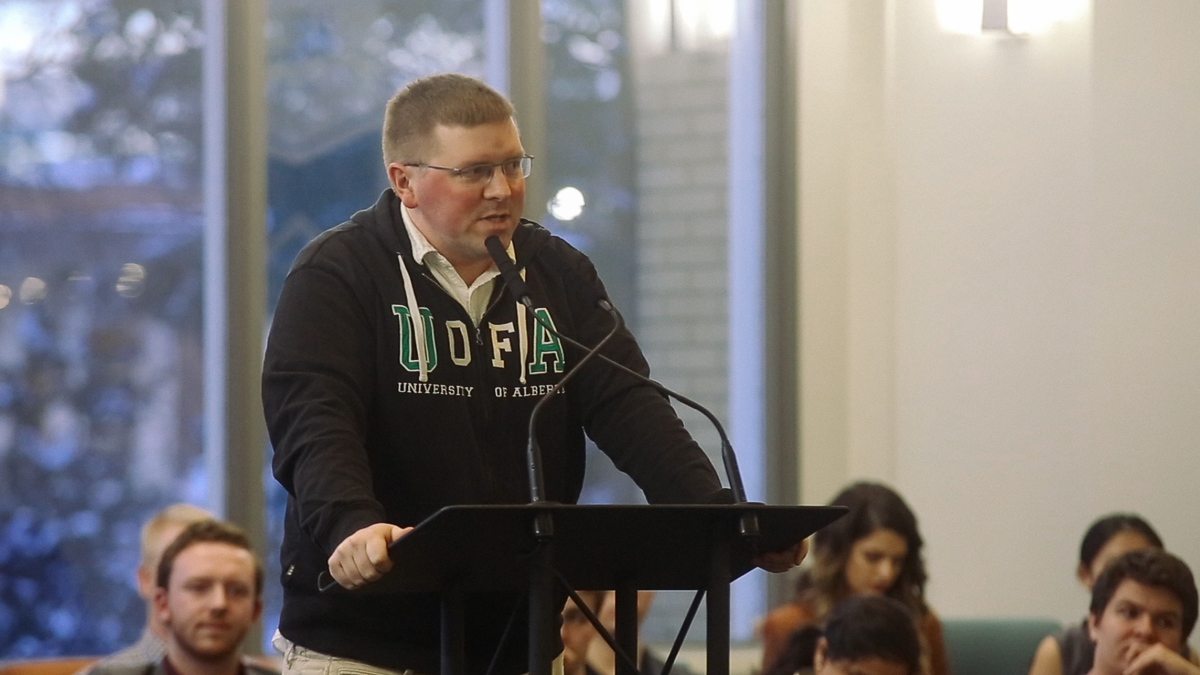 Board of Governors Undergraduate Representative Levi Flaman faced questions from Students' Council about his vote in favour of increasing Augustana rent and meal plan costs.

In the Students' Council meeting on March 26, Flaman was asked about his vote in favour of a three per cent increase to residence and meal plan rates at Augustana campus during a Board of Governors meeting on March 15.

The questions came after the Augustana Students' Association (ASA) submitted a letter to the Students' Union asking why Flaman made the decision and what consultation he did prior to his vote. The letter adds that the ASA does not support the fee increases.

"The [ASA] does not support fee increases intended to match increased standards of living when students are not themselves able to live by the very standards that are being set," the letter said. Without dormitories being improved and shown to be more efficient, the Students' Association will not waver from this position."

Currently, a single room in a first-year dorm at Augustana costs $8,772 for an eight-month contract.

Flaman said he voted in favour of the fee increase because he thought it was reasonable, and that students at Augustana are getting "as much back from the money that they are paying."

In a written response submitted to council, Flaman added that he "did not speak to Augustana students directly."

During question period, Flaman was asked about his decision to vote in favour of the increase for Augustana when he voted against the other increases, including a 2.77 per cent hike to international student tuition and a five per cent rise to residence rates at North Campus.

Augustana councillor Lane Anderson asked Flaman what benefits he saw from the increase.

"I personally know people who are now scrambling to find places off-campus because of the increase in cost to live on campus," Anderson said.

Flaman answered saying the increase would maintain current levels and keep up with costs, unlike the increases proposed for North Campus. The three per cent increase was "business as usual."

Faculté Saint-Jean councillor Tahra Haddouche asked why he wouldn't just vote no for all of the increases. Haddouche also asked Flaman what he saw as his responsibilities to the student body.

In response, Flaman said he was voting as a member of the board, with a fiduciary duty to the university.

"My responsibility is to bring perspectives, bring the student experience, and bring any concerns [to the board]," he said. "But when it comes time to actually vote and make decisions, it's to uphold what I was appointed to do."

"Students may not agree with that position, but that's the position that I was taking and that's the way I voted," he added.

Arts councillor Mpoe Mogale asked Flaman if he stands by his decision. Flaman replied that he does.

"I have not reconsidered," Flaman responded. "I stand by my decision. One of the tenants of representatives is to not second-guess themselves. It might have been a poor decision, but it's not something I would go back and change."

Flaman also mentioned that his successor, current arts councillor and incoming Board of Governors representative Rowan Ley, had stated he would "take a different approach than [Flaman] did" once he starts his term in May.

Vice-president (academic) Akanksha Bhatnagar referenced the Student Participation Process Handbook, which outlines how student consultation should work at the university, and asked Flaman to speak to how he will transition Ley to consult better.

"One of the best ways to learn is to not repeat the mistakes of your predecessor," Flaman said in response. "So by shining a spotlight on the ways I screwed up, I can ensure they do not do the same thing."