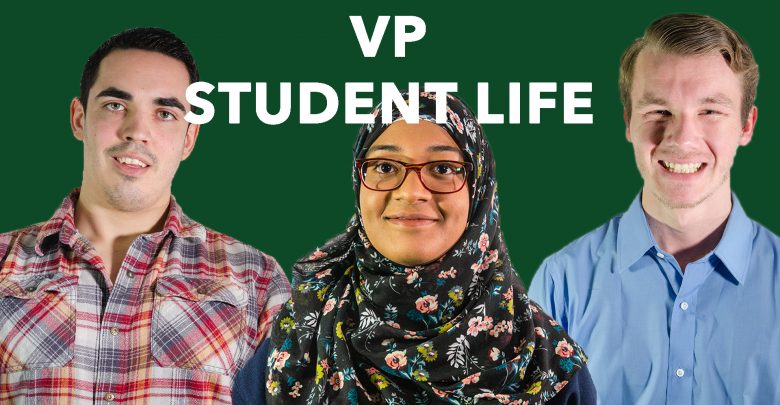 Events planning, student wellness and representing students living in residence falls onto the vice-president (student life). While some of it is fun and games, the vice-president (student life) also works closely with Residence Services, and is responsible for organizing internal mental health initiatives.
This year, three candidates are vying for the vice-president (student life) position: fourth-year business student and HUB Community Association president Jared Larsen, sixth-year drama student and past president of the U of A Interfraternity Council Rory Storm, and fifth-year science student and current science councillor Shuaa Rizvi.
The following interviews have been condensed and simplified for clarity.
---
In one minute, can you tell us why you are running for Students' Union vice-president (Student Life)?
Jared Larsen: I'm running because I have an unbridled compassion for our students' needs as it relates to student wellness, deferred maintenance, student group autonomy, and strengthening residence communities.
This year, when I was elected as president of the HUB Community Association, I got to work closely with a lot of the department heads of our university, and especially with ancillary and residence services. And with my deep understanding of the university's bureaucratic structure and effective methods of community building, I strongly believe I am an excellent candidate for the role.
Shuaa Rizvi: Well, this is my last year on campus and I had the opportunity to get involved in many organizations on campus, whether it be the Dean of Students Advisory Committee or even the Students' Union. I've gotten an insider view on some of the issues students face on campus.
What really motivated me to run was seeing the issues students face on campus. For example, mental health. Students barely get access to the resources they need. And this progresses further to students at Augustana or Campus Saint-Jean. We need to address mental health as seriously as physical health and wellness are.
Besides that, I did an internship at the [university's] department of Environment, Health and Safety. I got a behind the scenes look at how security and safety look like on campus. These issues even go beyond the students living in these residences, but also apply to students that study in libraries late night.
But how do we work around those while ensuring we are not putting students in dangerous situations? Those challenges are things I want to address head-on.
Rory Storm: I've been on campus since 2012. I started in sciences and now I'm in arts. I've joined so many things on campus. I've talked to a lot of students across the community and I'm about to graduate, but there are a lot of issues I see on campus.
I want to help students connect with each other more. Everything's so separate: the Alumni Association, the SU, and even the university administration. We see them as all different when they should be working a lot more collaboratively to help students connect more. September is when everything happens, and then campus kind of dies. There needs to be more events across campus.
We need to have more connections with our alumni. People don't see becoming an alumni as special anymore. It's like you're either a donation or you're just seen as someone who has to come back and talk about your education when you were a kid and what you're doing now as a job, not as a person anymore.
Can you concisely explain your platform?
Larsen: The first point is to embrace student wellness, which has elements of improving funding for on-campus mental health resources and ensuring they remain on campus and not transferred over to Alberta Health Services. It also includes methods to hold the university accountable for preventing and responding to sexual assault and suicide prevention.
My second platform point includes strengthening residence communities which work to develop long term strategies plans for residence associations, build relationships between residence coordinators and residents association executives, and take a firm stance on meal plan and rent fees.
For empowering student groups, I have plans to increase collaboration with cultural and ethnic student groups to provide a more diverse array of events on campus, including collaboration with UASUevents. I also have plans for improving student group autonomy.
And then I have plans for addressing deferred maintenance, especially relating to safety and security on campus. This year I got to lead a major HUB safety and security renovation plan that includes a 1.2-million dollar plan to increase safety and security levels in HUB.
Risvi: My platform is organized into three main points that include striving to make campus a welcoming place for all people and to support making a positive campus community. The second one is working with the International Students' Association to put on services that are culturally welcoming.
Lastly, I would like to implement existing services to all U of A campuses. These are services like the Career Centre or the Sexual Assault Centre. These services should be accessible for all students at satellite campuses like Augustana and Campus Saint-Jean.
Within those, there is a big push in my platform for mental health, specifically looking at if we can foster positive community growth through existing organizations. I want to also put on programming such as a community kitchen where students can come in and cook meals together.
Besides that, there is a huge point about students who parent. When we talk about making campus a place of wellbeing, and uplifting the whole people, we need to accommodate all those on campus and that includes students who parent and Aboriginal students.
Storm: Number one, I want to have more collaboration between student groups. I want it between student groups and even alumni.
I want to have more student group collaborations, with both the SU and with each other just to create more events across campus throughout the year and larger events across campus throughout the year. Because again, September is when everything happens and life kind of drops off except for the odd SU thing.
I also want to have more skills developed that you don't really learn in school. There's already some initiatives for cooking on campus, but even the residences, they don't get to cook anymore. They don't learn how to balance a budget. They don't get that anymore. We need to enhance skills we don't always look at like how to cook, how to do basic maintenance at home, how to work on your car.
Even mental health, we're taught we need to speak up about it, but what are we taught about it to help each other on it? We need to start creating workshops or something to teach each other these things.
Residence issues are a large part of the vice-president (student life) portfolio. What are some of the biggest challenges currently facing students in residence and how would you address them?
Larsen: Some of the biggest challenges our residents face are the affordability and quality of our food, as well as the residence life rules placed upon us.
This year the university is undergoing a strategic occupancy management plan which is an excellent opportunity for the Students' Union to step in and fight for our residence here on campus, which includes no more 11 month fees because that is just barrier to entry for all students coming to campus, equitable cost controls for rent which include an equitably mutually beneficial ratio between the inflation rate and the Edmonton Housing Index.
And that includes quality standards on our meal plan and effective advocacy to implement strategies so our students can have quality food at affordable pricing. This also includes internal efficiencies within residence services and looking at a per-student funding program ratio where we have an equal distribution of funding opportunities go to all residences.
Rizvi: There are many issues that have been brought forward during my time on campus, like the meal plan and safety and security. As we can see, there are issues and problems specific to particular residences or residence associations. Strengthening that connection between me and those associations would be the first step in addressing their specific issues.
One of the problems that have come forward is the meal plan. If we are not able to scrap it altogether, there are certain things we are able to do like making more grab-and-go stations, that would be making the meal plan more accessible to students. Safety and security, we need to make sure it is addressed at all residences. That will only come forward if there is constant communication with residence associations.
I am not someone who has lived in residence longer than a week, so I cannot speak to issues they are having at the moment, but I have gone out and talked to people. Going forward, I know who I need to connect with in order to gauge what are issues they have. I think I am the candidate for that.
Storm: I feel like the U of A treats us like we're all kids even though we are all adults. So when they talk to people on residence issues, they hear what they're saying, but they're trying to do their own thing.
We need to just pressure the university to start treating us like adults. We're the ones living here. Yes, you're the one who's in charge, you're the one who profits off us, but the issues need to be addressed here and now. When mental health issues come up, you don't need to just sweep them under the rug and hope no one outside the community hears about it. No. We need to start addressing those issues.
This year there have been lots of cases that have highlighted the mental health issues that some students face in university. Do you think the current mental health resources available on campus are enough?
Larsen: While our on-campus mental health resources do the best they can to accommodate for all the students of all their needs, I do believe there is an excellent opportunity for us to become more inclusive and accessible to all students on campus.
I want to implement plans to increase the diversity of our mental health resources on campus to include methods for multilingual support, long term health care supports, and supports that focus on equity, diversity, and inclusion.
Rizvi: No. It is as simple as that. We still treat mental health as taboo or still stigmatized to an extent. We do not treat it as efficiently as we would any physical illness or injury a person may have.
A way forward could be a triage system where a student is able to go to any of the resources offered and be put in a system where they aren't told they need to go somewhere else but [be] guided through the system.
Storm: Yes and no. I was on the Dean's Advisory Committee this year and almost all our talks were just about making more mental health initiatives, and that's great. We're getting to that point where we're offering a lot of services, but I feel like the biggest thing the university is still missing right now is communicating what do we go to.
Even myself, I had anxiety last year, but I thought I had diabetes — very similar symptoms, unfortunately. I didn't know which resources to go to. I think that's where the communication is being lost right now like, "Which resource do I seek out? Do I see a doctor? Do I go see the Peer Support Centre? Do I go see this? I don't know." We need to have more open communication on that.
Student safety on campus became a major issue in the past year after security concerns in HUB and FAB. How will you ensure student voices are heard on this issue?
Larsen: To ensure our voices are still heard by the university, we will leverage our media relations with external sources, and we will leverage our advocacy sources, working with people like Katherine Huising from Residence Services, Geoff Rode from Building and Operations, and other department heads to lead the Campuses and Facilities Safety and Security Working Group to ensure our buildings are maintained, safe, and accessible to all students.
Rizvi: Previously I was able to do an internship with the department of Environment, Health and Safety [at the university,] which is responsible within facilities and operations for keep students and staff on campus feel it is a safe and welcoming space.
The first step is building and working on the relationship I have with that organization and making sure we are able to push for the right to feel safe on campus. We come on campus and should always feel safe. I have that insider look on how the university sees these issues.
If it comes down to it, I would go to the media like it was done previously. I would use other modes to keep departments accountable for its responsibility to students and campus.
Storm: I think that's one where we almost try and get Edmonton legislators in because security goes beyond the university. That has to do with public health and public health is a city and provincial issue. If the university is unwilling to listen to us, then the city should be helping us. We should be approaching the city like "Hey, the university is not helping us on these issues."
Joke question: Fuck, Marry, Kill: Guba, Patches, or the Rutherford statue.
Larsen: I'd fuck Patches, marry Guba, and kill the Rutherford statue. Actually, I'd probably marry the Rutherford statue just because there is little bit more money in the Rutherford family, and I am not really sure if I want a long, loving relationship with a mascot.
Rizvi:What a weird spot to be in. Just because it is a statue, I would kill the statue, it is inanimate so no harm there besides, I guess, the destruction of property charges. I would marry Guba. I am a very peppy person. So that would leave Patches. Sorry Patches.
Storm: Guba's the one with the winking eye right? I mean he's got that winking eye going on, so I'd definitely fuck Guba. The statue, I'd marry because I would never have to worry about it leaving me. Fuck Patches, I mean kill Patches, like fuck that.