News
Residences
HUB Community Association proposes installation of OneCard access locks in HUB
The proposal will restrict access to HUB between 9:00 p.m. and 5:30 a.m.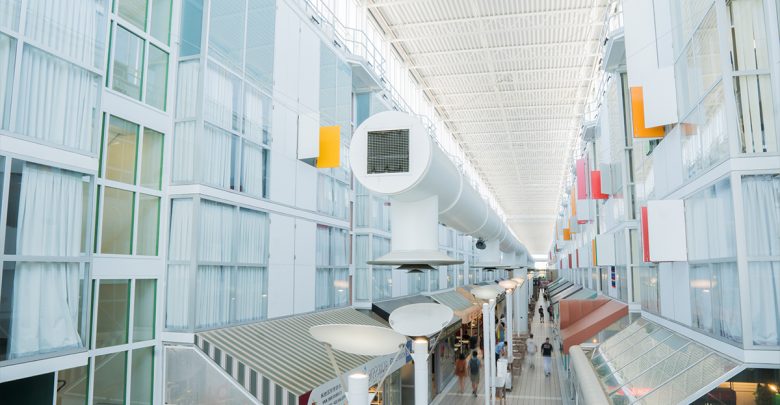 The HUB residence association is proposing the installation of OneCard controlled locks for off-hour access to the building to improve safety and security for HUB residents.
The current proposal entails locking HUB's exterior doors from 9:00 p.m. to 5:30 a.m., with OneCard access available at the LRT entrance, main entrance, Chaplain's Centre entrance, HUB community centre entrance, and one in every five exterior doors along both sides of HUB. OneCard accessible doors will be painted gold while doors locked throughout the night will be painted green.
The proposal was developed by the HUB Community Association with support from the Students' Union vice-president (student life) Andre Bourgeois. The cost of the proposal is estimated at below $1 million and was presented at a special meeting with representatives from ancillary services and the office of facilities and operations on October 26. Bourgeois said he expects a response from ancillary services on November 9.
Jared Larsen, a HUB resident and president of the HUB Community Association said the initiative was designed to address a series of problems in HUB including both safety concerns from residents as well as a lack of secure community space.
Larsen said The Vault, the current community centre in HUB, can only hold approximately 30 of HUB's 732 residents. Without any other safe space in HUB for residents to hang out, most are confined to their rooms throughout the evening.
But if HUB is locked down at night, Larsen said resident assistants can utilize HUB's four elevated lounges as community spaces during off-hours.
"[Residents] are paying to live here, but there's no community space for them to use," Larsen said. "Adding OneCard access to HUB mall would increase safety and community."
HUB is currently the only residence that isn't locked down at night. Larsen said because of its proximity to the university transit station, HUB is one of the top crime spots on campus and that trespassing, assault, and theft are the most frequent crimes reported in the area.
In a recent HUB residence response survey, Larsen said approximately 85 per cent of students were in support of the initiative, with security reasons being a primary concern. Many residents reported being harassed by religious solicitors, as well as observing trespassers doing drugs, picking through garbage, and sleeping in their stairwells at night.
"If I were to walk out of my residence room and there's a homeless man sleeping there it's going to make me uncomfortable," Larsen said.
While the upfront cost for installing the OneCard proximity locks can be high, Larsen believes the money the university will save from no longer requiring security guards patrol the area can offset some of those costs. By limiting OneCard access to only one in every five exterior doors along the sides of HUB instead of every door, Larsen estimates the total cost to be below $1 million.
"Student safety and security is a basic need," Larsen said. "So we're hoping that [university administration] is going to help us with this."