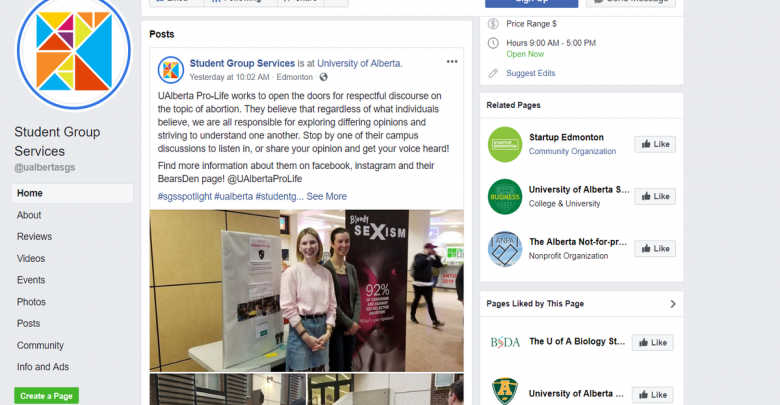 The Students' Union subsidiary that administers student clubs is taking criticism from some who feel that a post on social media highlighting a pro-life group on campus should never have happened.
On the morning of February 5, Student Group Services (SGS) published a profile of UAlberta Pro-Life on their Facebook page. The post is part of their social media spotlight series, which the page puts out every few days, highlighting a different club on campus each time.
"UAlberta Pro-Life works to open the doors for respectful discourse on the topic of abortion," the post read. "They believe that regardless of what individuals believe, we are all responsible for exploring differing opinions and striving to understand one another."
However, the post drew a large amount of criticism from students online. As of February 6, the post generated over 80 comments and 70 shares, many of which attacked SGS for throwing a spotlight on the group. The post was also shared on Instagram where it received five similar comments.
One of the post's critics is graduate student and former Students' Union Board of Governors representative Brent Kelly.
"SGS was seemingly promoting it, which I appreciate may not have been their intent. But in any case, that's how it looked," he said.
Sometime after it was published, the original post by SGS was edited with a disclaimer, specifying that "the views of individual student groups do not necessarily reflect the views of the SGS."
Dierdie Sprenger, a third-year education student and president of UAlberta Pro-Life, said she wasn't aware of the response generated by the post until The Gateway had sent her an interview request for this story.
Sprenger added that she didn't expect the post to get the response it did and that while the UAlberta Pro-Life was a pre-existing name, the club itself is new as she started it in 2017.
"It does really shock me to see those comments, and also those on Instagram of people comparing our club to white supremacist groups,"she said. "I'm a Filipino woman, to be compared to white supremacists is really shocking for me to hear and I wasn't expecting that."
For groups to be featured on SGS's social media, the group needs to submit an application first. Speaking on behalf of SGS, Students' Union president Reed Larsen said UAlberta Pro-Life went through the normal application procedure and said that it met the necessary criteria, including that the content is neither "harmful," "graphic," or "misleading."
"Generally, this post, if you read it, the content in and of itself is pretty generic," Larsen said. "Obviously the history of this group is morely what people are mostly upset about, and that is very understandable."
Larsen added that most SGS spotlights don't usually generate a large response online, and that SGS wasn't expecting it with this post. Following this incident, Larsen said the Students' Union will be reviewing SGS's social media procedure.
Sprenger, said the post was intended to spark discussion on a controversial topic and that she is sad to hear that people might be upset by either the post or her club.
"At the end of the day, what we want to do with our club… is to enforce mutual respect and to recognize the dignity of each individual person," she added. "Because we don't have to agree with everyone we talk to, but we do have to respect one another."
The profile even got the attention of feminist groups beyond the University of Alberta community, including Feminists at MacEwan, who also commented online. Rebecca Houle, a second-year commerce student at MacEwan and president of the club, worried that the post could be traumatic for students who have experienced an abortion.
"In posting that and giving a platform to these groups, is making people feel very uncomfortable and very unsafe and angry, and for that reason I think that the post is unacceptable and should be taken down," she said.