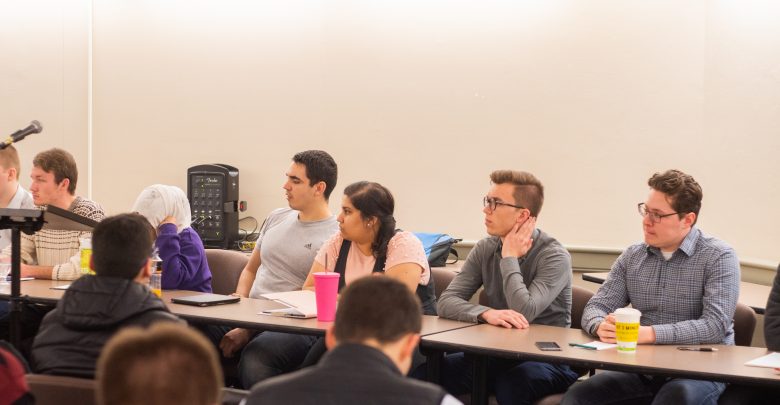 Mental health concerns dominate presidential race
Presidential candidates faced off over how to best respond to mental health needs of students.

The two presidential candidates are current Students' Union executives, with Andre Bourgeois being vice-president (student life) and Akanksha Bhatnagar vice-president (academic). During opening statements and question period, both candidates focused on mental health and the need to increase the amount of services the University of Alberta provides.

Bourgeois, a sixth-year sociology student, said poster slogans and awareness campaigns are not enough to help university students facing increasing stressors like tuition and rising residence rates. He said he would ensure that a wide spectrum of mental health resources are offered by the university to meet the unique needs of students.

"One student taking their life is too many," Bourgeois said. "Addressing mental health does not mean we need a single solution, we need concrete steps."

Bhatnagar, a fourth-year political science and sociology student, said she was "angry" to find out the university kicked out a student from residence when they were in a vulnerable state. She said the current Students' Union executive team, including herself, did not do enough to help in this situation.

"We protested the meal plan," Bhatnagar said. "When we heard about this student, we stood by… and sat silent. As president I will not stay silent."

She added that the university needs a culturally sensitive approach towards mental health concerns. When reaching out to a counsellor for help, Bhatnagar said they did not understand her unique cultural situation. If elected, she said she would advocate for investment for cultural councillors and enhanced training for existing services on campus.

"We have to stop giving a generic [response]," she said. "We need to be really specific… that we need cultural councillors on campus to support the diverse needs of students."

Bourgeois said Students' Union executives did nothing while the provincial government cut the amount of counselling hours provided through university mental health resources. He added that the university already has cultural councillors as part of its suicide prevention framework. If elected, Bourgeois said he would hold both the government and university to account.

"We need to actually fight [the government] on that," he said. "Commitments need to be held."

— Adam Lachacz

Student life candidates talk security and residence associations
The safety of residents, collaboration with the Lister Hall Students' Association (LHSA), and delivering mental health resources dominated discussion for the three vice-president (student life) candidates.

Juan Felipe Vargas Alba, a student in the audience, raised the concern of whether increased policing in HUB residence would actually promote safety, as well as what future steps would need to be taken.

All three candidates said increased policing was not the answer. Candidate Jared Larsen, a fourth-year business student and current president of the HUB Community Association, said he wants to put OneCard locks on doors in the residence. He also said he wanted to focus more on environmental design by increasing artwork, painting panels, and improving lighting to create a more safe and welcoming space for students.
"Our goal is not to keep those out that might need assistance," Larsen said. "Our goal is to provide a safe environment for our residents."

Candidate Shuaa Rizvi, a fifth-year science student and current science councillor, brought up the need to educate security services as well as students on how to best increase student safety on campus. Candidate Rory Storm, a sixth-year drama student and former president of the U of A Interfraternity Council, said he did not have a concrete answer to Alba's question, but thinks increasing the amount of cameras may help.

Another question asked by LHSA vice-president (public relations) Caspian Teymouri was how the three candidates would work with his association. Rizvi mentioned that she's never lived in residence, but is interested in putting herself in the shoes of residents and exploring new options.

Storm added that he wanted to create concrete tenant landlord bylaws to help residents in the long term.

"The university tends to prey on the ignorance of students," Storm said. "The tenant landlord bylaws will help students not get pushed around by the university."

Larsen mentioned that in the future he wants to create advocacy training, a comprehensive meal plan for students in Lister, and write an open letter to preserve murals to maintain a cultural community.

When Will Sacuta, LHSA vice-president (Kelsey Hall), questioned the candidates about delivering mental health resources to students, Larsen said he wants to provide more accessible clinical care for students and have it be available by phone as well. He also said he wants to improve funding and analyze how much clinical care would cost per person.

Storm said he wants to create workshops to educate students more about mental health and which services students can access. Rizvi said she wanted a triage system in which students would be directed to better resources instead of being turned away.

"Students might go to the health centre and not understand how to convey what they're feeling in that moment, so they might get turned away," Rizvi said. "That turning away might make sure the student gets no support. In a triage system, that student will be accepted and helped right on the spot."
— Faramarz Jabbari-zadeh
External candidates focus on relevant work experience
Vice-president (external) candidates Robert Bilak and Adam Brown answered questions on topics such as relevant work experience.
Brown, a fourth-year bilingual business student, started his introduction by speaking about his achievements as the current vice-president (external). He addressed the cost of living and "financial challenges" students face in residence, including paying for tuition, rent, and meal plan. He added that Alberta has the worst up-front grant system in Canada which "isn't good enough."
Bilak, a third-year political science student and current arts councillor, said he wants to include the executives of the LHSA in Students' Union decisions regarding them, and in regards to the rent and meal plan increases. He also spoke about the importance of the Lister murals, and the need to make sure that development decisions in the city and on campus are "student-centric."
A question came from business councillor John Hussein, who asked about the advocacy the candidates will do for work experience.

Brown said he is looking to continue work on an expansion of the Work Experience Program, and says all students should have the opportunity to be involved in work experience.

"It's shown that if we get that sort of experience now, we get hired faster after we graduate," he said.

He also advocated for a reform to the international student permits that are needed for participation in co-op programs as they currently take three to six months, which is not feasible in a co-op situation.

Bilak responded by saying he thinks experiential learning is important, and that there needs to be an expansion of the work-integrated learning experiences on campus with federal and provincial funding. He also emphasized the need for an increase in the diversity of jobs available in these programs.

"I think that we need to encourage more diverse businesses to apply for funding so they can take on students," he added.

— Kate Turner

Candidate for Board of Governors representative hopes to create changes to the board that will last longer than one year
Running uncontested this year for Board of Governors representative, third-year political science student and current arts councillior Rowan Ley opened his first forum highlighting his strong connection to the campus community.

Ley said there was a lack of transparency of activities occuring at the Board of Governors. He said increasing the number of student representatives, live streaming meetings, and working with the vice-president external and other Board of Governors representatives in Alberta would help address this.

"These adjustments will not only make student governance better for the next year, but for decades to come," he said.

Ley said the board should not pass decisions that lack a solid, well-planned strategy. He added often student and board interests intersect but need to be presented that way.

"Having an oversight and accountability strategy from day one will make a big difference," he said. "This will make sure administrators face consequences, not only students."
— Khadra Ahmed
Community engagement discussed by candidate for vice-president (operations and finance)
The single candidate for vice-president (operations and finance), current business councillor and fourth-year business student Luke Statt, discussed capturing student opinions on student services and fostering a community of engagement on campus.

During introductory speeches, Statt emphasized his platform on getting student voices heard.
"I think there's a lot of intelligent people on campus with great ideas to share with the SU," he said.

Statt proposed projects including a "Student Voices Panel" where students can sign up to participate in surveys and consultations, and creating a "Student Advisory Committee" to address student satisfaction with various SU services and businesses.

His other ideas include reworking the existing SU website to improve accessibility and clarity and releasing the Student Services Catalogue, a directory outlining all SU businesses and services available to students.
— Calvin Chan
Experiential learning and more Indigenous content focuses for vice-president (academic)

Sole candidate for vice-president (academic) Joel Agarwal said experiential learning and Indigenous content are main focuses for him.

"Having lived in Lister I can firstly say that when I was in my first year I had some of those experiences where it was hard to navigate the university culture as well as the academic environment," he said.

Agarwal, a fifth-year biology student and current science counsillor, was asked about experiential learning and he spoke about creating a centralized portal in which all faculties can have access to providing students with these out of classroom opportunities.

When asked about what reconciliation meant to him and what he would do to actualize it, Agarwal spoke about a large focus on relationships and "meaningful consultation." As well as advocating for more Indigenous content in the classroom.
— Haley Dang
Few questions for the referendum and plebiscites
Aboriginal Student Council president Katherine Belcourt, Student Legal Services campaign representative Sarah McFadyen, and CJSR campaign representative Chris Chang-Yen Phillips explained what their respective fees would do.
Belcourt explained that with the $1.00 opt-outable fee Aboriginal Student Council is proposing, the ASC would be able to expand the events and awards they can offer to both Aboriginal and non-Aboriginal students and create a fund to subsidize child care to students who parent. Part-time students will only be charged $0.50.
On behalf of Student Legal Services, McFadyen explained that while SLS provides free legal service to low-income Edmontonians, their service is also open to students who need legal assistance. The fee is $0.75 per term.
Regarding the CJSR plebiscite, Phillips said students are being asked if they support paying a $2.18 fee for full-time students per term and a $0.78 fee for part-time students. CJSR is a campus-based radio station and these fees will go toward radio equipment and supporting student opportunities in radio programming.
While no questions were directed at the three representatives specifically, each responded to a question from native studies councillor Nathan Sunday, who asked all the candidates what reconciliation means to them.
McFadyen said part of reconciliation means having resources available for Indigenous people who require legal help, as they're impacted differently by the law.
"Reconciliation, for myself and for student legal services, is something that should be happening universally across organizations and law firms and throughout the legal profession," she said.
Phillips responded to Sunday's question by talking about how CJSR gives a platform to minority voices.
Vice-president (student life) candidate Shuaa Rizvi also replied, saying that "reconciliation means voting yes for ASC."

Belcourt also replied to Sunday's question. She said that while she's "almost numb of the word," she said reconciliation means different things to different people.
"What reconciliation means to me is that it's not something that's stagnant. It's not just a word, it's not just a thing you can throw around. It's living, it's breathing, it's dynamic, it's multifaceted," she said. "Everybody has a different definition of the word reconciliation, and depending on where you are, it's going to change as well."
— Samantha Buryn and Nathan Fung