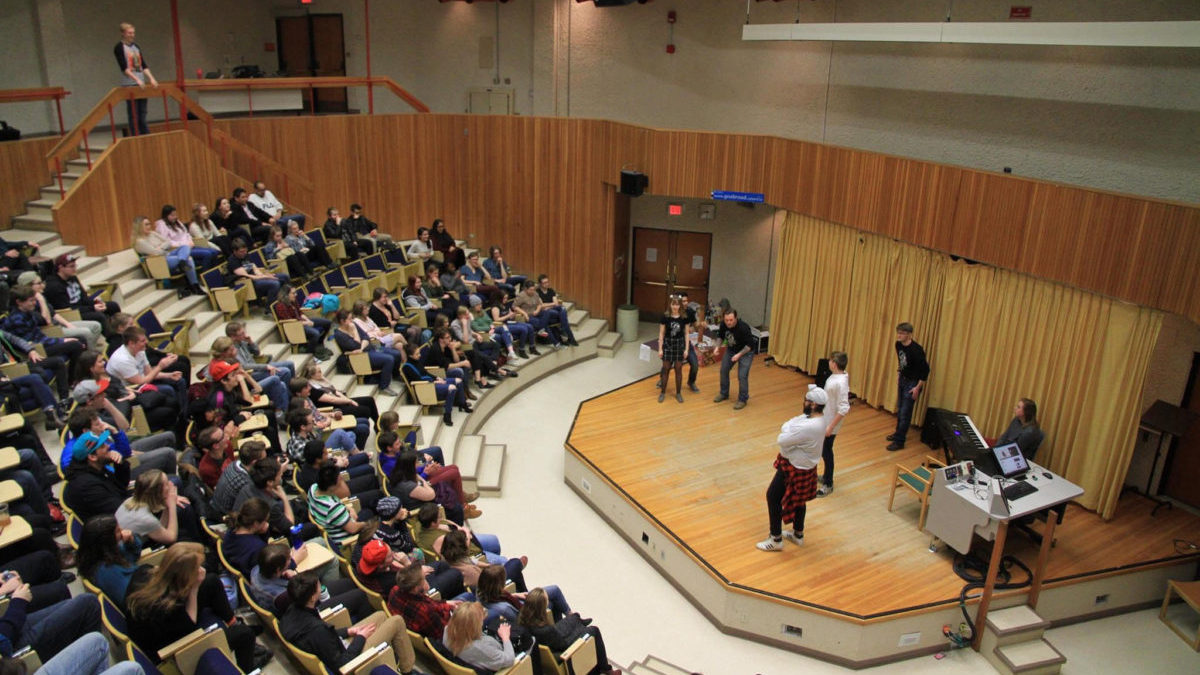 Octofest kicked off with a lively mix of diverse sets and even livelier participants
What: Octofest, the eighth annual UIG international improvisation festival
Who: The Notorious UIG and guests
When: January 23-26, 7:00-9:00 p.m.
Where: Edmonton Clinic Health Academy L1-190
Tickets: By donation
---
I knew I was in for a great show as soon as the two emcees came in acting as a couple of children in a large raincoat pretending to be an adult. The laughs didn't stop here, as the first show of Octofest, the eighth annual international improv festival hosted by our own Notorious UIG (University Improv Group), proved to be a terrific start to the whole event. Each of the festival's four shows consisted of multiple sets being performed by different improv troupes from all across Canada and the United States.
The variety of talent at this event made for refreshingly diverse performances. The four groups in the opening show each had their own improv style and unique vibe. That said, the actors always integrated the audience by asking them for prompts. All of the members in one group wore ties, which went well with their office-based scene.
One group from the U of A called themselves the "Straight White Men," which was ironic since none of them were, well, straight white men. Their set recreated some of their life experiences, focusing on each of their unique identities. Other memorable performances were a wacky scene about broccoli and a first date at a bowling alley where two performers were controlled like puppets by a third member of their troupe.
Each group presented for around 30 minutes, with an intermission happening at the midway point. During this time, the audience could buy food and beverages (both alcoholic and non-alcoholic) from a concession stand and also participate in a mystery-box raffle. On the opening night, the box's goodies included a hot dog hat and an owl stuffed toy.
All in all, the first show of Octofest was an enjoyable celebration of young talent, where a large part of the fun came from seeing people take chances and not take themselves too seriously. When the scenes went awry, it was just an excuse to be even funnier — for example, in one skit where an actor played the deaf Beethoven, his teammate mistakenly called him Bach, causing uproar in the audience. Rather than pausing to correct this involuntary gag, the two actors continued with their skit, which was a terrific moment of improv on their part.
Such spontaneity bodes well for the shows to come, not just this year, but also in the hopefully many years of UIG international improv festivals to come.