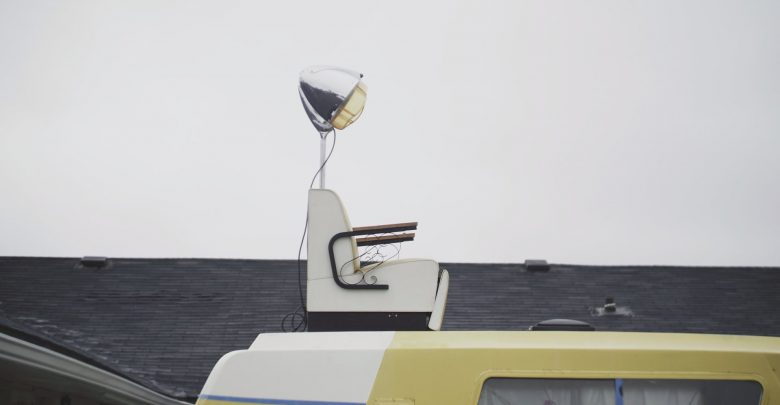 What: Abracadavers (a feature film and web series)
Who: Numera Films
Director: Morgan Ermter
Screenwriters: Morgan Ermter, Griffin Cork
Cast: Griffin Cork, Emma Houghton, Jordan Wright, Courtney Tromburg, Franco Correa
---
Sometimes it's hard to let go. Add this universal truth to a pastel-washed world complete with quirky characters in a camper van, and you're on your way to explaining Abracadavers.
The Alberta-made film (running alongside a web series of the same name) follows Chris (Griffin Cork), a young man obsessed with the salon chair that electrocuted and killed his mother. Noticing Chris's troubled behaviour, his best friend Gabe (Jordan Wright) rounds up their crew of five, which includes Allie (Emma Houghton), Maria (Courtney Tromburg), and Paul (Franco Correa) to bring him on a road trip — but things don't go as smoothly as planned.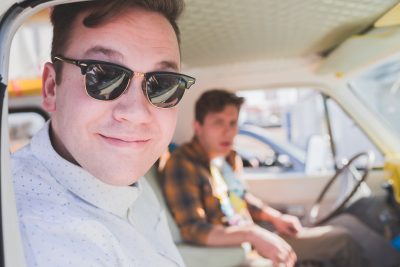 The film sets itself in a universe that can't seem to decide between 2018 and the 1960s, but somehow comes together perfectly. While the characters act like anyone would today, the film's mise en scène and props are decidedly retro. In one scene, Chris and his friends decide to get rid of their phones, dropping five bulky old-school telephones at the side of the road. Throughout the film, close-up shots of perfectly-centred kitschy decor reinforce this aesthetic. This idyllic mix of past and present contributes to the film's overall charm.
While it starts with Chris, the film expands its focus to the whole ensemble. The salon chair grants Chris and his friends superpowers, which cleverly represent their deeper personal problems. The film is able to explore heavy topics, like dealing with OCD and feeling inadequate, in a lighthearted way, because the characters themselves are unaware of their real problems until they can't ignore them anymore (read: until they start burning or exploding things). This lets the viewer have fun watching as their superpowers spiral out of control, making character development easy to follow.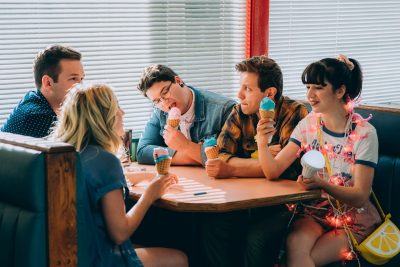 However, the acting falls short of spectacular. Particularly in moments where the characters are showing concern for one another, things tend to be overly dramatic. You can count on many suspense-building pauses and excessively confused facial expressions to appear throughout the film. Still, the characters' personalities bounce off of each other to create a veritable sense of friendship. With Gabe anchoring the more serious points and Paul providing comic relief, each character adds a unique perspective to the story.
The vibrant production design helps the characters come off well. With everyone decked out in bright vintage-inspired hipster outfits against bright backdrops, it's hard to lose focus even in moments of subpar acting. Plenty of medium static shots allow Chris and his friends to mesh with the background and fully immerse the viewer into their aesthetically pleasing world, where the grass is always bright green and the wallpaper is always patterned.
At the end of the day, Abracadavers is a playful exploration of the process of moving on. Where it falls short in acting authenticity, it makes up for its deficiencies with its creative plot and imagery to create an overall fun watch.