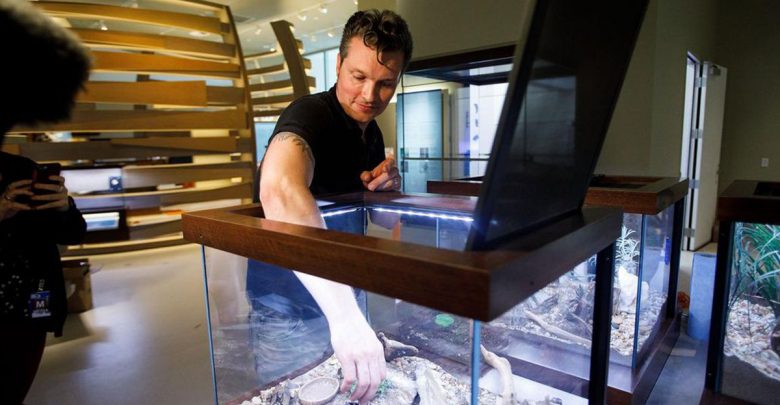 Podcast: Play in new window | Download
Subscribe: Apple Podcasts | Android | RSS
Peter Heule is the live animals supervisor at the Royal Alberta Museum. Known for his work in the bug room, Heule is a passionate advocate for all those things that flutter, buzz, chirp, and crawl. He received his BSc with a specialization in zoology from the University of Alberta and has been working and volunteering at the museum since 1998. He is also known for his regular weekly column in CBC Radio One's Radio Active program from 2006-12 where he'd bring in live bugs to scare host Peter Brown while educating listeners about the marvels of the bug world.
---
The Gateway: What got you into bugs?
Heule: I try to consider myself an unbiased animal person and there are just more bugs than everything else put together. I think that the accessibility and ubiquity of insects was something that was really interesting because no matter where you go, you flip over a rock and you're going to find some critters. I think I realized that you come across a lot of bad attitudes towards invertebrates and snakes and stuff like that. And somewhere down this line after I started with the museum I thought, "Hey, maybe I can help people with that and try to change their minds."
In Alberta we don't have giant centipedes or enormous flocks of butterflies, so what do we have to show for our insects? What are the coolest things around here?
So things like the electric light bugs and giant water bugs are kind of cool because they're some of the largest insects we have in North America. This is actually the northernmost extent of the monarch butterflies. We've got western black widows in Southern Alberta, and we have the northern scorpion, the only scorpion that's found in Canada. The other one would be the minor ground mantis, the only mantis that gets up into this part of Canada.
What was your favourite and least favourite part of university?
The coolest thing was being able to somewhat take the scenic route and check out a bunch of other things that help give me some understanding of a broader range of [subjects]. But honestly, I really loved being surrounded by people that thought the same way, that kind of encouraged that debate. There was definitely a real sense of, "these are my people, this is what I'm supposed to do."
Calculus was definitely my least favourite part of it, but then once I got to population ecology there was finally the realization of why you take all this math. Honestly, by the time I got to my last year, I think I had nothing but sciences, multiple labs, and I was just living and breathing this stuff. Having that understanding and being able to talk to the public — what's the point of doing this research if we only share it amongst those academic circles? It really is for, hopefully, the betterment of society, and being able to teach these little kids all the way up to university is an amazing opportunity.
We've had a lot of news about climate change recently. How are bugs and invertebrates being impacted by that?
Again, [invertebrates] are a massively diverse and abundant group of organisms. We have that tendency to look at charismatic megafauna. Like, "watch out for the blue whales, and watch out for the elephants, and watch out for the tigers." And those things are incredibly important because it's not as though we're going to get a lot of buy-in for [a campaign like] "Save the Tarantulas." I think that having a bad attitude or a contempt for any particular animals or organisms shows a disconnect.
Warming trends are allowing certain species to move north or for [things like] a certain disease-carrying organism that has been kept out of certain areas due to the cold winters [to migrate]. And what would happen if we lost mosquitoes? There'd be a massive gap in terrestrial and freshwater ecosystem food webs. Just because you don't know what they're good for, doesn't mean they're not good for anything.
But it affects all of us. We're all in this together. It doesn't matter what species we're talking about; it doesn't matter what continent you live on; it doesn't matter what socioeconomic class you are part of. We are all affected by this stuff.
That's a daunting task — just to think that by giving tours to kids, that maybe that's actually what I'm trying to go for. But I think we can change the world one mind at a time, and hopefully make it a better place by doing so.