Institutional
News
Elko Engineering Garage to open for students by January
Cost of construction of the garage was met by an undisclosed donation from a U of A alumnus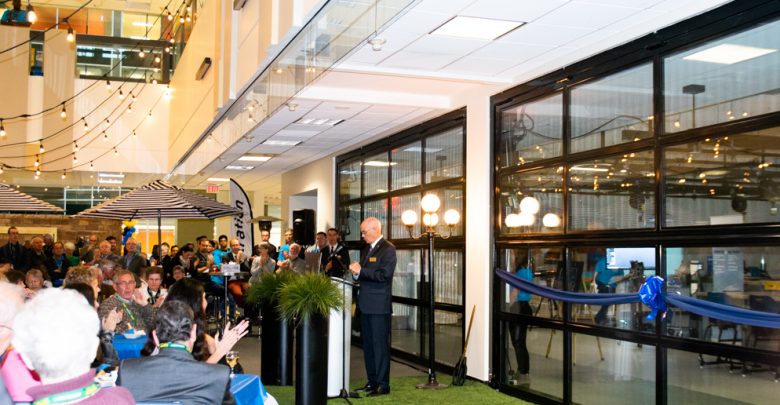 A crowd of engineering alumni gathered in the Engineering Teaching and Learning Complex (ETLC) on September 21 to witness the ribbon-cutting of the new Elko Engineering Garage.
The 6,000 square foot workspace, equipped with 3D printers, a virtual reality welding station, and automated laser cutters, is located on the second floor of ETLC. The Engineering Garage is set to open for student use in January 2019.
The front of the garage contains 3D printers as well as computers equipped with computer-aided design (CAD) software, where students are free to design components for their projects. The back of the garage is a 'heavy' work zone where students have access to milling machines, drill presses, and an enclosed "paint room."
Eric Flaim, director of the NanoFAB fabrication and characterization centre and one of the leaders of the project, said that including the upcoming electronics manufacturing space on the sixth floor of Electrical and Computing Engineering Research Facility and the maker workshop located in the Mechanical Engineering Building, U of A engineering students will have access to roughly 8,000 square feet of workspace.
"We'll really cover the full gauntlet of what's available for students doing woodworking and metalworking, all the way to plastics and 3D printers and doing electronics for making their designs come to life," Flaim said.
The construction of the Elko Engineering Garage, as well as its ongoing operation and maintenance costs, have been met due to an undisclosed donation by U of A engineering alumnus Ernie Elko (Civil '62) and his wife Cathie Elko, as well as a $3.8-million investment by the federal government and the Faculty of Engineering. The space will be free to use for students and the 3D printers may also be used without a fee, due to the donation of the Elko family.
The garage is operated by five engineering co-op students who perform maintenance, draft documents, and provide assistance to fellow students. Flaim said this is part of the space's "for students, by students" philosophy, and that students are more likely to ask fellow students for advice, rather than full-time university employees who "don't necessarily remember or feel what it was like to work on a capstone project."
Engineering dean Fraser Forbes explained the importance of the space for future generations of engineers in his address.
"So our students often come to us today without having heavy opportunity to build things," Forbes explained. "If you're going to be an engineer, and particularly, I think, an engineering student, you need some place to tinker – someplace to build."
"Our hope for the new garage and the whole maker space ecosystem is that we're going to unleash the creativity and the technical ambitions of our students," he added.