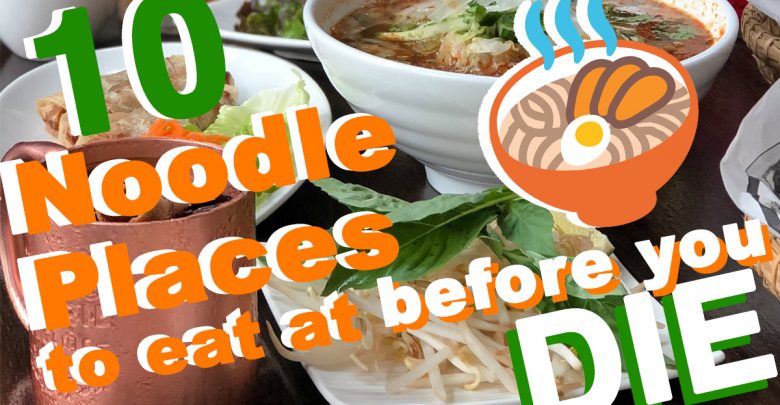 Jessica Lee and Victoria Chiu are two foodie friends who really like eating noodles at all times, in all seasons, and for all occasions. Here, they break down the top 10 noodle-based places at which they recommend you eat in Edmonton before you inevitably kick the bucket. Or leave town. One or the other.
---
Victoria: By the way, these are in no particular order.
---
Nudoru
10532 82 Avenue NW
https://www.nudoru.ca/
https://www.instagram.com/p/BhHVAaahkQF/?hl=en&taken-by=nudoruramen
Jess: Consistently good ramen, no matter what you order on the menu. The noodles, which are made in-house, are always fantastic. While the broth can be a little mediocre at times, the overall quality never disappoints. While the menu doesn't have a ton of pre-set items to order, one of the best features is their "choose your own" menu that allows for some customization. Nudoru is definitely my go-to place for ramen.
Victoria: Honestly, this place is like a ⅗ to me if you order off the menu and a ⅘ if you choose to make your own ramen — because if you make your own, it's your own fault if it's bad, frankly. The noodles are the star of the show here — they're really good quality. And while the broth isn't really all that much of a showstopper, like Jess says, the general quality is nothing to pass up. And if you're on Whyte hanging with friends and not willing to travel? Besides the second place on our list, you don't have many options (and everyone knows the hungrier and more drunk you are, the better all food tastes). Which brings us to…

---
Dorinku
10205 82 Avenue NW
https://dorinku.ca/
Jess: There's only one dish to choose from for ramen, but I love it! The broth is chicken-based, which makes people less bloated. The meat is super tender and I love the garnish on top, but I might be a little biased because it's one of my favourite restaurants in the city (not just for ramen!). If you're feeling super hungry, the carbonara is my second favourite and definitely worth a try.
Victoria: I actually didn't like Dorinku all that much for a long time, but repeated stops there with friends trying all kinds of stuff across their menu has earned them a spot on this list from me (Jess has always loved it). Although this is a noodle list, I actually think the star of the Dorinku show is their Shaka Shaka Fries. Even though they're just a bag of fries coated in a dizzying mix of tasty seasonings, they're incredibly addictive and really hit the spot whenever I'm looking for something salty and savoury and starchy. Mmmmm…
---
Nomiya
Two locations: 3803 Unit 646 Calgary Trail NW and 11160 Ellerslie Road
https://nomiyarestaurant.com/
https://www.instagram.com/p/BiPkn9iHgyi/?hl=en&taken-by=nomiyaramen
Jess: Nomiya is an amazing ramen place, albeit a little out of the way. It's actually one of the first places Victoria and I tried together, so it must've made a good impression. I love their variety of noodles, and I'm amazed they can do them all so well. The atmosphere of the restaurant is laid back and authentic. All in all, a great place for noodles.
Victoria: This one is a perennial favourite — for me, definitely, but also for Jess, I think, considering how many times we've been here. Like, honestly. So many times. And for lunch and dinner, no less. My go-to order is a serving of the Maki Combo and one of the ramen permutations. Their Dragon Rolls, which they give the blow torch treatment to at the table before leaving them for you to devour, are also worth a super-special mention. As is their triple-A customer service. And they give you milk candies with your receipt!

---
XO Bar + Bistro
10236 103 Street NW
https://xobistrobar.com/
https://www.instagram.com/p/BcaiExIgSZf/?taken-by=xobistrobar
Jess: XO is one of those trendy, chic noodle places you go when you're a working career girl meeting your friend during your hour lunch. It's sleek, the customer service is fast, and the pho goes above and beyond pho you can get anywhere else. On the plus side, they have a vegan version, which you aren't able to get at many other pho places.
Victoria: I only have one thing to say about XO: Vegan! Pho! This is the only place in town I know of that serves vegan pho that resembles its meat-laden relative in size, toppings, and general pho-ness. Understated and not too fancy, with no super out-there ingredients, the pho (vegan and meat-based) at XO was a weekly favourite for me when I worked downtown for my co-op position earlier this year. Definitely a great pick for anyone craving hot soup and looking to take someone out for lunch or a meeting somewhere fun!
---
Tokiwa Ramen
11978 104 Avenue NW
https://www.tokiwaramen.ca/
Jess: Tokiwa almost knocked Nudoru out of the park on this one. Their ramen is to die for… when you can actually get in. Because they're so high in quality, they close their doors when their soup runs out, which means you can almost never go there for dinner and have to take time out of your day to go at lunch. But trust me, it's worth it — their broth is leagues above almost any other restaurant in Edmonton, and their noodles are the perfect consistency. My favourite non-ramen dish is the gyoza, which is served in a rectangular shape.

Victoria: God, this place is so good. Except they close when their soup runs out, which is the worst thing ever — because it's good, and I wish I could count on having it at all times of the day. One of Jess and my worst memories about this place is driving there after a stressful day only to find the "SORRY, NO MORE SOUP FOR TODAY" sign up and in full force on the front door. Si-i-i-igh. On the plus side, when you catch 'em when they're open, Tokiwa is totally worth it. Jess's favourite is the black garlic; I think all their ramen is great, and their sides are nothing to scoff at, either. Cross your fingers and hope your lucky stars shine down on you when you head their way — that is, pray that they're open. Apparently you can also check their social media, but the best bet to avoid noodle-less disappointment is to just call ahead.
---
Kazoku
16518 100 Avenue NW
https://www.kazokuramen.ca/
https://www.instagram.com/p/BdVrxS8ARus/?taken-by=kazoku_yeg
Jess: Kazoku is the girl-next-door of all the ramen places in the city. The soup is delicious, the noodles are amazing, and best of all, it's super cost-effective for the amount of food you actually get. The menu is extensive, and when their menu says it's spicy, IT'S SPICY. If you're not into ramen, Kazoku makes an amazing pork katsudon.
Victoria: Their noodles are mind-bendingly delicious — because of the flavouring or the seasoning or maybe MSG or something, I don't know, but the flavour is always crazy intense. After the mega-garbage of exams or hours of focused thinking and presenting in case competitions, we liked hitting this place up as a reliable de-stressor. It's tiny and a little hidden, but look carefully and you'll be rewarded with 5 Gum-levels of sensory unleash.
---
Noodle Bar by Nomiya
11238 104 Avenue NW 
https://nomiyarestaurant.com/
https://www.instagram.com/p/BiAWOzCHUtm/?hl=en&taken-by=nomiyaramen
Victoria: You guessed it: this establishment's run by the same people who run the illustrious Nomiya locations, but this place has a pared-down menu with a focus on (you guessed it again) the noodles. While Nomiya has amazing sushi, Noodle Bar brings more attention to the steaming bowls of carb-y deliciousness they dish up on the daily. Their drink specials are also really fun: one of my personal favourites was the green cream soda ice cream float Jess and I both had a few months ago when we visited.
Jess: Noodle Bar was a cute little place to eat at when the lines for Tokiwa were too long. Just kidding. Noodle Bar has a limited menu, but what was on it was really good. Their menu items were cute and creative, and like Victoria said, the drink specials really rounded out the meal.
---
La Pagode
17024 90 Avenue NW
https://www.instagram.com/p/BnkZGXjjyoT/?taken-at=8175477
Jess: La Pagode is seriously one of the best pho places in the city. Although it kind of seems like they blend in with the other pho places in the city, with almost the exact same menu items and pricing (you know the ones), they really do their broth and noodles well. Their service is efficient and fast, and the fact that they're family-run is even cuter.
Victoria: I'm hella biased because I've been going here almost every single Friday without fail since I was around six years old, but they have, and I'm not saying this lightly, the best green onion cakes. They have a variation where they have bits of chicken inside the green onion cakes. It is A+. Also, their pho is super satisfying and really consistent, and there's almost nothing better than being inside the warm, bright restaurant while a blizzard rages outside. Also, you know an Asian restaurant is an OG when it doesn't have a website.
---
Cô Dô Hue
9524 163 Street NW
https://www.instagram.com/p/BVLXAJwArn9/?taken-at=630861336
Jess: We've only ever gone in a group, and I think that's the best way to do it. Cô Dô Hue is a cute place you can count on for warm soup and good conversation. The price is very fair, which works because it's close to a few high schools. It's tucked into a little plaza and overshadowed by a few chain stores, but it's definitely worth the find.
Victoria: Our evening hang spot for no-frills pho. The colder it is outside, the better the soup feels going down your throat. Best enjoyed with good friends and dope conversation. The tiny space can mean you'll be standing around waiting for a table if it's busy, but hey — if a place is packed, it's definitely an indicator of how worth it it'll be to finally snag that table. Note the lack of a website, too.
---
Chopsticks Diner
69 Ave 177 Street NW
https://www.chopsticksdiner.com/
Jess: Not to be biased or anything, but Chopsticks Diner tops this list. My family has been going here since I was a child, so I've kind of grown up on it, but it's made home-style Chinese food a staple for me. It's the perfect food to eat when you're staying in on a quiet night watching Brooklyn Nine-Nine.
Victoria: Ah, Chopsticks Diner. This is kind of an inside joke between the two of us, but we actually did write a full review of this place up on the site before. TL;DR: If you're looking for literal home-style Chinese food — think sauced-up noodles, mountainous fried rice, the works — Chopsticks has you covered.