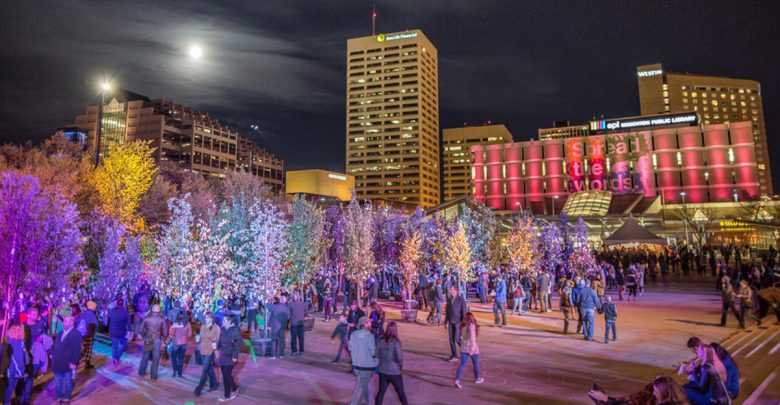 On September 29, a snowfall may hit Edmonton's Nuit Blanche, making it a truly "white night."
As Todd Janes, Nuit Blanche Edmonton's president and board chair, explains, the concept of Nuit Blanche is that of "an all-night contemporary art party." Edmonton's first Nuit Blanche (French for "white night") ran in September of 2015, but the first Nuit Blanche in history occurred in Paris in 2002. The concept has since spread worldwide, hitting major cities like Florence, Madrid, Tokyo, and Brussels. In Canada, cities like Halifax, Montreal, Winnipeg, and Calgary each have their own Nuit Blanche.
Janes and his associates first devised Edmonton's Nuit Blanche over beers in 2013, and two years later, the inaugural event brought in roughly 50,000 people and over 30 artworks and projects. According to Janes, programming for the 2018 art extravaganza focuses on light and illumination, playing with people's senses. But some programming also engages with Edmonton's political climate.
"I think that, just like every other North American city, Edmonton is diverse," Todd says "I think, I hope, we're growing and coming together on issues that are important to address."  
The Aiya Collective's "Gentrification Party" does just that, hitting close to home for Chinese Edmontonians.
Formed earlier in 2018, the Aiya Collective is an art group focused on raising public consciousness of Edmonton's Chinese community. Last year, the City of Edmonton removed the Harbin Gate, an iconic Chinatown landmark, to make way for the Valley Line LRT. Aiya Collective member Grace Law devised the Gentrification Party as a response to the gate's removal.
"Last year when the Harbin Gate was removed I was really angry and really sad," Law says "I thought, 'Artists need to do something; we need to respond in some way.'"
As Aiya Collective member Shawn Tse explains, the Gentrification Party will include an "ironic photo shoot," which uses the remnants of the Harbin Gate site as its background. There will be mahjong and Chinese chess stations, and a DJ playing cultural tunes.
"I think that gentrification is something that is happening all over," Tse says. "This is a way for us to give the public more understanding of what it is."
Aiya Collective member Kathryn Lennon has made postcards saying, "Hello from Chinatown," to be available at the event. As postcards are a way to tell someone about a place to which you liked going, this reflects the collective's desire for people to realize Chinatown is still present and active in the downtown core.
"I just simply want more people to know that Chinatown exists here," Law says.
With plenty of art projects, an art market, and food trucks to fill the night with fun, Nuit Blanche is set to draw in quite the crowd this Saturday evening. Running from 7:00 p.m. on September 29 to 7:00 a.m. on September 30, it is expected to have over 75,000 attendees spanning across downtown Edmonton.
"It's free, it's fun, it's one night only," Janes says. " Don't wake up Sunday morning suffering from FOMO."