Arts & Culture
Campus & City
2018 Fringe Review: Harun
Playwright-performer Makram Ayache's hypnotic storytelling rises and falls in a poetic rhythm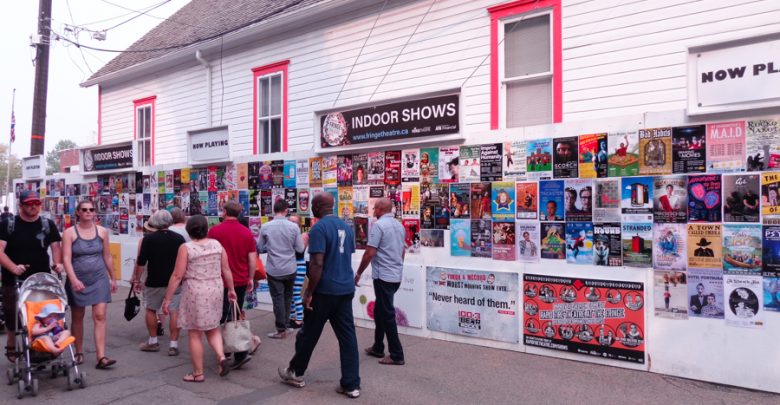 In Arabic, he's Harun; in English, he's Aaron. The titular protagonist of Makram Ayache's new work oscillates between two names, two worlds, and two identities as he reckons with the death of his mother one year prior to the play's action.
Harun (who Ayache plays), a young gay Arab Canadian man, is plagued with visitations from an angel in his dreams. While his friends from the Student Action Network — think APIRG combined with Socialist Fightback — plan a weekend counter-protest, Harun fends off his partner David's (Jacob Holloway) pleas to let him into his internal struggle.
The play flows between multiple time signatures, showing Harun and his mother's (Amena Shehab) adjustment to life in Canada.
Harun's mother addresses the audience in Arabic (Shehab is a recent Syrian refugee) as Harun translates. Their dual storytelling rises and falls in a poetic rhythm as the play hypnotically circles between different life snapshots and languages. Ayache showcases his virtuosity with exquisite writing in narration sequences. With engaging delivery and captivating design, he avoids miring the action in dense prose — a common pitfall of audience address.
In recent U of A MFA Theatre Design graduate Reza Basirzadeh's production design, a massive translucent dress hangs from the sky, unfurling into several light-up strands which take on different forms in the action. Caro Vansrenburg's lighting and Chris Pereira's sound complement this central design concept, creating a riveting aesthetic which casts a dreamlike quality over the play's naturalistic sequences.
While the play's focus is on Harun, the supporting cast capably portray equally fleshed out characters. The secondary conflict between Jean (Sarah Culkin) and Henry (Griffin Cork) incisively probes the life of white guilt within social justice spaces, as the latter deals with his discomfort and bitterness as the former challenges his privilege.
Infused with pathos, Harun is an arresting drama which will surely have a life in the Canadian theatre for years to come.