Arts & Culture
Campus & City
When the personal becomes political: Talking to Chastity Brown at the 2018 Edmonton Folk Music Festival
The singer-songwriter draws on black American folk music and intellectual culture to innovate on tradition and speak her truth
On August 12, 2018, at 5:50 p.m., Minneapolis-based singer-songwriter Chastity Brown graced Stage 5 of the 2018 Folk Fest with her meditative lyrics and soulful singing.
I met Brown in a dark, dank backroom of the Media Services tent scarcely two hours before she performed in the pouring rain. The path from Stage 6 — where I was catching a workshop with Shakey Graves, The Milk Carton Kids, Twin Bandit, and Gregory Alan Isakov — had devolved into a quagmire of mud, and I was happy to spend a moment under cover. Brown, however, seemed unphased by the weather — though I doubt much could phase the unflappable, though friendly roots musician.
"This is the chillest festival I think I've been to," Brown said.
As we spoke, Brown rolled and lit a cigarette from quality tobacco, puffing on it between carefully considered answers. Brown said the festival's fun, relaxed workshops had given her opportunities to make new connections.
"When you're on the road for six to seven months out of the year, [new friends] are few and far between," she said. "And it's fucking awesome to be like, "Heck yeah, I think I made a new friend.'"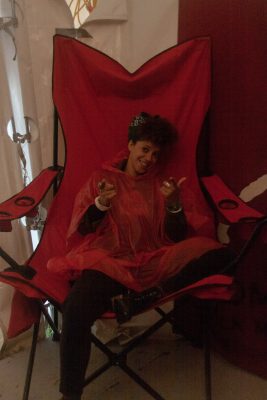 Having grown up in Tennessee, Brown's music draws on the rich roots culture of the Southern United States. After moving to Minnesota, Brown introduced the electric guitar — which she said creates "beds of ethereal sound" in the music of the Minneapolis area — to her repertoire. This merging of influences is apparent on her 2017 album Silhouette of Sirens, which explores "snapshots of memory" through soulful roots melodies paired with a contemporary sonic pallet.
"American black music has influenced the whole world," she said. "I've realized I want to be a part of the new sounds that reflect what folk music is for black people right now — and within that, pay homage to what has been."
Beyond music, Brown counts James Baldwin, Octavia Butler, and Alice Walker among her major artistic and intellectual influences. As a queer biracial woman in the United State, Brown looks to black American intellectuals as her elders — as exemplars of wisdom and integrity in articulating their beliefs.
As Brown rolled and lit another cigarette, I asked her if these progressive political influences have fed into her public persona in the fractured political landscape of the United States. Yet Brown turned my question on its head, saying that the media had only begun identifying her as a political artist in the past year and a half — as political deterioration has further dominated American public life.
"I've only become more vocal about what personally matters to me," Brown said of her contribution to public discourse. "Consequently, what is personal has become political."
In Brown's view, the fact that she can't express her ethical beliefs without them being framed in a contemporary political context indicates how far society has yet to progress in accepting what she sees as basic moral truths — for instance, that race is an ideology and the woman's body should be respected — as uncontroversial.
"People remove [values] from their humanity and put [them] in this stream of ambiguity," she said. "[It's] interesting that truly speaking… what resonates with the way you want to live and the way you want to treat people [is politicized]."
In confronting the ideology of white supremacy in her art, activism, and daily life, Brown looks to the example of Nina Simone, who Brown cites as having used her anger about racism "as a sword" to articulate her work.
"On any given day, I might [be] leaning into my anger. Other days it might be leaning into my sadness with it all," Brown said. "But ultimately, I want to practice and am practicing a form of radical self-love… that's the kind of shit I'm into right now."