Institutional
News
U of A to close Michener Park by 2020 due to rising maintenance costs
Cost of fixing the family residence's current problems amount to $25M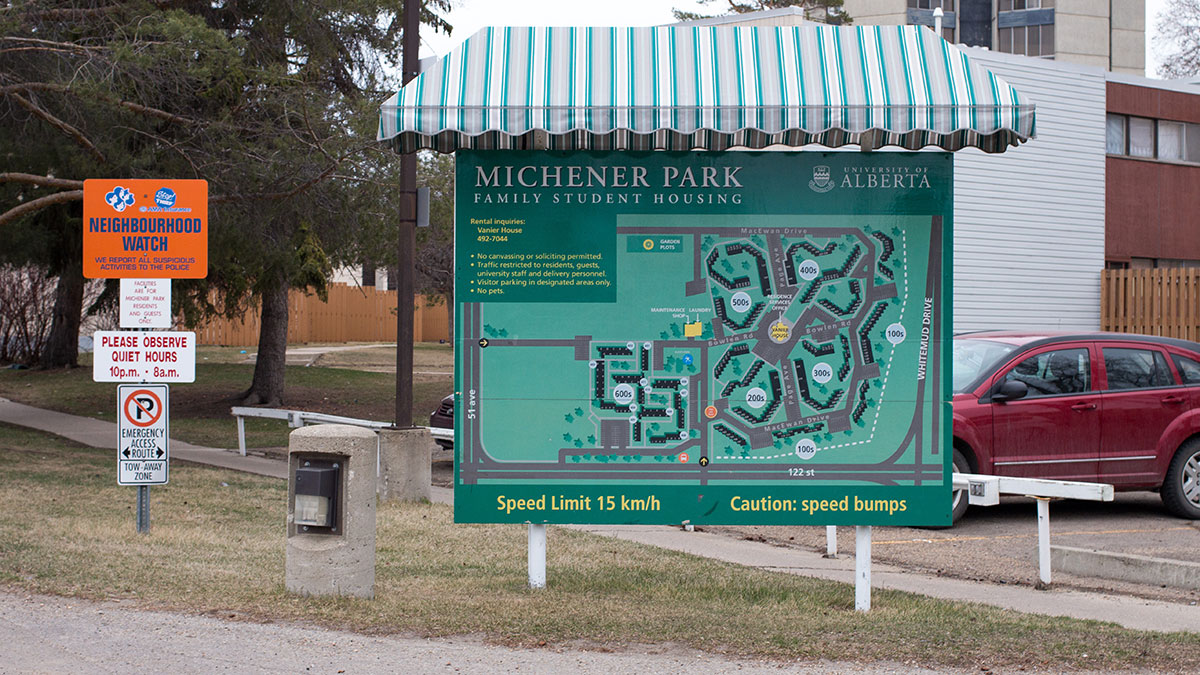 Due to the cost of maintaining Michener Park, the residence for students who parent, the University of Alberta has decided to shut it down by 2020.
Located six kilometres south of North Campus, Michener Park was originally built as a family residence in the 1960s. It consists of Vanier House, a 42-unit high-rise apartment for student couples, and 344 walk-up apartment units and townhouses. But according to Katherine Huising, associate vice-president of ancillary services, the wooden construction of those townhouses makes them difficult for the university to maintain, necessitating the closing-down of the residence in two years.
Huising added that the cost of operating Michener Park exceeds the revenue it generates through rent and that fixing the problems that currently exist would cost $25 million.
Notice of Michener Park's upcoming closure was given to its current residents on June 18. The university has also told residents signing their lease in August that they could vacate their unit without penalty if they find alternative housing.
Applications to live in Michener Park have been steadily decreasing, with a 12 per cent drop in residents over the last three years. Currently, 379 students live in Michener Park, as well as their children or spouse, meaning that the residence is home to nearly 700 individuals. That number is expected to drop as students complete their programs and move out by September.
Having worked in ancillary services since April 2017, Huising said that the future of Michener Park has been an ongoing conversation due to the deteriorating conditions of the residence. Combined with the decline in tenancy, some of the units in Michener Park have already been closed permanently. 
"There are units that we've identified in Michener Park that have been closed permanently, because the amount of money we'd have to invest to bring it up to standard, we'd never see that money back," she said.
In the past, students living at Michener Park have complained about the deteriorating conditions there. In 2016, Sebastian Dietrich, a PhD student living at Michener Park with his wife and daughter, complained that the floorboards in his townhouse apartment were moulding and that the impact on the unit's air quality had worsened Dietrich's asthma symptoms.
Dietrich moved out of Michener Park in 2016, but he said that its upcoming closure in two years is still unfortunate.
"It's going to affect graduate students with families massively," he said.
Huising added that the location of the residence is another inconvenience for students as travelling from the university to Michener Park can take over 40 minutes by public transit.
"In peak hours, Monday to Friday mornings and afternoons, you're fine. It's an easy commute. But if you're working in a lab doing research till 10 o'clock at night… it's 45 minutes," she said.
Huising is also encouraging students with families to consider living at Newton Place, which has two bedroom apartments and is located closer to North Campus than Michener Park.
As for future plans for the area, Huising said that the university has yet to figure that out.
"The university has to make a decision on that, but we couldn't start exploring those options until we had made a decision and we'd informed our residents," she said. "Now we have two years in which to investigate that."