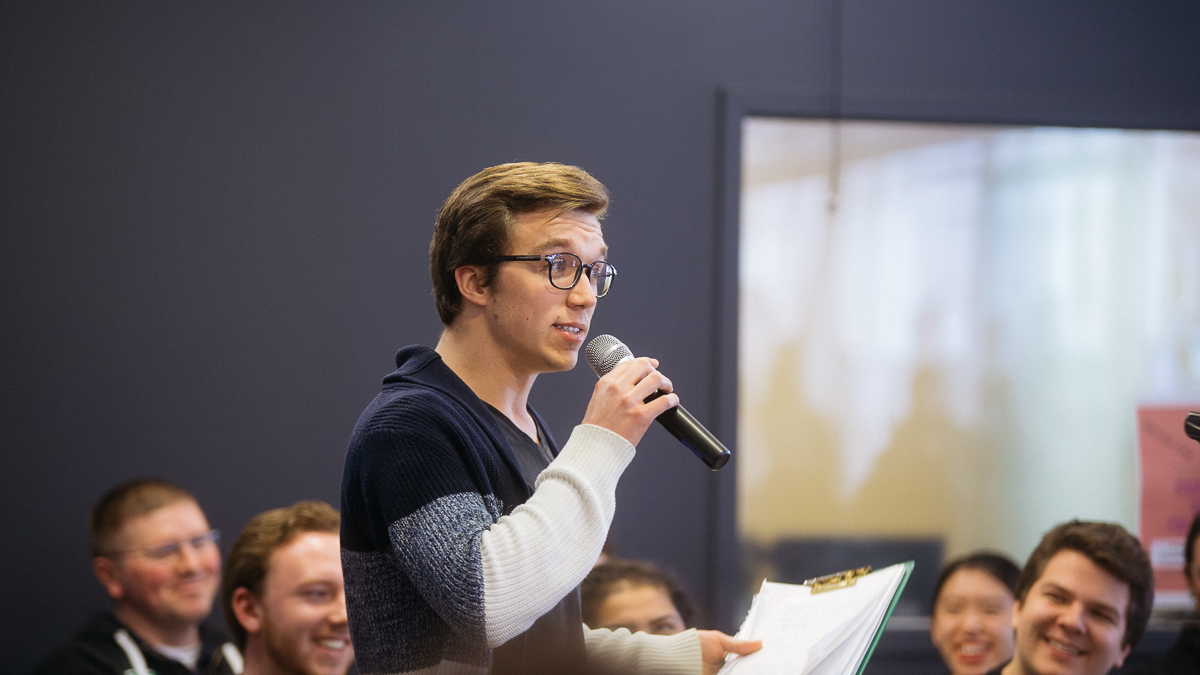 The vice-president (student life) isn't just the vice-president of fun around campus. While they are responsible for planning events, they also advocate for campus residents and student groups. More recently, on-campus mental health resources and programming have also fallen under this portfolio.
I read the platforms. I went to the forums. I heard a lot of impossible promises, some tangible plans, and a shitload of pandering. After all that, I'm voting for Andre Bourgeois for vice-president (student life).  And I think he'll win, too.
Stephen Raitz
I counted out Stephen Raitz early on in this race. And I was excited to see Raitz on the ballot. He's certifiedly not a Students' Union hack. He's the RATT karaoke guy for fuck's sake. He has an urban planning background and had great, high-reaching ideas. Reaching high and being imaginative is so much more enticing than the "advocating for students" schtick.
Sadly, Raitz only showed fleeting moments of hype and ecstaticness. He didn't bring any strong delivery to make me believe he'd do even a tenth of the things he promises. I'm not saying these things make a great candidate, but when you're out-experienced by your opponents then you have to stand out.
Michele Kim
I was 100 per cent for Michelle Kim off the start. She's amazing on paper. She has experience and knowledge in nearly every residency matter. But after hearing the same resume points in every forum, and the same "I'm qualified" speech, I don't feel like she could make a difference. Knowing the ins and outs of an organization is great, but useless when you won't tell us how you'll overcome everyday bureaucracy.
I lived in HUB. I left when rents increased. The lack of community and support from residence services was appalling then and it still is now. I'm imagining just more of the same under Kim, both in residence issues and out. I've had such low hopes in past VPSLs that a status-quo approach is unimpressive. I think my stance can be summed up by my complete loss of faith in residence advocacy.
Andre Bourgeois
This race came down to two things for me: do you want someone with astronomical residency experience, like Michelle Kim, or the most proven and impactful events guy, Andre Bourgeois? My pick was Bourgeois after the Lister forum. I say after the Lister forum because I flip-flopped multiple times.
Bourgeois shows the most promise in building a sense of community and starting tradition on campus. A connected student body won't fully happen in a year, but it goes beyond students having fun. Student apathy thrives on a campus without community. Bourgeois' experience in UASU Events and heavy emphasis in this area gives me hope.
Bourgeois gave some of the most no-bullshit answers at forums. He repeatedly stated he wouldn't tell student groups what SU will bring to them, but rather give the tools and expertise needed to bring what they wanted. This set Bourgeois apart from Kim, who didn't have a similar hands-off plan.
What sold me was Bourgeois' stance on student protests. All of the presidential candidates have cowardly avoided saying they'd organize one. It's depressing to see such a lack of interest in grassroots movements, even on a small scale. Bourgeois acknowledged the lack of leadership and push from upper levels of SU and pledged to mobilize students when advocacy fails work. Incremental changes, centrism, and conformism are so rife in our Student Union that any tinge of a charged movement is enough to make my mind up. And besides, what sounds better than a guy from UASU Events organizing and advertising a protest?
I'd tell you to go vote but if you read through all of this shit I'm sure I don't have to. Thanks for tuning in The Gateway's opinion coverage. If you have any criticisms please remember to literally never @ me as long as you live.