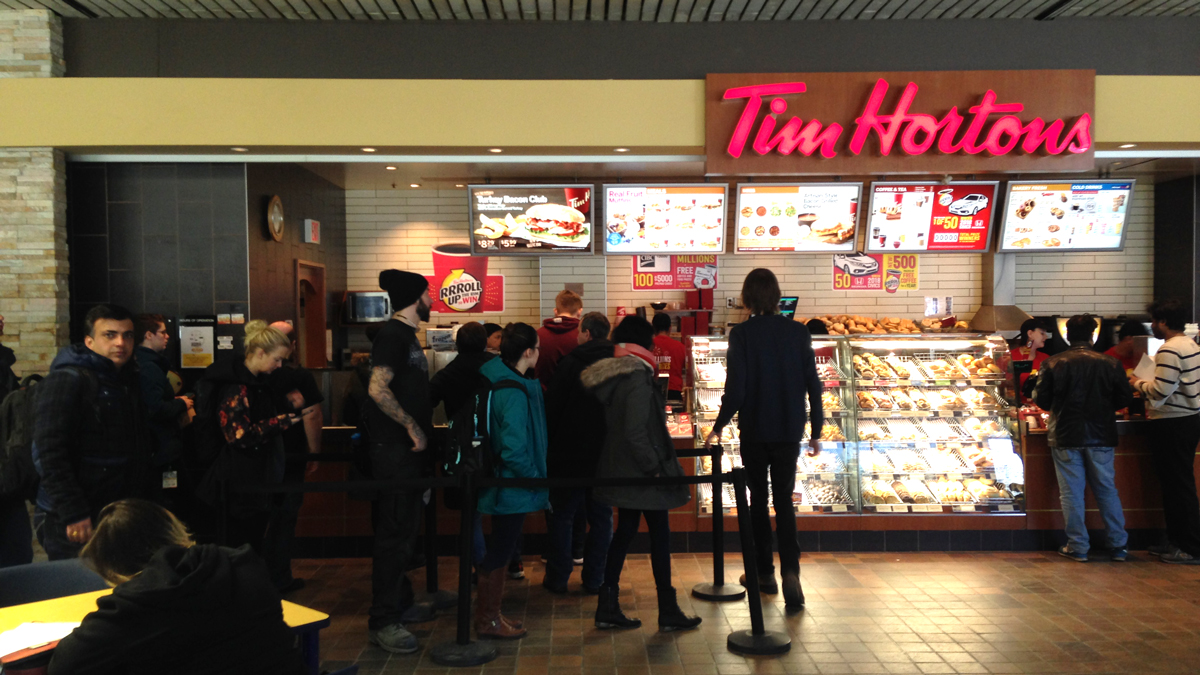 Whether you're running late for a lecture or just have some time to kill between procrastinating and sleeping, Timmies always has you covered. Here are the top five locations on campus — so from the Katz building to the Centennial Centre for Interdisciplinary Science (CCIS), you can always have your coffee fix. From decent to crown champion, here are the winners:
5. Big Tims
Location: Main Level Central Academic Building (CAB)
The larger of the two Tim Hortons located in CAB, Big Tims is easily the Tim Hortons that I visit the most. It's also the one that I despise the most. With its long, slow-moving lines, I can easily spend my entire lunch break just waiting to order my food. And when I do finally get to order my food, I need to continue to wait for what is close to the eternity to even get my food. Then when I finally get my food, I need to double check to see if it's the right order, because it's a 50/50 chance that it's not. With all the headaches that I've had with Big Tims, there's no way that I could justify putting it any higher on this list.
4. Med Tims
Location: KATZ Centre
Med Tims is certainly the Tim Hortons that I have been to the least. Having gone there a grand total of one time, I can say that my experience was average and kind of forgettable. There was nothing extraordinarily wonderful to make this Tim Hortons stand out nor anything truly terrible. Based on my limited experience, I would give this Tim Hortons a pretty solid review. I mean, if it can single-handedly keep the entire Pharmacy and Med. faculties upright, how terrible can it be?
3. Little Tims
Location: Main Level CAB
Little Tims is the smaller of the two Tim Hortons in CAB and, in my opinion, the better of the two Tim Hortons located in CAB. The lines at Little Tims typically tend to be shorter and faster. As well, you are more likely to get what you order. However, because Little Tims is, well, little, it doesn't serve the full selection of Tim Hortons food items. This definitely decreases its standing on this list. If, however, you're looking to quickly grab a Timmies coffee in a fairly central location of campus, Little Tims has you covered. But, if you need anything else, you certainly need to look somewhere else.
2. Engineering Tims
Location: Engineering Teaching and Learning Complex (ETLC)
As an Arts student, I mostly stay away from Engineering Quad and, by default, Engineering Tims. Except for some hilariously awkward times when I got lost in my first year or some other intrepid journeys to seek out new study spaces, Engineering Tims has been more of a distant concept than an actual reality to me. However, the times that I have been there, it's been wonderful. Undoubtedly, it boasts much faster service than any of the Tim Hortons in CAB. As well, it is located in a very aesthetically pleasing building, which greatly adds to the overall Timmies experience and to its place on this list.
1. Wendy Combo Tims
Location: 112 Street NW
This is my personal favourite of all the Tim Hortons on campus. Even though it requires a bit more of a walk than all the other Tim Hortons on this list, I believe that it is worth the extra effort. For one, it's actually open past 5 p.m., meaning, when you're studying at 1 a.m. (because is there really any other time to study?) and you want to do a Timmies run, Wendy Combo Tims never lets you down. On top of that, the service is both fast and friendly and the food is both fresh and correctly delivered. Also, its attached to a Wendy's. What can possibly beat that? If you want the best overall Timmies experience, Wendy Combo Tims is definitely the way to go.