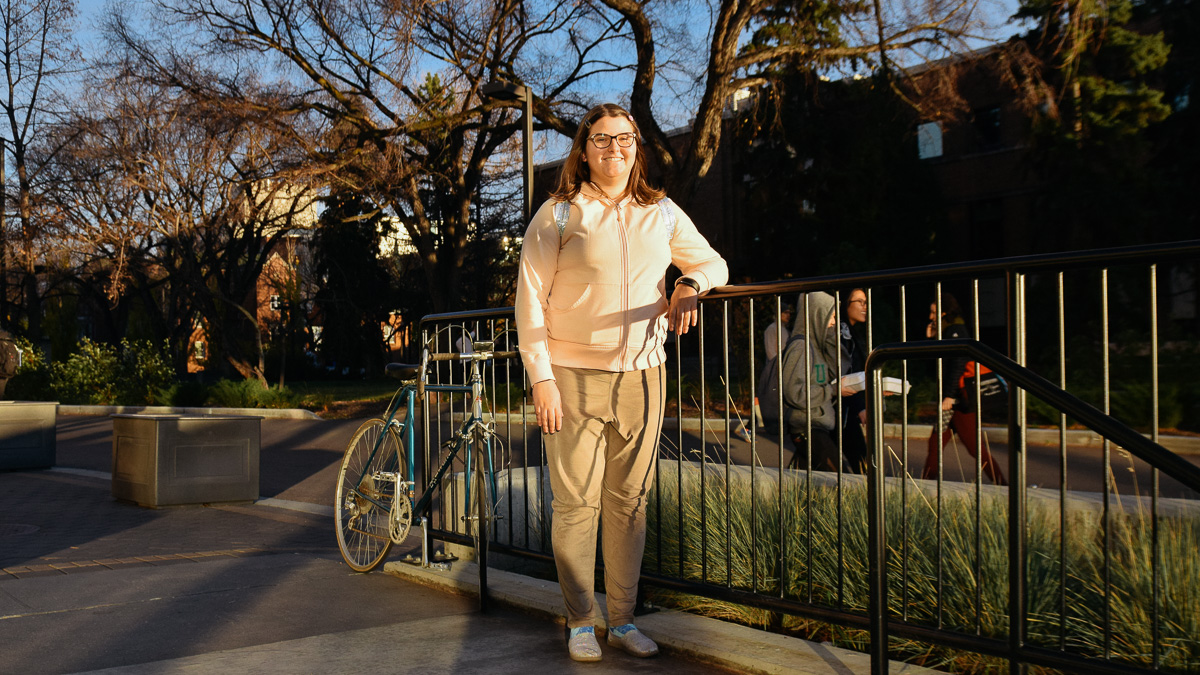 Hayley Todesco's earrings, shoes, and socks glitter with a mermaid scale pattern while fuzzy pink keychains dangle from her equally sparkly backpack. She looks like a mermaid, and it's suiting, considering that she's made a discovery that could clean some of the most polluted water in Alberta.
Todesco is a fourth-year honours genetics student, specializing in micro genetics at the University of Alberta. A driven scientist, Todesco has found a way to use sand and bacteria to clean oil sands tailings ponds in 19 years, which was much faster than the 264 it takes for them to detoxify on their own. Todesco's work has earned her the Stockholm Junior Water Award, and she was also one of the winners of the Google Science Fair in 2014. She is now being recognized as one of Her Campus's 22 under 22 most inspiring women.
Originally from Calgary, Todesco volunteered at a lab at the University of Calgary in high school, and after getting some experience, began her award-winning project at the beginning of her Grade 11 year.
"I'd kind of run out of (science) I could do in my basement," she said. "I wanted to do a project on bioreactors and cleaning up pollution because I thought those were some of the coolest ways to apply microbiology."
The inspiration for her project is one of Alberta's greatest environmental challenges, cleaning oil sands tailings ponds. When oil is extracted from the oil sands, metals, dirt, chemicals, and other materials end up being pulled from the well too. Tailings waste, which is all the material in the oil sands ore that isn't the oil itself, ends up polluting groundwater, and so is kept in tailings ponds where they take up to 264 years to break down, Todesco said.
Rather than simply letting the ponds sit for 264 years, Todesco took a different approach in breaking down this pollutant. Inspired by 14th-century British sand water filters, she decided to filter the tailings with sand. But she needed something living to break it down faster and more easily.
"I thought instead of trying to find something that could break (the tailings) down from outside, like some weird foreign microbe, perhaps something already living in it can slowly eat it," she said.
The only thing able to survive in the tailings ponds are certain kinds of bacteria so Todesco figured this bacteria would work in her filter, and she was right.
"I got (the sand) to grow this weird sorta gooey slimy pudding," she said. "If you put some of the pollutant water in it, (the bacteria) would essentially eat it until it got to the bottom (of the filter tube)."
Every day after high school for two years Todesco went into the lab at U of C to work on her project. She set up tubes with penny-sized diameters along the wall filled with bacteria coated sand and U-bend pipes that would drip contaminated water slowly into the tubes from IV bags. A week after perfecting her setup she began seeing results.
"If you had the exact same flow rate but you had sand filters that were the size of olympic swimming pools, it would take only about 19 years to clean all of the tailings ponds out there," she said.
Todesko noted that although a filter the size of a swimming pool may seem huge, its surface area would only be about a fraction of the size of a single tailings pond.
"On the oil industry scale, not huge," she said.
This discovery didn't go unnoticed, shortly after her first day at the University of Alberta in 2014, Todesko was flown off to Mountain View, California where she participated in the Google Science Fair as one of its 15 international finalists and won the senior category.
"It was really fun. They let us take a tour of all the Google facilities. Their cafeterias, their heated toilet seats, everything," she said. "And you get to hang out with this group of really passionate young people."
Todesko was also awarded the Stockholm Junior Water Prize, which recognizes outstanding contributions by young people in ensuring water security. She was awarded the prize by the Princess of Sweden herself.
"(The Princess is) the patron for that event. So she presents (the prize) to you and talks afterwards with you," Todesko said. "I had no idea what to say so I just talked about moose and Canadian wildlife."
Todesco hopes to eventually set up a pilot test for the sand filter after the completion of her degree.
Currently, Todesco is working with the Women in Science Student Group, and is helping them coordinate a mentoring program. She is continuing her lab work, assisting in a lab studying embryology through fish eye and ear development. During the summer she works with a lab at the University of Calgary studying how bacterial biofilms can break down gasoline.
"I'm getting a lot of experience with animals which I've never had before, and I'm doing experiments in genetics," she said. "I want to be a researcher and bacterial geneticist so this is really giving me a different perspective for sure. The chance to do something different."