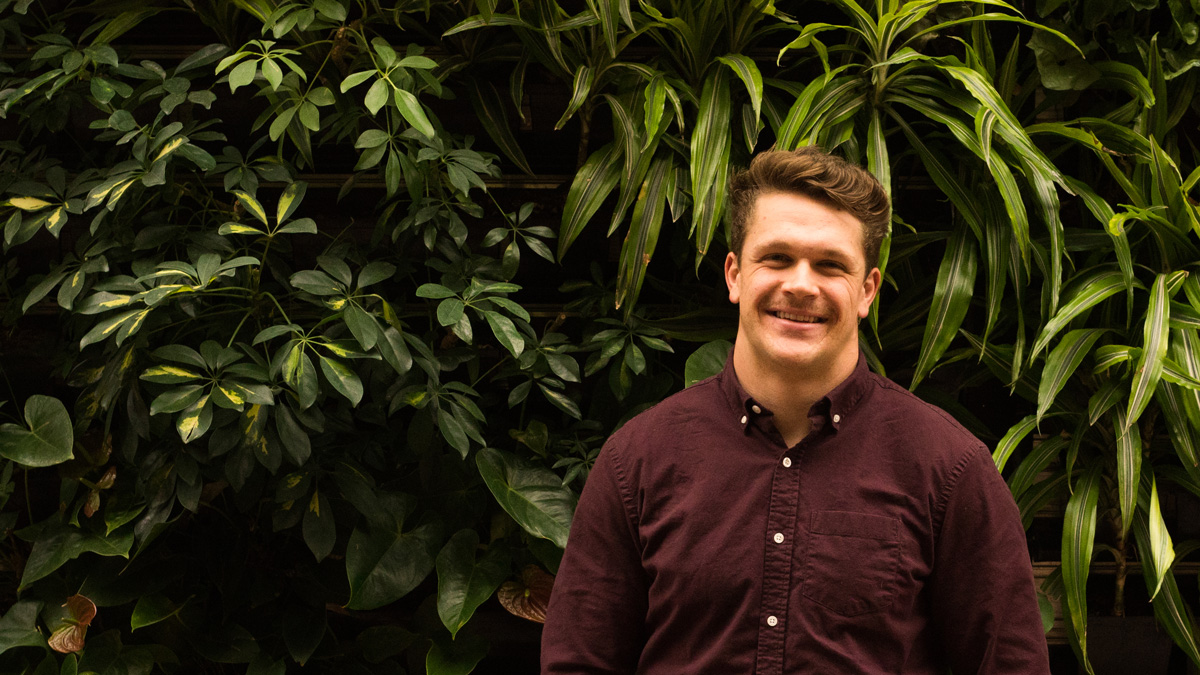 While in high school, Ed Ilnicki thought he'd be playing football at Queen's University, not with the Golden Bears.
The fifth-year business student and Golden Bears running back said that at the time, the University of Alberta football team wasn't something to be proud of, citing poor success on the field, and he had no interest in being a part of it. That changed when he met with Chris Morris, who came on as head coach in 2012 and had a plan to turn things around for the Bears. Five years later and set to graduate, Ilnicki wrapped up his university football career after the team finally made it to the playoffs for the first time since 2010.
Ilnicki said the team has improved since he started playing for them, and that a big part of it comes from having a tighter-knit locker room.
"When I came in my first year, there was no definition around what we were trying to be as a group," he said. "A lot of it was us trying to figure things out, like what's the best way for us to approach this, what's the best way for us to communicate this to guys, and I think we really took a big step over the last couple of years of figuring that out."
Ilnicki's performance this season has earned nothing but praise. At 1,468 yards, he is Alberta's all-time rushing leader, and was named player of the week three times this season by Canada West. He is also nominated for the Hec Crighton Award, which is awarded to the most outstanding university football player in Canada.
While recognition is important — both for the team and as a measure of personal success — Ilnicki said playing for accolades, or playing to get drafted and get paid, are not the right reasons for trying to be the best player possible.
"For a team to find the most success they can, everybody in that room has to be willing to sacrifice anything for each other," he said. "You have to put everything you can aside personally and just try to serve the group that you're a part of, and that's something we've tried to build here as a program."
Ilnicki is also focused on succeeding academically and participating in other extracurriculars. On top of being part of the Peter Lougheed Leadership College, he's represented the student athlete voice through his involvement with the University Athletics Board, as well as having completed three different work terms as part of his cooperative education program with the Alberta School of Business. He did all this while maintaining a 3.9 GPA.
"I didn't want football to consume my life with school," he said. "I wanted to be able to enjoy my university experience, have fun playing, but get my schoolwork done, participate in as many extracurricular as I could that I found interesting, and I was able to do that. There's going to be no point where I look back at this and say I wish I had done more with that."
Ilnicki's last football game on November 3, where the Bears lost to the University of Calgary Dinos in the semi-finals, marks the end of a chapter for him. While a part of him really wants to push for a Canadian Football League career, he said anything can happen in six months. But for him, the hardest part is knowing that the fifth-year group he started playing with won't be playing together again.
"It's the end of an era for us," he said. "That's something that we're going to cherish as much as we can and be able to celebrate the success that building this program to what it is, and hopefully it continues to grow and becomes something that we'll be able to look back for years."