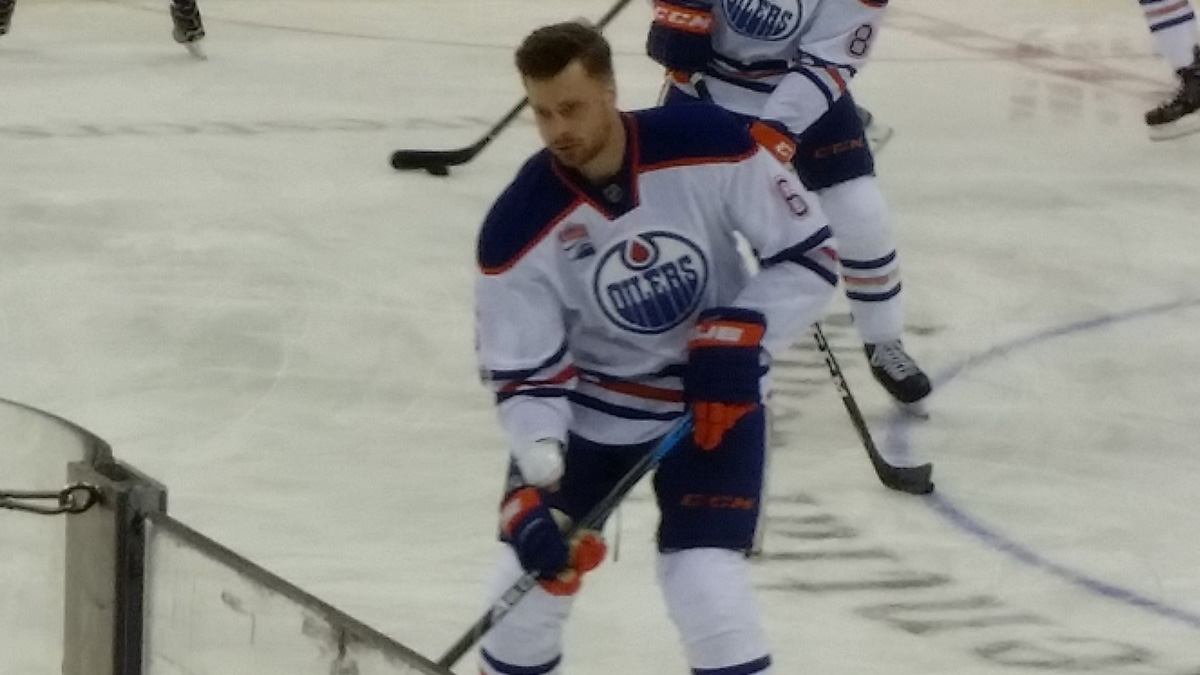 It was a sunny June morning on the outskirts of Jasper. I had woken up with a sore back feeling, extremely sleepy after a night of camping without a Therm-a-Rest. The day's activities included a hike around Mount Edith Cavell and a swim in Horseshoe Lake. Service in the mountains can be spotty at best, to the distress of my mother I barely had any use of my phone. I really only had it on me to give my mom the daily text that I was still alive, and to take pictures. Hockey and the Edmonton Oilers were completely off my mind. That all changed as, in a random second of good connection, my phone blew up.
"THE OILERS TRADED HALL"
"TO NEW JERSEY"
"FOR JUST ADAM LARSSON"
"ONLY LARSSON"
"HOLY SHIT"
The texts rained in from my brother as pandemonium gripped Oil Country and the entire hockey world. There I sat, phone in hand and jaw dropped. My friends, despite being hockey fans, weren't nearly as pained by the move as I was. Hall had been the start of the HOPE (Hall, Omark, Paajarvi, and Eberle) trend in Edmonton and the turnaround in Oil Country. Now, six years after he was the first overall pick in the draft, he was gone. Not only was he traded, but the return they got for him at the time was incredibly underwhelming. For the rest of trip, I was distracted by my friends' stupid jokes and the long nights, but eventually I was back in Edmonton, where the trade was the talk of the town and you couldn't go five meters without hearing someone's opinion on it.
The reason I've chosen to go on this rant, now of all times, is because as the off season moves and this Oiler team continues to change, I can't help but reminisce on the earth-shattering day that divided Oilers fans far and wide. Now let's fast forward a year from the trade, and here is where I talk directly to you Adam Larsson.
Dear Adam,
I was wrong about you.  I'm sorry for my early hatred of you, and I want to thank you for what you've brought to Edmonton. When I first saw we traded Hall, my hope was that a flashy defenseman like Subban or Karlsson was headed back to Edmonton. At the time I was so upset and confused that I was irrationally angry towards you as if it was all your fault.
After watching you be a steady, yet punishing, blue-liner for a year, I know Peter Chiarelli was right and most of us here in Oil Country were wrong, whether people want to admit it or not. You and Klefbom made the shutdown pair we fans have been dreaming of for years, and watching you rough up forwards in the corner was a new and satisfying sight.
I could go on and on about this season as an Oiler fan — it was magical — but overall, watching Edmonton ice one of the most competitive teams in the league made all those years during the decade of darkness worth it. After watching this team, we know now more than ever that no one player can lead a team to the cup on their own (sorry McDavid maniacs). You need strong, steady defensemen to play against the other team's best and to give players like McDavid a chance to do their thing.
For years the Oilers had the skill up front but never had the defense to be remotely competitive. Now we finally look like a well-oiled machine, and we have you to thank for a large part of that. Everyone is going to have their opinion and that's fair. Some people may still be up in arms over the deal and that's 100 per cent fine. All I know, Adam, is that this Oilers fan is thankful for what you've brought to the team and can't wait to see what the future holds.