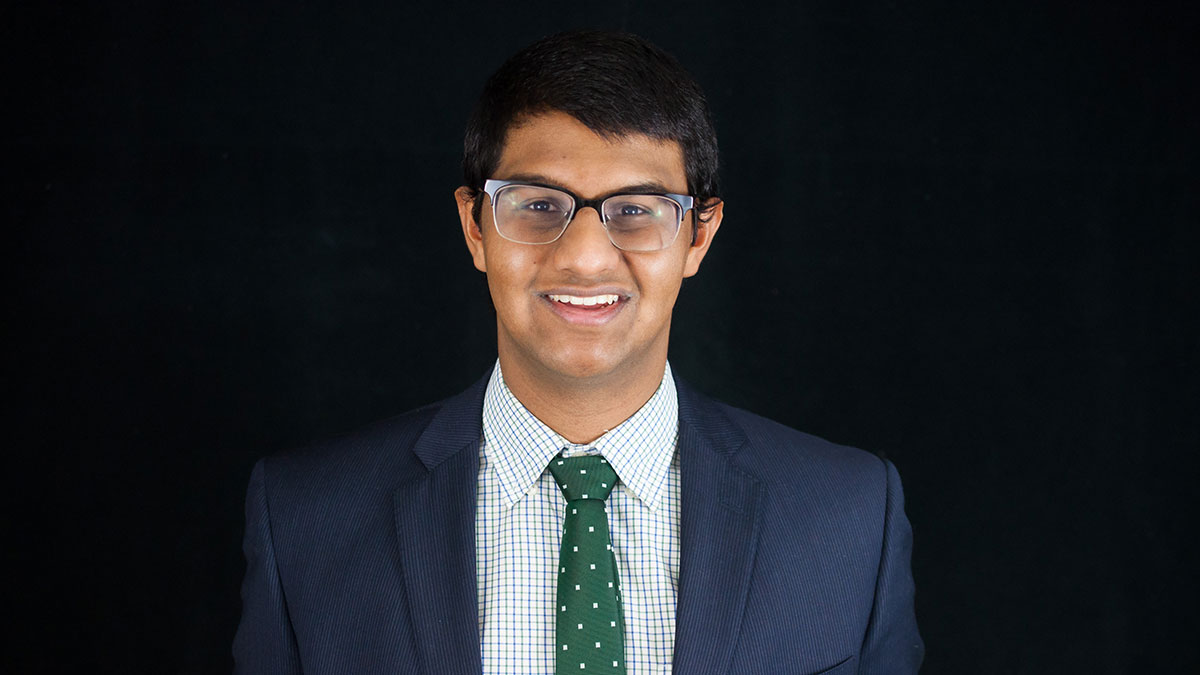 Before reading our report cards, check out our rubric here.
Looking for a different report card? Check out the grades for VP (Operations & Finance), VP (External), VP (Academic), VP (Student Life), and Board of Governors Representative.
---
Fahim Rahman
Grade: B+
From the Students' Union's Vice-President (Academic) to President, Fahim Rahman has become a more confident student governance representative and a leader of the student body at the U of A.
Rahman is a humble president who said he values all the work his execs have contributed throughout this academic year. Although he couldn't advance his experiential learning campaign promise and deeply regrets not making more progress with helping students gain experience before graduating, he has been a supportive leader and liaison for his exec team with their own projects like Vice-President (External) Mike Sandare's EMPfest, and Vice-President (Academic) Marina Banister's InterD Conference. Citing the rejection of the Lister meal plan at the Board of Governors' as one of the biggest successes and most stressful aspects, Rahman recognizes the vital role that Vice-President (Student Life) Francesca Ghossein played in articulating students' concerns, proving the SU can initiate change. Mental health funding was another of Rahman's campaign promises, and he is pushing for continued funding from the provincial government, but he again acknowledges Ghossein's contributions as a member of the Mental Health Advisory Panel.  
Affordability is always a concern for students. With the provincial tuition freeze landing in Rahman's lap, he feels as though a positive step has been taken toward hopefully creating more affordable post-secondary education through grants and better student financial aid. On the federal level, there have been more investments, and the threshold for paying back student loans has increased by $5,000, allowing individuals with an income of under $25,000 to hold off repayments.  
The Lister Hall Students' Association (LHSA) and Geer Week have both been suspended by the university in the past, but this year no events have been suspended and Geer Week and the LHSA returned. Revising student group policy was another one of Rahman's campaign promises and is something he's currently working on finalizing with the Dean of Students. By the end of this year, he foresees an alternative way of disciplining student groups, encouraging collaboration, and streamlining event approvals.   
Last year as Vice-President (Academic), Rahman proposed a tenure teaching stream, and although it wasn't one of his campaign promises as SU president, it is something he has continued to work on. Currently, a draft report has been presented to the Committee on the Learning Environment (CLE), and it is awaiting approval. Ideally, in the beginning of March it will either be approved and sent to General Faculties Council for consideration or approved and sent to the Office of the Provost for consideration.
As President, Rahman didn't need to present multiple projects and strive after many personal goals. He knew the VPs would have many ideas and events of their own that would need assistance and support, and Rahman was there to provide those. Instead, he fulfilled duties on the representation and advocacy side, which makes him a solid B+ president.