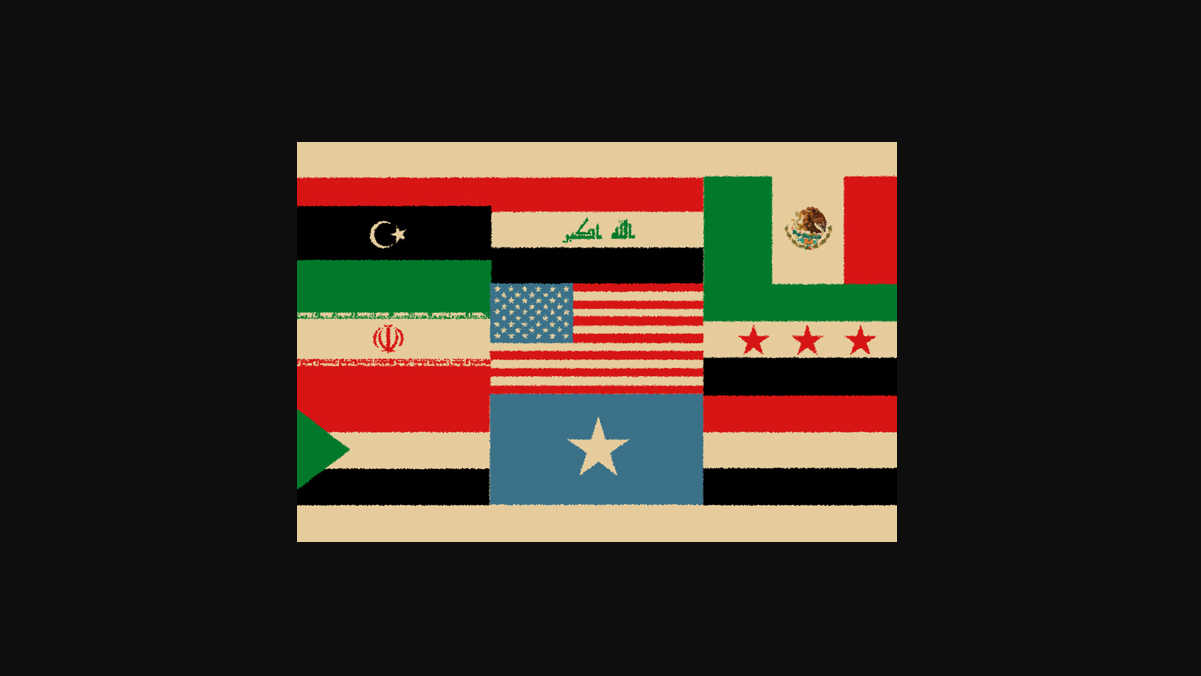 This Friday, online music store Bandcamp will be donating all proceeds they make on daily sales to the American Civil Liberties Union (ACLU) in response to Donald Trump's immigrant and refugee ban. Bandcamp's Founder & CEO, Ethan Diamond, released a statement the other day condemning Trump's recent executive order, and simultaneously shared a number tracks by artists from the newly banned countries, as well as Mexico. Which you can see some of below.
In honour of this, some of us from The Gateway surfed through Bandcamp's massive catalogue and picked out some random stuff you could purchase to support this cause and a few artists in the process. This Friday, "name your price" something higher than $0 for once you cheap fucks.
---
G.L.O.S.S. – TRANS DAY OF REVENGE
This is some stone cold punk rock that's angry as fuck. You know what, I'll just let G.L.O.S.S. do the talking…
WHEN PEACE IS JUST ANOTHER WORD FOR DEATH
IT'S OUR TURN TO GIVE VIOLENCE A CHANCE!
KILLER COPS AREN'T CROOKED
SOLDIERS FOR BASTARDS, THEY DO AS THEY'RE TOLD
THE COURTS AREN'T CORRUPT
MALICIOUS, VIOLENT, THEY MAINTAIN CONTROL
FUCK THE PEACE KEEPING FUCK THE CALM
THE INVESTIGATION IS A FUCKING CON.
THE TRUTH IS KNOWN BENEATH THE GUN
BLACK LIVES DON'T MATTER IN THE EYES OF THE LAW
DEAD KIDS MEAN NOTHING TO THEM
LEFT TO ROT IN THE STREET
AFFORDED RIGHTS WHEN CONVENIENT
TO PROTECT THE ELITE
FUCK THE PEACE KEEPING FUCK THE CALM
THE INVESTIGATION IS A FUCKING CON.
BENEATH THE GUN, HOPE IS GONE
BLACK LIVES DON'T MATTER IN THE EYES OF THE LAW
ANTI-RACIST DOESN'T MEAN NON-RACIST
JUSTICE IS A JOKE, A TRAP, A FUCKING FARCE
YOUR CALLS FOR PEACE ARE IGNORANT AND BASIC
SELF-APPOINTED COMMUNITY LEADERS,
WHO PUT YOU IN CHARGE!?
---
Noname – Telefone
Hip hop is frequently considered a masculine gender, and ever since Missy's heyday and Nicki Minaj's "Monster" verse, the scope of femcee's has been very limited in the mainstream. Noname made her mainstream debut as on "Lost" off of Chance The Rapper's Acid Rap, but despite many setbacks has finally released her debut. It was worth the wait. Tracks like "Dibby Bop" provide melodic, serene instrumentals and graceful hooks that pair perfectly with Noname's subdued and poetic rhyme style. While you may scoff at buying a mixtape, Noname's debut proves to be strong and cohesive, and puts many rapper's studio albums to shame. 
---
Captured! by Robots — Endless Circle of Bullshit
First step, open your wallets. Next, open up the mosh pit. It was the oh so #2017 title of this grindcore/hardcore album that sealed the deal and made me click on it. When you feel like your life is spiraling out of control into an "Endless Circle of Bullshit," put this album on and start a circle pit.
---
Various Artists — Azur
What you have here is a compilation album from Japanese Net Label Ano(t)racks. The music is described generally as a J-pop, but is a mixed bag containing everything from reverb-y guitar rock (I Saw You Yesterday – "Stay In"), to synth and vocoder covered tracks (Native Rapper – "Black Kangaroo"), to sparkling dream pop karaoke jams (evening cinema – "s.u.g.a.r"). Donate a couple bucks to this label comp. for a good cause and learn a little about Japan's diverse pop scene in the process.
---
Blank Banshee – Blank Banshee 1
There's no way around it, this is some vaporwave shit (circa 2013). You can purchase this album of A E S T H E T I C sounds for presumably less than a copy of Windows 95. "B:/ Infinite Login" starts things off with a minute of computer boot sounds loading into sprawl of pitched vocals — its a pleasure akin opening your PC's disk drive and placing in a fresh copy of Sim City. Peaceful and digital, your $1 (or more) will go far with this album.
---
Disasterpeace – FEZ OST
If you've ever seen Indie Game: The Movie, or spent any time on Steam, you'll recognize FEZ. The long-in-development platformer became an indie game phenomenon thanks to its unique visual design and world shifting game mechanics — which allows you to "rotate" the point of view of your 2D character in 90° increments between different perspectives, creating a "3D" environment. The soundtrack then must be equally impressive to keep up with the tiny character of Gomez as he navigates level after 3D level. Fortunately, California-based Disasterpeace (who did the excellent score for the excellent horror film It Follows) had what it takes and delivered a world's worth of video game sound as rich as the game iteself. Drop a few gold coins to pick up this 8-bit wonder.
---
 zeroh – KuroST​.​BLQlordTESLA
zeroh is an LA-based rapper who's been known to be compared from time to time to Tyler the Creator — at least I've done this before. They both have deep ass voices. But unlike Mr. The Creator, zeroh hasn't made pals with Ye or made it big enough to hang out with Pharrell, so he drops rap and beat tapes on Bandcamp every now and gain. KuroST…blah blah blah is his latest project. It's an experimental mash up of jittering funk and soul beats, heavy bass, and maybe some drone shit (whatever "BLQsaiyan" is). Take some records, samples, and sound effects, slap chop it all together and what do you get? zeroh.
---
Mac DeMarco – This Old Dog
This was supposed to be in here as a joke. bhjkkkkkkkkkkkkkkkkkkkkkklasdkl;jkkkkkkba g;dljkfsadgjdsbka.gd;alknsdnjms what have i sdone with my lfie
---
 RITCHRD – Tape 4
Ritchrd's aesthetic embodies golden era hip-hop and the '80s with a modern feel. There's enough pseudo-disco on  Tape 4 for somebody to mistake it as a soundtrack cut from GTA: Vice City. "Light" sounds like a proper mashup of Justin Timberlake with Justice.
---
Kit Pop – Posted
Kit Pop's sound invites the listeners to guess what they're listening to. Within this mixed bag are notes of Aphex Twin, Arca, Clams Casino, Crystal Castles, XXYYXX,  and everything in between. "Armeria" would be a good club cut at 4:00 a.m. when the only other guy on the dancefloor is going hard on a pair of crutches.
---
NIGHTS IN USA – SLOW NIGHTS/慢的夜晚
I dug this up under the location tag "Brazil." The band (person? figment of my imagination?) left a Google Drive url in the description of the album and has incorporated both weird fonts and Asian characters throughout the song titles. "INTRO" is six minutes of quiet, contemplative piano, "I'M FELLING KID AGAIN(ft. stanley clarke)" is some kind of '80s steamy fuck ballad, and  "ALL 夜 LONG" is a mess. In the words of whoever wrote this on their page: "ᗯᕮᒪᑕᘎᙢᙦ ᖶᘎ ᖻᘎᘮᖇ ᙏᓲᘉᗪ ᓰ'ᗰ NIGHTS IN USA ᗩᘉᗪ ᓵ ᙎᓲᒪᒫ ᖴᘎᒪᒶᘎᗯ ᖻᘎᕞ ᖶᘎ ᖶᖺᓰᔙ ᒍᘎᙀᖇᘉᕮᖻ."
---
Tesher – Hick Hop 2
Unsurprisingly, I dug this gem up under the location tag "Saskatchewan." Ironically, although the "artist" Tesher is from Regina, this… thing… has embraced probably the most U of A concept for an album I could have ever imagined. Hick Hop 2 is "the world's second country mashup mixtape," which means its purpose is to combine 25 popular hip-hop, rap, and sultry pop/ dance tracks with country songs to create, what I imagine, is The Ranch's perfect weekend playlist from 2015. "Throw Sum Mo Big Green Tractor" remixes Nikki Minaj and Rae Sremmurd with Jason Aldean, "Runnin Through This Bar" is Drake and Toby Keith, and "Trap Queen Walks Into A Bar" combines Tyler Farr with Fetty Wap. The best of the best though undoubtedly has to be "All Day Remix"  which features… wait for it… Kanye West x Blake Shelton x Allan Kingdom x Jason Aldean x Kendrick Lamar x John Cena x Paul McCartney. Perfect! Sadly, Tesher notes at the bottom of this playlist that this is his "final Country music project."  So support it while you can.
---
Michael Swissa – סוויסהלנצח#
How about some rap from Tel Aviv? The production quality here is good and "שמוק" is particularly memorably for its sinister beat, which chimes and booms behind emcee Swissa's slowed down flows. Since you probably won't understand him in his native tongue (Arabic? Hebrew? who knows), you can't judge the man on his lyricism. But I do think I heard him make a "giggidy giggidy" joke at some point, which is a big minus to any goodwill he had in my books. So what you're left with is trying to find enjoyment in the various beats and flows found on the album, which do vary from terrible synthy, auto-tuney stuff, like on "את יודעת _ עם אורי שוחט ומו ריון," to more interesting near-grime on "תגידי ת׳שם שלי _ עם מו ריון." In the end though, the album cover of a young (probably) Swissa hanging out with a really furry goat is the album's main selling point.
---
DJ Format & Abdominal – Still Hungry 
Here's a new school version of Will Smith's The Fresh Prince of Bel Air theme song and DJ Jazzy Jeff's "Parents Just don't Understand." It's catchy and it tells a story. You can only listen to "Behind The Scenes" right now as the album is set to be released on April 28. But if you're a fan of that Run-D.M.C. meets The Sugarhill Gang '80s/'90s rap vibe, you should probably check out this album.
---
Ryan Lerman – Pinstripes, The Sky 

Everyone secretly loves the James Bays, Vance Joys, and Dallas Greens of the acoustic/alternative world. Well, add Ryan Lerman to the list. His voice is soothing; his tone is relaxing. Pinstripes, The Sky can easily become your next guilty pleasure. It's good to listen to in the car when Edmonton drivers are cutting you off, while walking across campus when the only thing on your mind is your three midterms next week, and when you come home after a long day and realize that yes, Trump is still president.