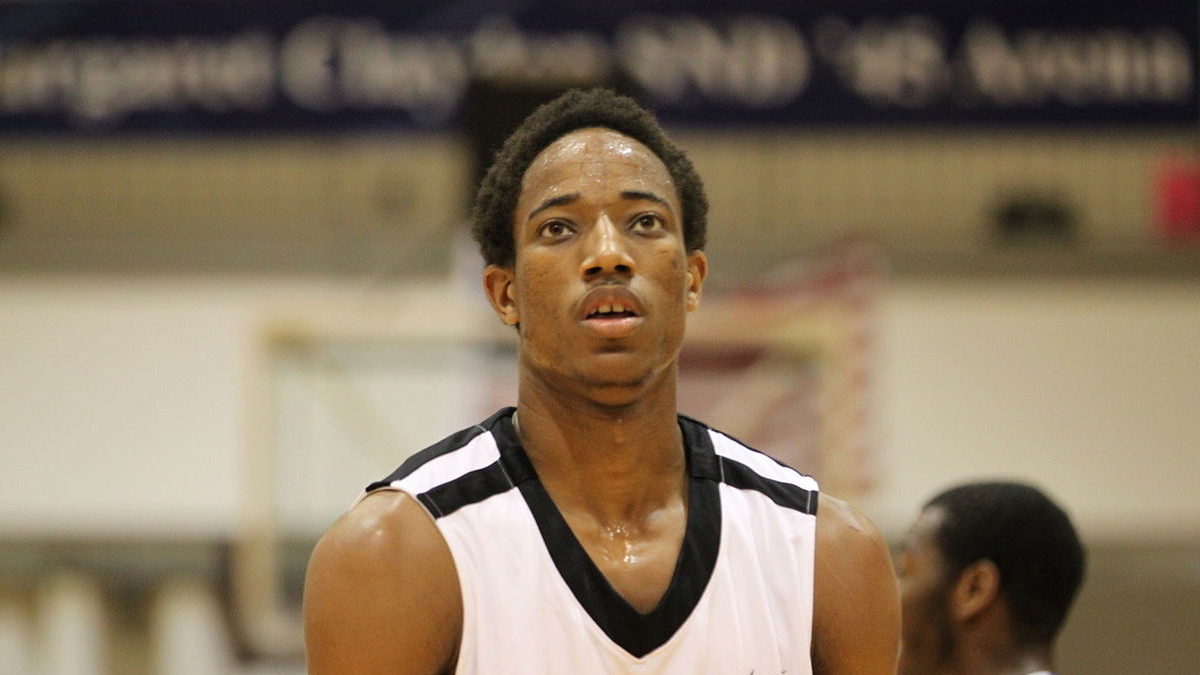 To say Demar Derozan entered this NBA season with high expectations would have been an understatement.
The Toronto Raptors shooting guard signed a massive five-year, $139 million contract this past summer, tying him for the second-highest annual salary in the NBA and raising the expectations of him in terms of on court production and contribution. So far, he's not only exceeded those expectations, he's smashed them, a fantastic development for the Raptors and their championship aspirations.
The two-time All-Star is averaging 33.3 points per game through his first eleven games, a ten-point increase from last season, in which he put up career-best numbers. He leads the league in scoring, besting perennial MVP candidates such as Russell Westbrook, James Harden and Steph Curry, and he scored 30 or more points in his first 7 of 8 games, a feat only matched by Michael Jordan in 1986-87.
Such a drastic increase for an established, veteran star is peculiar. The biggest improvement year to year generally comes from young players finally ready for the spotlight, or bench players and fringe starters grabbing more of a leading role on their team. Rarely do stars in the middle of their primes make a leap like this, which makes Derozan's ascent so intriguing.
The ten point-per-game jump is the result of an increase in both shot attempts per game and efficiency. Last year, Derozan shot an average of 17.7 shot attempts per game and scored on 45 per cent of those attempts. So far this year, his shot attempts are up to an incredible 23.9 shots a game — by comparison, last year Demarcus Cousins led the league with 20.5 shot attempts per game. In addition, he's scoring on 51 per cent of those attempts, a career high and a significant aberration from his career average of 44 per cent shooting. All this has led to Demar leading the NBA in scoring for the first time in his career.
The rise in Derozan's shot attempts per game is the consequence of both Demarre Carroll's struggles and an apparent change in coaching philosophy. In regards to the struggling Raptors starting small forward, Carroll has seen modest decreases in rebounds and assists this year, and sizeable decreases in points, minutes played and field goal attempts, the latter dropping from 10.4 attempts per game last year to 6.6 this year. Meanwhile, it seems that there is an insistence by Raptors coaches for the team to play a faster style of basketball, whether that's by pushing the ball more in transition or shooting earlier in the shot clock. This increase in their pace of play has shown up in the numbers, as last year the team shot 81.3 field goals per game, a number that has increased to 85.7 this year. The shots created by both Carroll's struggles and the increased pace have been gobbled up by Derozan's shoot-first style of play.
Derozan's torrid scoring pace is most likely unsustainable. His shooting percentage will most likely dip a few percentage points, or his shot attempts will decrease to a more reasonable amount, or maybe even a combination of both. But, that Demar knows he can be the leading scorer of the NBA for a healthy stretch of time is outstanding news for not only Demar, but the Raptors as well. It gives Demar the confidence and swagger the Raptors so desperately need, a confidence and swagger that could have helped immensely in last year's playoffs.
While the Raptors had a historic playoff run and pushed the Cleveland Cavaliers to six games in the Conference Finals last year, for three of those games, it seemed like they didn't belong. It was evident that the Cavs were a step or two above them; that the skill and talent of LeBron and Kyrie were too much to overcome; that the stars of the Raptors couldn't match up with the stars of the Cavs. The emergence of Derozan as an elite player changes this calculus. If the Raptors now possess a player who know he can be as good and occasionally better than the league's best, it suddenly catapults the Raptors into championship contender territory.
We saw what happened last year in the first round. On paper, the Raptors were significantly better than the Indiana Pacers, but Paul George was nearly unstoppable at times and dragged his team to within a game of winning the series. Having the best player in any given game or seven game series is a chess piece nearly unmatched, and the progression of Derozan's play ensures that the Raptors will have the best player on the court for a majority of their games, which gives them a decisive advantage in an increasingly competitive Eastern Conference.