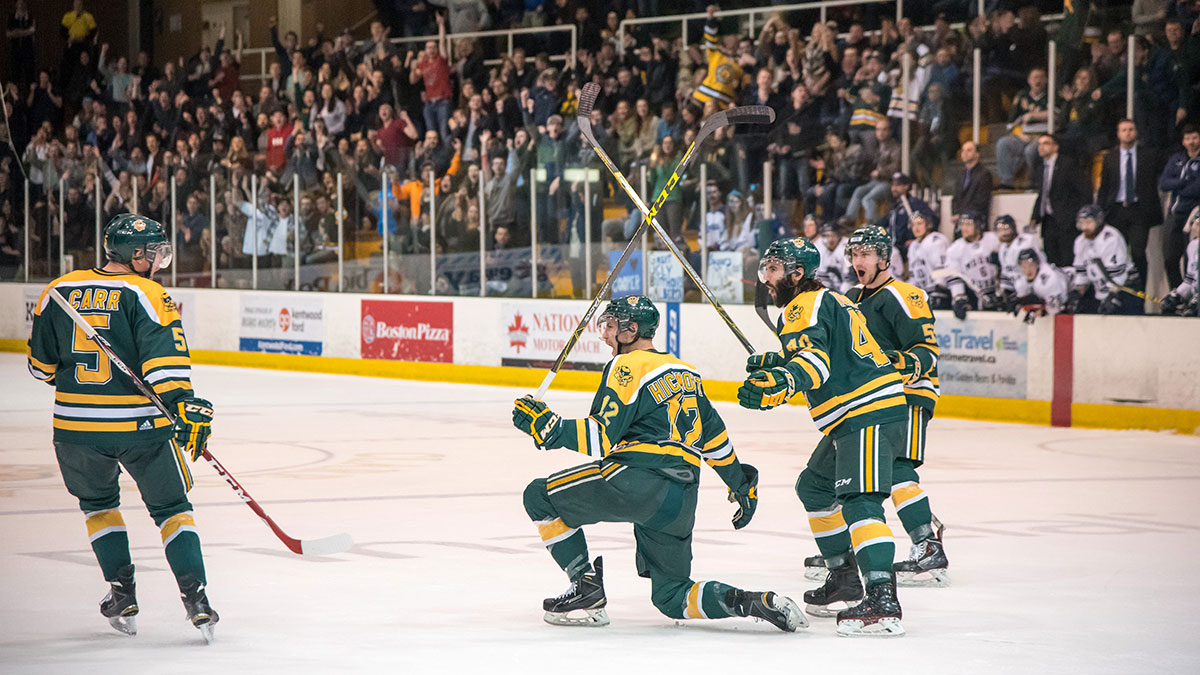 Golden Bears Football
Bears football finally tallied a win this weekend, defeating the University of Regina Cougars in a 19-18 nailbiter.
Capitalizing on three Regina fumbles, rookie Bears kicker Brent Arthur split the uprights with 18 seconds left in regulation to seal the one-point victory. Arthur was named Canada West Special Teams Player of the Week.
Now 1-5 on the year, the Bears are on the outside looking in on the Canada West playoff picture, but hope to end their season on a high note. Their final home game and penultimate matchup of the season comes this Saturday at 1:00 p.m. against the University of Manitoba Bisons.
---
Pandas Rugby
The Pandas finished their season 2-2 after a 52-12 loss to the University of Calgary Dinos on a cold night last Saturday.
Despite the loss, Alberta will face the University of Victoria Vikes in the Canada West semi-final playoff game this Friday at 3:00 p.m. A win would put the Pandas into the gold medal match on Saturday, a loss will relegate them to the bronze medal game on the same day.
---
Golden Bears Hockey
The Puck Bears' season opened their season with a split series against the University of Saskatchewan Huskies.
In Friday's rematch of last year's Canada West Finals, the Bears came from behind, with fourth-year forward Jamie Crooks scoring with 9.8 seconds left in regulation and again in double OT to give the Bears the 3-2 win.
On Saturday, it was the Huskies who scored twice in the third period to edge the Bears 4-2.
This weekend, the Bears will travel to Vancouver for a two-game road series against the UBC Thunderbirds.
---
Pandas Hockey
In the second weekend of their season, the Puck Pandas lost twice to the Huskies on the road in Saskatoon.
With two straight 2-1 OT losses, the Pandas move to 2-0-2 on the year, and will host the UBC Thunderbirds this week at Clare Drake.
---
Golden Bears Soccer
Despite suffering their first loss of the season last weekend, Bears soccer clinched first place in the conference and a playoff spot.
Saturday's match saw the Bears lose a tight 1-0 match versus the University of Lethbridge Pronghorns. The Pronghorns were only the second team to shut out the high-powered Bears offence this year.
Sunday's game saw the Bears bounce back with a 2-1 win against the Huskies at Foote Field.
---
Pandas Soccer
The Soccer Pandas romped through the competition this weekend, outscoring their opponents 11-2.
Third-year striker Sydney Daines netted four in a 5-2 win against the UBCO Heat, and was one of five Pandas who found the twine in a 6-0 victory over the TRU WolfPack.
In the final weekend of their season, the Pandas will be on the road for two games against Mount Royal and MacEwan.