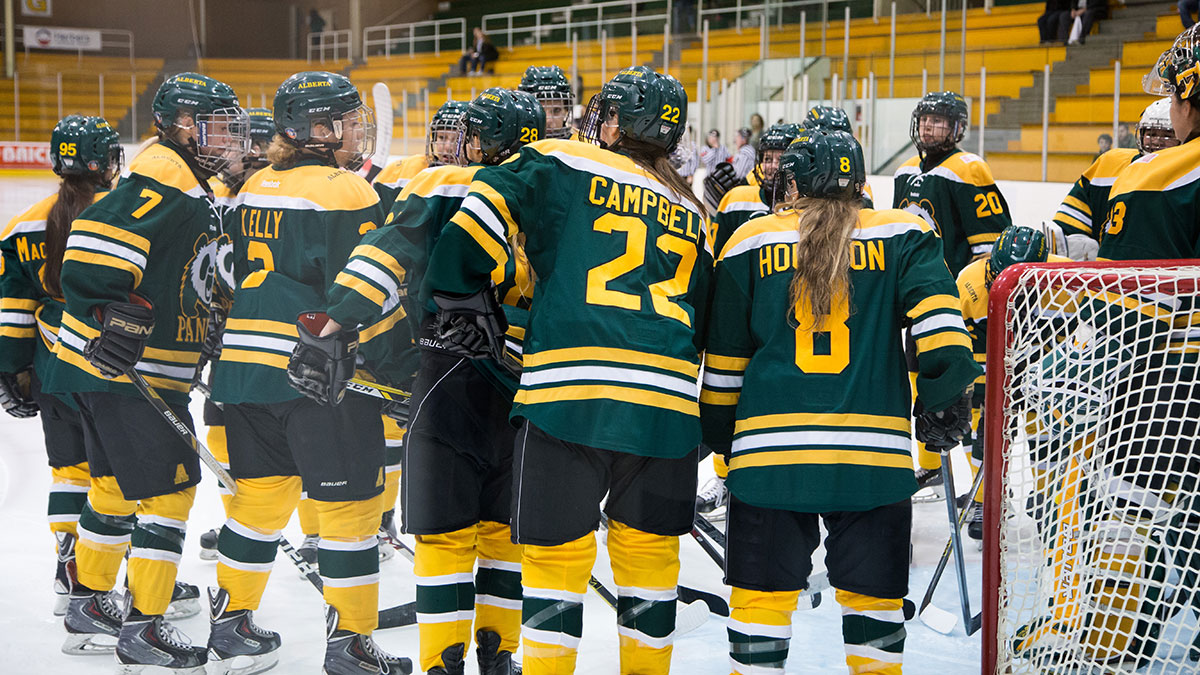 In the 80s, hockey at the University of Alberta was a program where young men learned professionalism, maturity, and character. Under coach Clare Drake, a player learned to play as part of a family, going from "a piece of meat" in juniors to a Golden Bear, alumni Darwin Bozek says.
"The saying in the dressing room was, 'It's amazing what can be accomplished when no one cares who gets the credit,'" Bozek says. "It's about the family. You go to battle together, and you fight for each other. That's where success comes from."
This year, Bozek is returning Drake's training philosophy to U of A as head coach of a new generation of Pandas. Besides Howie Draper's CIS Pandas, the U of A is now home to the Edmonton Pandas, a hockey club composed of elite girls' teams at the Midget AAA, Midget AA, and Bantam AAA levels.
When the Pandas hockey team was established in 1997, Draper, who played alongside Bozek under Drake, brought the Golden Bear philosophy into the Pandas' dressing room. Draper and Bozek will now be coaching their respective female hockey teams in an intergenerational training structure.
As a collaborative project between the Pandas, U of A Athletics, the Faculty of Physical Education and Recreation, and Hockey Edmonton, the program will train Pandas of all generations in the gym and on the ice. Edmonton Pandas players will also enter the U of A's AIM program, which provides nutritional, physical, and mental support for athletes. Draper hopes that sharing Pandas resources with the younger hockey community will grow stronger players in Alberta — stronger players who may opt to join the Pandas later in their careers.
The junior Pandas club is a solution to a bigger problem faced in Alberta minor hockey. According to Draper, Albertan female minor hockey is plateauing (and maybe even declining) in registration and retention. Top players who want to maximize development are leaving minor hockey programs for hockey schools such as Calgary's Edge School for Athletes and Lethbridge's Warner Hockey School, where tuition is between $25,000 and $40,000. The high costs of esteemed programs can dissuade female players from continuing on to higher levels of hockey, Draper says. The Edmonton Pandas will offer players in Alberta an elite alternative to hockey school by integrating minor hockey training into CIS training — which includes the benefit of building connections with university athletes.
Pandas forward Sasha Lutz hopes that closer training with younger players will help them aspire to the CIS team experience. Younger players will hopefully benefit from the Pandas' team mentality — Draper coaches with an emphasis on players' grades and on team-building ("almost a little too much," Lutz jokes.) Because grades are important to the Pandas, their academic emphasis would hopefully spread to the minor club teams. Lutz also hopes that Draper's emphasis on Pandas teambuilding will trickle down to lower levels. It's "huge" to be friends on and off the ice, Lutz says, so by integrating training and establishing friendships between minor and CIS Pandas, high-level female hockey will hopefully become more welcoming.
"(The Pandas) are like a family, and I'd like to be able to pass that on," she says.
Having won 12 of 19 Canada West championships (the most recent in the 2014-15 season) and seven CIS national championships (the most recent in 2010), the Pandas are well-known within female hockey — Lutz and her teammates looked up to the CIS team during high school. But while Lutz eventually joined the Pandas, many of her contemporaries quit hockey. Some players drop the sport because there are fewer leagues in female hockey to motivate advancement, Lutz says. Girls can work towards university or Olympic hockey, but they can't aspire to the numerous leagues of the male game (such as NHL, WHL, AHL, and NCAA hockey.) If more girls aspire to joining higher-level teams such as the Pandas, the depth of skill going into the U of A's program, and female hockey in general, will hopefully increase, Lutz says. She also hopes it will increase the university community's understanding of the female game.
"As Pandas, we battle so hard to get the recognition that the Bears do — in all the sports, but hockey is probably one of the bigger ones," she says. "The boys get 600-plus fans a game, while we get 50 … Anything that can help bridge that gap could be beneficial to the female game."
For now, the minor girls are excited to start, Hockey Edmonton director Mark Doram says. At the Junior Pandas' ID camp in June, eyes lit up as coaches explained to the girls how the integrated Pandas' training program would work. The parents were receptive too — Doram thinks they're starting to see girls' minor hockey programs as building blocks for later opportunities, rather than just co-curricular activities to enroll their daughters in the present.
After spending August in tryouts, September is the first official month for the Midget AAA, Midget AA, and Bantam AAA girls of the Edmonton Pandas.
Draper, however, is focused on getting the program started and moving forward. Besides the work on the ice, there is a lot of administrative work to develop the club team structure. He hopes integrating CIS training with minor hockey training will be taken up by other CIS schools so they can all "all grow Alberta hockey."
"This is a new chapter for female hockey at the minor level," Draper says. "To be able to say that we're kind of at the forefront of this movement in Alberta is exciting."