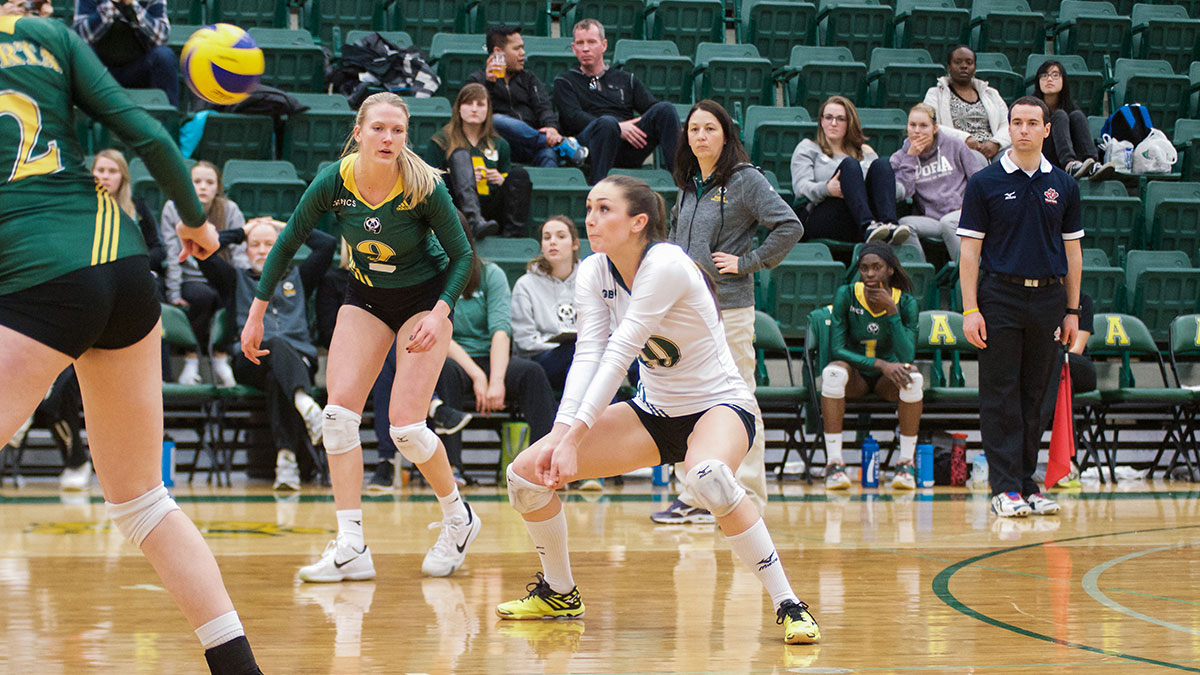 In her five years with the women's volleyball program, Jessie Niles has become one of the most decorated liberos in Pandas history.
Though she's now in sole possession of the Pandas' career digs record, Niles came to the University of Alberta having played outside hitter for nearly her entire career. When starter Erin Walsh fell to an injury in the second half of the 2011-12 season, Niles was given an opportunity to step in, and she never looked back.
Since then, Niles has played almost every match for the Pandas, and said that switching positions has made her more versatile, which has opened up opportunities to play on increasingly bigger stages. After two summers with various national teams, Niles was a member of the Canadian women's volleyball team that attended the Universiade Games in Guangju, South Korea last summer, finishing sixth out of 16 teams.
"It was a great experience to play in an Olympic-scale event," Niles said. "Switching positions has opened up a lot of other doors to play on the national team and other high level teams like that."
With the Pandas, Niles established herself as one of the best liberos in the CIS, and her awards cabinet mirrors that dominance. Named a CIS First-Team All Star twice, she's featured prominently on a variety of All-Tournament teams. Niles was quick to credit her teammates and coaches for her success, but said she'd trade the rest of her hardware for a CIS Title. The last title the Pandas volleyball program won was in 2007, three years before Niles started her degree.
Though her success on-court has been well-documented, Niles is also heavily involved in the community. Named Canada West Student-Athlete of the Year in her final season, she is graduating at the end of this semester with a Biology major and a Business minor.
Niles has also sat on the executive committee of the Athletics Council for the past three years, spending the past year as President. With enhancing the student-athlete experience as their main mandate, Niles said the council also organizes volunteer opportunities for varsity athletes.
"I've worked hard to develop myself as an all-around person, with school, volunteering, leadership, and volleyball," Niles said. "it's about growing that sense of community among athletes, and it has opened a lot of doors for me."
As an athlete who received both sports and academic scholarships throughout her degree, Niles said the work ethic that makes athletes perform well on the court also leads to success in the classroom.
"The athletes that I have been able to work with are some of the most generous people with their time and work hard to earn that support they do receive," she said.
Currently working at the TEC Edmonton internship program, Niles plans to seek a contract to play professionally in Europe after she graduates. Playing full-time with the national team is also a goal for her. Beyond that, she plans to return to school after her volleyball career is over. Leaving a Pandas squad that she's been a part of for five years, Niles said she expected the team to maintain it's spot as a premier team in Canada. As for where the program is going, her answer was clear.
"We've had enough silver medals, so I think a gold medal is on the horizon for us pretty soon."