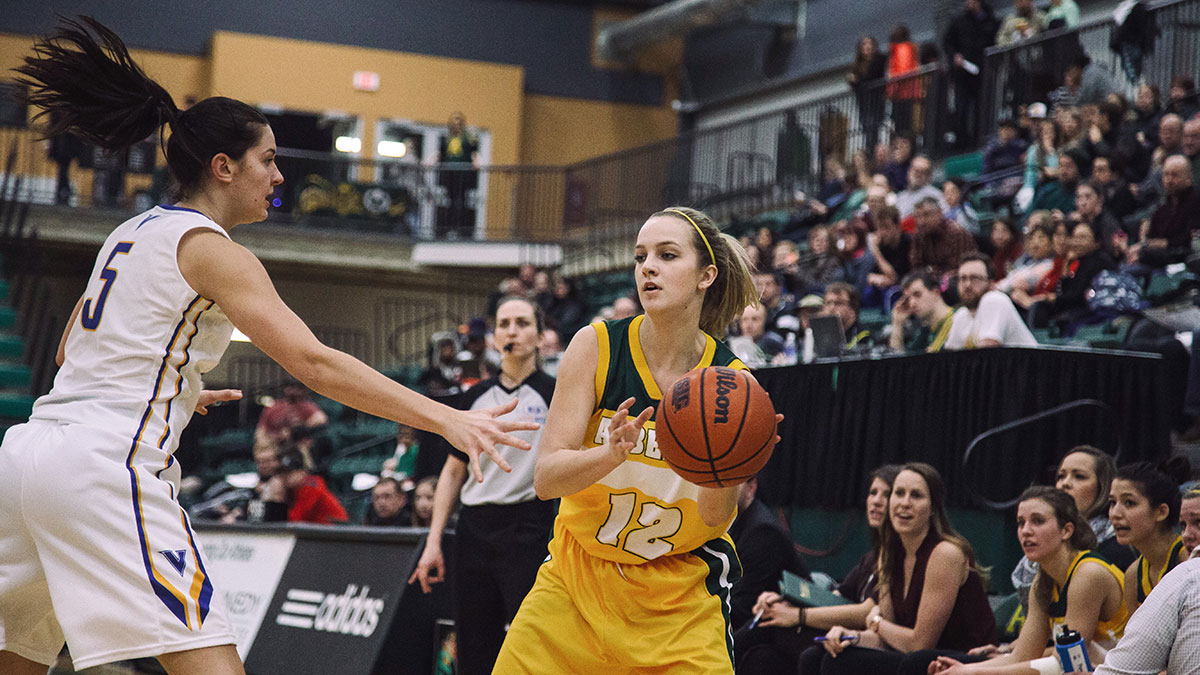 It was a long six-hour bus ride back home for the Pandas basketball squad.
After Alberta's bittersweet 66-55 bronze medal win over the MacEwan Griffins on Saturday, they boarded a team bus from Saskatoon back to Edmonton. The Pandas' 78-68 semi-final loss to the Saskatchewan Huskies the night before bounced them from a guaranteed trip to nationals. There was little time to celebrate, as all that was on their mind was the CIS panel of coaches in charge of selecting the final wildcards for the national championship round.
That restless night was nerve-racking episode for Pandas bench boss Scott Edwards. Their championship hopes came down to a final phone call from the CIS committee, which would determine their fate.
On Sunday at noon, Edwards got the call.
"We're in," he told his team.
The Pandas will be the No. 6 seed in the CIS Women's Basketball Final 8. Their 2016 National Championship appearance will mark their third straight bid for the Bronze Baby, which has eluded the program since 1999.
Standing in their way is the Atlantic University Sport champions and No. 3 seed Saint Mary's Huskies (19-1), who eliminated the Pandas from the 2014 CIS quarterfinal round. The two cross-conference contenders last met in the pre-season, as the Pandas fell to the Huskies in a 71-64 overtime loss during the Dalhousie Centennial Tournament.
While the two teams, who placed in the CIS Top 10 all 13 weeks of the regular season, haven't each other since their pre-season meeting, Edwards said after examining the tape, rebounding will be especially important Thursday.
The Pandas, who are known for their high octane offence which ranks second in the nation (72.7 points per game), average 39.8 rebounds per game, behind the Huskies' 41.9 per game clip. They'll need to control the defensive glass, as Saint Marty's averages 14.5 offensive boards per game, fourth-best among CIS finalists, in contrast to Alberta's 27.7 defensive rebounds per game.
"If we rebound the ball well, we can get out on the break and get some easy baskets, which takes a little bit of pressure off our half-court offence," Edwards said.
The transition game could take more pressure off the Pandas' recent struggles from deep. The Pandas, who averaged 35.2 per cent from the three-point line in the regular season, shot just 22.7, 23.8 and 15.8 per cent in their three Canada West playoff contests. The Huskies meanwhile, allowed just 61 three-pointers all season, best in the nation.
"We gotta' get more open looks for teammates and be more focused to be able to knock those shots down," Edwards said. "A lot of them the last couple games, we've been good at getting shots, but they haven't been falling.
"I don't know. Maybe moving out of our conference will help. We really haven't shot the ball well lately."
Edwards will be looking to his seniors and graduating players to help shoulder and shore up that some of that offensive load. Fifth-year Pandas Renee Byrne and Megan Wickstrom who shot 34.2 and 34 per cent from beyond the arc, along with starting point guard Jessilyn Fairbanks, will have their final chance at a national championship this week.
"We just told them to enjoy the moment," Edwards said of his senior class. "Just let your game show. They're all great players and they've all contributed to our success. Just relax, let it fly, and see what the results say."
While this year's CIS field won't see the Windsor Lancer's vie for a sixth consecutive national championship, the Pandas still have an uphill climb to the Bronze Baby, with top-seeded McGill Martlets and No. 2 seeded Saskatchewan Huskies in the fold.
But what matters for Edwards and the Pandas is all that's in front of them right now: getting a win against Saint Mary's. Anything else, and they can look forward to another long, quiet trip back home.
"We're not talking about any potential games beyond Saint Mary's," Edwards said. "What matters for our staff is getting ready, and getting our athletes that mental preparation.
"It's all about that best effort we can put together for Thursday to get us through to the next round. And then we can worry about that next opponent."